Strike that.
"God, WHY didn't my ex contract a degenerative ailment causing him to prematurely age in my absence? LIFE IS SO UNFAIR."
Chapter 2: He deliberately tried to keep his wife from pursuing her career? How long did it take her divorce this asshole?
Dude, she stabbed a member of her staff for being a sexist shit. Maybe you might want to lay off the power and control dynamics.
Chapter 3: Grandma's a bitch. Obviously. You can't be the lady CEO of a billion dollar food empire unless you are a ball-buster who ruins lives.
Is she supposed to be the villain?
Chapter 4:  Did you or did you not hire the supposed best chef in town? Then let her do her fucking job.
Chapter 5: "Yeah baby, I just get so hot chatting with you about all the places my brother's doing it, while trying to visualize my sister doing it, and joking about the last time my grandma got some."
Are you perchance related to the Dollangangers? Because if this is your idea of foreplay, you need to work on your game.
Chapter 6: Time to drop the pregnancy bomb. Show me some maturity, show me some professionalism, show me….
You withheld material information from me. I could fire your ass and you know it.
Psst, let me let you in on a little secret. You can't fire or refuse to hire women for being knocked up. Get the fuck over yourself. You're just pissed off because different sperm traversed your ex-wife's vagina without your consent.
Jesus, your brother has been spying on her for you? What. The. Fuck. I was expecting Pasta, not Sleeping With the Enemy.
Chapter 7: Enter Damaged War Veteran Brother! Because the one thing this story was missing was stereotyped side characters.
Chapter 8: We're getting along now? Was there a chapter where he was respecting your expertise and life choices that I totally missed?
Chapter 9: Good call Mr. Manager, all 5 star restaurants have cats in the kitchen. There is nothing patrons like better than picking cat hair out of their teeth.
Now he's stalking and sexual assaulting her? Whew, someone get me a glass of ice cold water.
Chapter 10: Back to chef land! Where the boss is MIA because he's creepily stalking the teenager he gave up for adoption. It's amazing he has time to work in between dominating and controlling his ex-wife's, ex-daughter's, and half-sister's lives.
Chapter 11: Sexy Best Friend Has Tragic Past. Women are only sexually confident when there is trauma.
Chapter 12: She sets boundaries, he ignores them. Charming.
Chapter 13: They talk about how he's an emotionally manipulative pathological liar. That sort of baggage makes relationships HARD.
Grandma's back banning sex with her precious grandson. This is still freaky. Family members should not be that interested in your junk.
Chapter 14: "Sorry ladies, in this family we men decide what you do and do not need to know about your careers, parentage, marriages, children, and cancer. Just accept it."
Chapter 15: Stop rewarding him with sex for completely unacceptable actions! Admitting to abuse is NOT SEXY.
Chapter 16: Yeah, you're a real fucking hero for not telling the critically ill teenage girl that you've been stalking her.
Chapter 17: Sex. Because you are never randier than after a bone marrow transplant.
Chapter 18: Cheffing interspersed with family soap opera drama. I'm finding it hard to believe any of these people have the brain capacity to run multimillion dollar empires.
Chapter 19: Time for a brotherly brawl! Each of these men have different opinions about the best way to control the women in the family. And they shall decide who is right with their fists. As you do.
Chapter 20:  Happy ever after?
********************************
Dear Romance: We need to talk. I gave you a fair shake. Really I did. I wanted to enjoy you. There is nothing better than a little escapist fiction when cooling your heels in an airport. You, however, have some issues glorifying and rewarding truly horrendous behavior.
Don't get me wrong, I love a good villain. But all your villains get sex for their bad behavior. This is unacceptable. Have you heard of the Power and Control Wheel? No, I didn't think you did. Take a peek.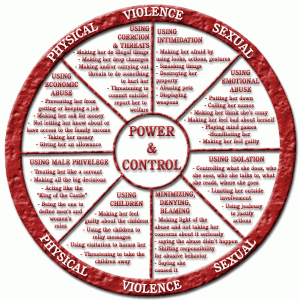 When your love interest's behavior can, without exception, be placed on this wheel, you are romanticizing domestic violence. 
Fuck that.
Can anybody guess what book I read?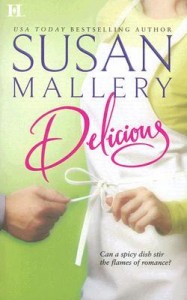 Format Read: Paperback.
Number of Pages: 377.
Release Date: February 1, 2006.
Genre: Contemporary Romance.
Publisher: HQN.
Formats Available: Paperback.
Purchasing Info: Goodreads, Author's Site.
Book Blurb:
Cal Buchanan needs a top-flight chef to take over his failing Seattle restaurant, The Waterfront. He can afford to hire the best in town — the only problem is that the best happens to be his ex-wife, Penny Jordan.

Penny really needs this opportunity, but she doesn't need the distraction of working with her ex. She's sworn off romance — she's even having a baby on her own. But before she knows it, the heat is on . . . and the attraction between her and Cal moves from a low simmer to a full boil!

The rest should be easy as pie, but a secret from Cal's past could spoil everything. Maybe it's true that too many cooks spoil the broth — or maybe two is enough to make it irresistible.
In sum, Delicious confirmed all my negative feelings about the genre. I judge Susan Mallery guilty of romanticizing abusive relationships, inconsistent characterization, a ridiculous number of irrelevant soapy side plots, and not dishing out any actual sexual tension. 1 star.

***FTC Disclaimer: Most books reviewed on this site have been provided free of charge by the publisher, author or publicist. Some books we have purchased with our own money and will be noted as such. Any links to places to purchase books are provided as a convenience, and do not serve as an endorsement by this blog. All reviews are the true and honest opinion of the blogger reviewing the book. The method of acquiring the book does not have a bearing on the content of the review.