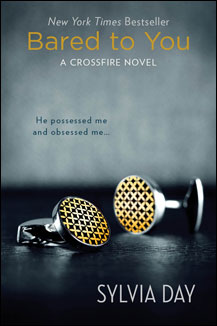 Format Read: E-book provided courtesy of Publicist for Review
Length: Novel
Genre: Erotic Romance, BDSM
Release Date: June 12, 2012
Publisher: Berkley
Formats Available: Paperback, Kindle, Nook
Purchasing Info: Author's Website | Publisher | Goodreads | Amazon | B&N | Kobo | Book Depository US | Book Depository (UK) | IndieBound | Kindle | Nook.
Book Blurb:
Gideon Cross came into my life like lightning in the darkness…

He was beautiful and brilliant, jagged and white-hot. I was drawn to him as I'd never been to anything or anyone in my life. I craved his touch like a drug, even knowing it would weaken me. I was flawed and damaged, and he opened those cracks in me so easily…

Gideon knew. He had demons of his own. And we would become the mirrors that reflected …

In Sylvia Day's Bared to You, the heroine, Eva, has just left her home in San Diego, crossing the country to Manhattan to start a new job. I thought it would be nice to take a look at this often mentioned, affluent part of New York City. Manhattan is one of five boroughs in the city, though maybe one of the more familiar of them all, as seen in films and TV shows.
Manhattan was the origins of the city of New York, from which the town expanded north. It lays claim to many famous landmarks as well as being the former site of the Twin Towers. For that fact alone, its skyline, then and now, has to been one of the most recognizable in the world.