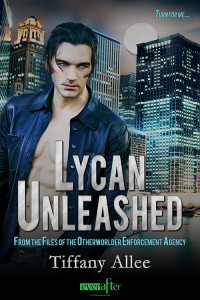 Format Read: ebook received from the publisher
Number of Pages: 115 pages
Release Date: January 13, 2013
Publisher: Entangled Publishing
Series: From the Files of the Otherworlder Enforcement Agency #3
Genre: Urban Fantasy, Paranormal Romance
Formats Available: ebook
Purchasing Info: Amazon | B&N | Kobo | Author's Website | Publisher's Website | Goodreads
Book Blurb:
Detective Astrid Holmes is a sensitive, a human capable of feeling the energy of otherworlders. When she is dispatched to the horrific murder scene of a local vampire, she expects it to be just another day on the job. But when evidence is stolen on her watch, she is removed—not only from the investigation, but from her job as a member of the Chicago police department's paranormal unit.

Astrid's only hope of reinstatement lies with her ex co-worker and almost-lover, Lycan Mason …

3 1/2 Stars,featured,Review,The Rocket Lover,Tiffany Allee

29 Jan 2013

4 comments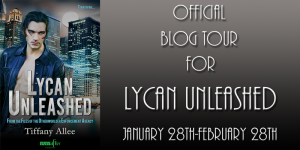 We are delighted to be welcoming Tiffany Allee back to BLI today. Tiffany is here on the next stop of her blog tour in celebration of the release of Lycan Unleashed, the 3rd novel in her From the Files of the Otherworld Enforcement Agent series. Tiffany's series has garnered rave reviews and is published by Entangled Publishing. Lycan Unleashed became available for download on January 13, 2013!
Stella: Hi Tiffany, welcome back to Book Lovers Inc! Can you please tell us a bit about yourself?
Tiffany: Thank you so much for having me here, Stella! I am a former corporate soldier ("soldier" sounds so much cooler than "accountant") turned writer. I write all kinds of romance, mostly with paranormal and suspense slants.
Stella: Are you a planner or pantser? Can you tell us a bit about your writing process? How do your novels come to life?
Tiffany: …

featured,Giveaways,Interview,The Latin Lover,Tiffany Allee

28 Jan 2013

34 comments
Today we welcome the lovely Tiffany Allee to Book Lovers Inc, her debut paranormal romance, The Banshee Charmer (lookout for our review which is also going up today), is releasing tomorrow (24th January 2012)! Tiffany is here today to talk about the integration of fantasy and reality, something that is not easy to pull off! Take it away Tiffany…
I have always loved fantasy stories. They take me away to worlds that are very different from the one I live in everyday, offering an escape. I also love romantic suspense and cop shows. With Banshee Charmer, and the rest of my series From the Files of the Otherworlder Enforcement Agency, I bring these two loves together.
Banshee Charmer takes place in a world where otherworlders—non-human creatures—are an integral part of the world. Creatures such as banshees, succubi, vampires, selkies, and witches are an accepted part of society. If …

Giveaways,Guest Post,The Winged Lover,Tiffany Allee

23 Jan 2012

15 comments