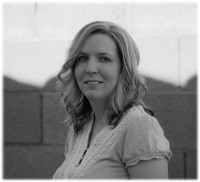 We are delighted to be welcoming Tiffany Allee back to BLI today. Tiffany is here on the next stop of her blog tour in celebration of the release of Lycan Unleashed, the 3rd novel in her From the Files of the Otherworld Enforcement Agent series. Tiffany's series has garnered rave reviews and is published by Entangled Publishing. Lycan Unleashed became available for download on January 13, 2013!
Stella: Hi Tiffany, welcome back to Book Lovers Inc! Can you please tell us a bit about yourself?
Tiffany: Thank you so much for having me here, Stella! I am a former corporate soldier ("soldier" sounds so much cooler than "accountant") turned writer. I write all kinds of romance, mostly with paranormal and suspense slants.
Stella: Are you a planner or pantser? Can you tell us a bit about your writing process? How do your novels come to life?
Tiffany: I am a planner at my core, but I've had to write parts of my stories somewhat as a pantser in order to figure things out. This is mostly true of my OWEA books, since there's an awful lot of balancing between romance and mystery that has to be done. I find that some stories thrive with a very detailed outline that I rarely find myself varying from, while others work better with a loose outline that I adjust as I go.
Stella: What do you think is the difference between a reader and a real Book Lover?
Tiffany: I'm not sure! But since you've asked, I guess I would say that real book lovers form a connection to books that occasional readers to not. Real book lovers sacrifice time and/or money that could go to other things to buy and read books. A reader may not be willing to sacrifice as much, while a book lover does so happily.
Stella: Your latest novel, Lycan Unleashed, the 3rd book in your "From the Files of the Otherworlder Enforcement Agency" series was released this month by Entangled Publishing, congratulations!
Tiffany: Thank you so much! I'm awfully excited about this one. We follow Astrid, the sensitive who has been in all of the other OWEA books to date. I'm thrilled to get to tell her story.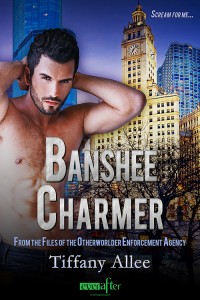 Stella: Could you give a short introduction to the series for those readers who aren't familiar with it yet?
Tiffany: Absolutely! The From the Files of the Otherworlder Enforcement Agency series follows the lives of Chicago police officers in the fictional paranormal unit and their brethren in the Otherworlder Enforcement Agency (OWEA). The OWEA is similar to the FBI, but concentrates on otherworlder cases. Each book is self-contained and follows a couple that has to struggle to solve a case, and find love.
Stella: And now for the seasoned fans can you tell us what Lycan Unleashed is about? Any good, titillating scene or excerpt you'd like to share? Or just some teaser lines? 😉
Tiffany: Lycan Unleashed follows Astrid Holmes, the sensitive who has made an appearance in the other OWEA books, as well as Mason Sanderson, a lycan. Mason was in the first book (Banshee Charmer) as an internal affairs agent, but he has since moved on to the OWEA. Mason and Astrid have a bit of a history—they were friends who shared a kiss once. But after the kiss Mason quit talking to her. She's a bit peeved with him, but has to seek out his help when she's put on administrative leave after evidence disappeared under her watch.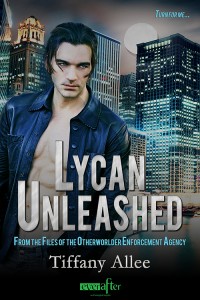 Length: 115 Pages
Genre: Paranormal Romance
Series: From the Files of the Otherworld Enforcement Agency
Release Date: January 13, 2013
Publisher: Entangled Publishing
Formats Available: ebook Kindle, Nook
Purchasing Info: Author's Website, Publisher, Goodreads, Kindle, Nook, iTunes, Kobo, Books On Board
Book Blurb
Detective Astrid Holmes is a sensitive, a human capable of feeling the energy of otherworlders. When she is dispatched to the horrific murder scene of a local vampire, she expects it to be just another day on the job. But when evidence is stolen on her watch, she is removed—not only from the investigation, but from her job as a member of the Chicago police department's paranormal unit.

Astrid's only hope of reinstatement lies with her ex co-worker and almost-lover, Lycan Mason Sanderson. But convincing the OWEA agent to let her assist with the investigation isn't nearly as difficult as staying alive when the murderer realizes that Astrid may hold the key to unlocking his identity.

Fighting to take down a killer could have deadly consequences for Astrid and Mason, but working together puts their already fragile relationship in jeopardy.
Tiffany: Here's a short teaser I think readers will enjoy:
A swirl of emotion rolled through me as I let myself be swept away in that kiss, in the hard grip of his hands holding me against him. Lust, sure. But hope too. And a heartbreaking feeling of belonging. Finally belonging.

Mason broke the kiss and the spell too, and I collapsed back into the corner of the couch, my fingers touching my lips. For once, he looked affected too. Lips slightly swollen from our kiss, his hair was mussed, and his expression fiercely open.

"Now tell me that you didn't lie to me too," I said softly.

Stella: Could you introduce the hero and heroine of Lycan Unleashed to us? (can be done in police profile style: height, distinct characteristic, best quality, worst habit, etc; or have the characters introduce themselves or each other, or in any other fun and original way) (if you'd like you could even include a teaser or a titillating few lines to convey their personality)

Name: Mason Sanderson
Occupation: OWEA Agent
Species: Lycan
Best Qualities: Chivalrous, honest, tough
Worst Habit: Intimidates first, asks questions later

Name: Astrid Holmes
Occupation: Chicago Paranormal Unit Detective
Species: Human with Sensitive Ability
Best Qualities: Kind and clever. Doesn't take lip from overbearing lycans.
Worst Habit: Listening to her mother's constant advice in her head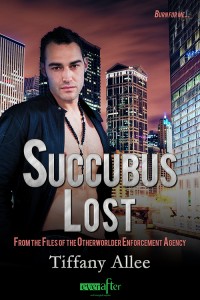 Stella: You make the distinction of calling your hero a lycan instead of a werewolf, is this conscious decision and what does it entail? Are there differences/similarities?
Tiffany: I consciously called Mason a lycan for a couple of reasons. His change isn't forced—in fact, lycans have a difficult time changing in this world, although they do get the benefit of enhanced strength and senses while in human form. And while a full moon and a pack can assist a lycan in changing into their wolf-like forms, they aren't necessarily required for the change.
Stella: How did the idea for the story come to you? Any specific moment/event that sparked the inspiration for it that you could share with us?
Tiffany: To be totally honest, it's been a very long time since the initial spark for this story hit, since I proposed the series back when Banshee Charmer was originally submitted. But I can say that through writing the first two books the idea for these two characters really solidified. They're very different from each other, but they compliment one another in interesting ways.
Stella: Now can you tell us 3 reasons why people should read Lycan Unleashed?
The characters. A tough, sexy lycan. Mason is intense, but human underneath all his gruffness. Astrid is, I think, a very relatable heroine. Together they form a dynamic that is interesting, I think, and fun.
The mystery. There are some fun twists and turns, which reveals information about on going characters that have seemed shady for a while.
The cat. Watching a lycan get pushed around by a house cat. Seriously, Astrid's cat wins the book, in my opinion. 😉
Stella: Could you please summarize Lycan Unleashed for us Twitter-style (in 140 characters or less)?
A paranormal cop who senses the powers of otherworlders must work with a sexy lycan to clear her name before the bad guys catch up.
Stella: Your "From the Files of the Otherworlder Enforcement Agency" series is full of paranormal creatures. What is your favourite supernatural creature and why is that? Any favourite fictional or movie/TV series character that fits the bill? ☺
Tiffany: Honestly, I'm a classics kind of girl, although I enjoy interesting new or less-seen creatures, too. Lycans are my fav, followed closely by vampires. I know they're both used a lot, but I love them. Their animalistic qualities, and their slightly out of control natures—so fun! Especially in a love interest role. Love Alcide and Eric from True Blood.
But, I also have a lot of love for the humans who dwell among the supernatural. People who don't necessarily have a lot of protection, power-wise, but who choose to continue to fight the good fight. For television, the Winchester brothers from Supernatural come to mind.
Stella: From the 3 novels already published in the "From the Files of the Otherworlder Enforcement Agency" series, which hero couldn't you resist and which heroine would you be best friends in your dream real life?
Tiffany: I love all my heroes, but Mason is my favorite hero so far. Love, love, love him. Love the other heroes too, but Mason has this slightly broken quality that I can't resist.
And actually Astrid would probably be the character I'd most get along with, heroine-wise. I love Mac from Banshee Charmer, but she's not exactly the sit down and girl-talk type. Although, I think she'd be hilarious to go out for drinks with, and she'd be loyal to a fault. Miriam from Succubus Lost is pretty personable, but yikes, would be hard to be friends with a hot succubus without a touch of jealousy, haha.
Stella: What is next on your schedule? Any future plans you'd like to share with us? Will there be more stories in your "From the Files of the Otherworlder Enforcement Agency" series?
Tiffany: Next up is Don't Bite the Bridesmaid, which is coming from Entangled Publishing's Covet imprint early this year. It's a light-hearted paranormal romance about a vampire who is dragged by his neighbor to a cruise ship wedding as her last-minute date. Hijinks ensue.
The fourth installment of the From the Files series will be released in June. It follows vampire detective Claude Desmarais, in his quest to bring a vampire who's been a bit of a pain throughout the series to justice. Psychometrist Beatrice Davis, OWEA Agent Costa's partner from Succubus Lost, joins him, seeking answers of her own.
Stella: Could you share with us something, a trivia that not many people know about you?
Tiffany: Oh, this is tough. While I've lived in/around larger cities most of my adult life (Denver, Chicago, Phoenix) and tend to set my books in cities, I grew up in the country. We had chickens and everything. 😉
Where to find Tiffany:
~~~~~~~~~~~~~~~~~~~~~~~~~~~~~~~~~~~~~~~~
~*~*Giveaway*~*~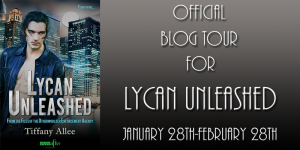 Entangled Publishing has generously offered a $10.00 Amazon Gift Card & a signed bookmark featuring the series
All you have to do is leave a meaningful comment or a question for Tiffany
(You can read our full giveaway policy here)
Please leave us a way to contact you.
(Email in blogger profile or twitter name – no way to contact you – no entry).
Giveaway ends on Saturday, February 9, 2013; and we will announce the winner on Sunday.
Good luck!