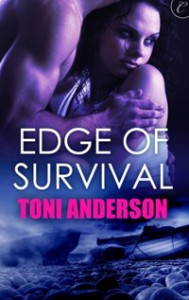 Format Read: e-ARC provided by NetGalley courtesy of the publisher
Length: Novel
Publisher: Carina Press
Genre: Romantic Suspense
Release date: November 21, 2011
Formats Available: e-Book, Kindle, Nook
Purchase information:Author Website , Goodreads, Carina Press, Kindle, Nook, All Romance/OmniLit,
Book Blurb:
Dr. Cameran Young knew her assignment wouldn't be easy. As lead biologist on the Environment Impact Assessment team, her findings would determine the future of a large mining project in the northern Canadian bush. She expected rough conditions and hostile miners—but she didn't expect to find a dead body her first day on the job.
Former SAS Sergeant Daniel Fox forged a career as a helicopter pilot, working as far from the rest of the human race as possible. The thrill of flying makes his civilian life bearable, and he lives by his mantra: don't get involved. But when he's charged with transporting the biologist to her research …

5 Stars,Review,The Danger Lover,Toni Anderson

15 Nov 2011

2 comments

Format Read: e-BookNumber of Pages: 240 pagesPublisher: Carina PressRelease date: October 11, 2010Formats Available: e-BookSource: Review Copy provided by NetGalley courtesy of Carina Press Purchase information: Goodreads, Carina Press, Amazon, All Romance/OmniLit, Author Website
Book Blurb:

Sorcha Logan is looking for peace.

Recently returned to her hometown on Scotland's craggy coast, Sorcha wants to tame the spirits that made her flee. When she finds a corpse in the surf, however, she can't suppress the memory of discovering her father's body. Nor can she suppress the ghosts that haunt her—or the town's conviction that she's dangerous, and a witch.

Ben Foley is looking for a killer.

An American DEA agent, Ben is in town to investigate the suspicious death of his partner. He's sure that Sorcha knows more than she's letting on—but the more time he …

Review,The Danger Lover,Toni Anderson

11 Nov 2010

9 comments