Format Read: e-Book ARC provided by Author for review
Length: 304 Pages
Release Date: March 1, 2011
Publisher: Berkley Sensation
Formats Available: Paperback, e-Book, Kindle
Purchasing Info: Author's Website, Goodreads, Book Depository, Amazon.com, Borders, Barnes & Noble, Powell's, IndieBound, Chapters, Kindle, Nook.
Book Blurb:
The FBI wants her cooperation.

As the daughter of a billionaire and the owner of the city's top wine store, Jordan Rhodes is invited to the most exclusive parties in Chicago. But there's only one party the FBI wants to crash: the charity fundraiser of a famous restaurateur, who also happens to launder money for the mob. In exchange for her brother's release from prison, Jordan is going to be there—with a date supplied by the Bureau.

Agent McCall just wants her.

As the top undercover agent in Chicago, Nick McCall has one rule: never get personal. This "date" with Jordan Rhodes is merely an assignment—one they're both determined to pull off even if they can't be together for five minutes before the sarcasm and sparks begin to fly. But when Nick's investigation is compromised, he and Jordan have no choice but to pretend they're a couple, and what starts out as a simple assignment begins to feel a lot like something more. . .
My Thoughts:
While it always seems a long wait between novels for Julie James fans, I for one am assured of one thing, a GREAT time. Once I started reading A Lot Like Love, I couldn't put it down until finished at 1 am in the morning. As with Ms. James' other novels, it is certainly the quick witted banter that kept the plot of A Lot Like Love moving at a fast pace providing many laugh out loud moments, but moreover she creates characters that IMHO you can't help but become invested in.

Billionaire heiress Jordan Rhodes, is intelligent, well educated and is a successful entrepreneur, having opened, promoted and established a local wine shop. In short she is well respected amongst wine tasters and connoisseurs alike. I felt Ms. James' characterization of Jordan was wonderful, considering her background, she is not arrogant or a "debutant". In fact, she relates well to a cross section of people be they her customers at the store, or the rich and famous. As well, she knows her stuff, having cultivated her skills as a wine aficionado, which has added to the success of her business.
Jordan is very close to her family and the one fly in the ointment is her twin brother has been convicted of a felony and is serving time in a federal jail. The circumstances surrounding her brother's "crime" and conviction is the source of some mirth in itself if not for the fact that he is, well, incarcerated. Jordan has considerable distrust of the FBI related to the events surrounding her brother's arrest and the severity of his punishment for valid reasons. Hence, when the FBI comes knocking at her door looking for her help in gathering evidence against a man she knows very well through the wine community she is less than happy to see them.
Undercover FBI agent Nick McCall, was borne and raised in Brooklyn and also hails from a close knit family. (They are not billionaires though. lol) Nick is one of the good guys and has very set ideas as to how he should conduct his life where relationships are concerned due to his work demands. Nick is sharp, competitive, handsome, and he loves undercover work. I really liked this hero because he isn't damaged or tortured, IMHO, he is not only sexy but just darn cool.
So, we have two people from very different backgrounds who meet and are forced to work together under extremely unusual circumstances. Both Jordan and Nick have preconceived notions about the other and both are surprised to discover that these notions are incorrect. All I can say is the zingers fly and the sexual chemistry sizzles. This one is a slow burn as the sexual attraction and tension increases to the boiling point over the course of the novel. There is a perfectly wonderful scene where Jordan demonstrates the, um, "art" of wine tasting to Nick. Lets just say it gets a certain FBI Agent's motor humming. lol I along with Jordan and Nick were delighted when they do become intimate. There is light sexuality in a couple of very special love scenes.
What I thought was exceptional about this novel is not only the dialogue, but the well orchestrated scenes that advance a plot that has some surprises in store for readers. In addition, the narrative is awesome in the depth of information provided into wine tasting, it's production, distribution and sales. Then there is the Napa Valley and Ms. James treats readers to wonderful descriptive prose detailing it's beauty, certainly a place for romance to bloom. 😉
Readers are also treated to a suspense subplot involving the FBI investigation into a crime boss and his dealings with a wine connoisseur, which is the catalyst that brings our hero and heroine together. While it isn't the main focus, there is a good suspense undertone written into the story that had me worried for our heroine. The climax to this novel can only be described as a nail biter, when the FBI operation that has involved Jordan goes awry.
Jack Pallas and Cameron Lynde, the leading characters from Ms. James' previous novel Something About You make appearances. There are some laugh out loud exchanges between Jack and Nick who are extremely competitive.
As with her previous novels, Ms. James has developed strong secondary characters, of note particularly is her twin brother Kyle. Despite his predicament the dialogue between he and Jordan is hilarious. The depth of their commitment to one another shines through.
A Lot Like Love, is the first novel that I'm giving 5 Bookies to since joining Book Lovers Inc. I loved Jordan and Nick's romance and once again the intelligent quick dialogue that Ms. James embeds in a sophisticated storyline provided me hours of reading pleasure. If you enjoy a fun, intelligent contemporary romance with a suspense subplot, you may like to give A Lot Like Love, a try.

I give A Lot Like Love 5 bookies.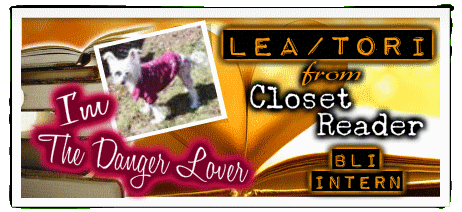 ***FTC Disclaimer: Most books reviewed on this site have been provided free of charge by the publisher, author or publicist. Some books we have purchased with our own money and will be noted as such. Any links to places to purchase books are provided as a convenience, and do not serve as an endorsement by this blog. All reviews are the true and honest opinion of the blogger reviewing the book. The method of acquiring the book does not have a bearing on the content of the review.