Format Read: e-ARC provided by Author for Review
Length: Free Read – 31 Pages
Series: Bandicoot Cove, Book 1
Genre: Contemporary Erotic Romance, Ménage a quatre
Release Date: August 23, 2011
Publisher: Samhain Publishing
Formats Available: eBook, Kindle, Nook
Book Blurb:
It's time for an indulgence, or two…or three.

There's something magical about Bandicoot Cove. It's where Kylie Sullivan's dream of managing a luxury, five-star resort is about to come true. And it's where people tend to fall in love. Kylie should know. She's fallen hard—for three very different men.

There's Brad, who knows just how to relieve her stress and send her body on a crash course through pleasure. Hemi, her untamed Maori, who awakens her primitive side. And Finn, the sexy bartender whose specialty is Screaming Orgasms.

The three men fulfill all her sexual fantasies, but Kylie knows reality will eventually set in and she'll have to choose. But how? For now she decides not to decide—at least until she makes sure the resort's soft opening comes off without a hitch.

As far as Brad, Hemi and Finn are concerned, Kylie's life is too much work and not enough play. The only choice they plan to give her is to say yes to their wildly passionate proposal…

Warning:

Three sexy men pleasing one uninhibited woman—how much more warning do you need? This short story is long on heat, with a drool-worthy setting and sexual interludes in the office, at the beach and the bar. You want a day job like this.
My Thoughts:
This is a mini-review of Exotic Indulgence, a very short, extremely sexually explicit Samhain free read written by Vivian Arend, Lexxie Couper and Jess Dee as an introduction to their Bandicoot Cove Series. Bandicoot Cove is a new ultra luxury resort situated on Bilby Island in Australia.
The resort's dynamo of a manager, Kylie is stressed preparing for the 'soft' or trial opening. She has three very attentive, sexy and handsome men who have each been doing their utmost to ease her stress. The interesting thing is that Brad, Hemi (a 6 foot 2 inch Maori warrior) and Finn all work in various capacities at the resort and she therefore is their boss.
I would describe Exotic Indulgence as pure fantasy erotica. Readers are given a tour 'd orgasm of what is an absolutely beautiful and palatial resort, designed to see to it's clientele's every need. Kylie is certainly comfortable with her sexuality and each chapter introduces one of her lovers who each treat her to a form of sexual foreplay. The pièce de résistance occurs in chapter 4, when the four engage in a ménage a quatre that will singe your eyebrows. All three of Kylie's lovers absolutely dote on her and are determined to make her every sexual fantasy reality. The standout of the three men? I have to say, for me it was Hemi, as in major hottie.
Kylie certainly does engage in an exotic indulgence and I found her story to be an extremely sensual, fun read. I have to admit, Exotic Indulgence left me wondering where the three authors would take the series next. 😉
I give Exotic Indulgence 3 Bookies

Format Read: e-ARC provided by Author for Review
Length: Novella – 79 pages
Series: Bandicoot Cove, Book 1
Genre: Erotic Contemporary Romance, Ménage a trois
Release Date: August 23, 2011
Publisher: Samhain Publishing
Formats Available: eBook, Kindle, Nook
Book Blurb:
Fate is a wind that can change at the drop of a heart…

Paige has enjoyed every no-strings-attached minute with her two Australian lovers, Trent and Mason. Over the past eleven months, they've surfed, hiked…and explored their seemingly limitless sexual chemistry.

Her lovers' invitation to the opening of a new resort comes at the ideal time, because in a few days she's returning to Canada. It'll be a fitting swan song for their easy-going relationship. A chance to fulfill a few fantasies and then escape before her men realize she's broken the rules by falling in love with them both. Better to take flight than be forced to choose.

Unaware of Paige's self-imposed deadline, Trent and Mason scheme to get Paige on their yacht for a once-in-a-lifetime voyage with one goal in mind: break the news that they're ready for something more than casual—and hope she doesn't run like hell.

It's a delicate operation that'll require close attention to which way her emotional winds are blowing. One wrong word, and their paradise-perfect arrangement could be lost in an instant.

Warning:

This book starts with the heat turned way up high. Two men entirely focused on one woman's pleasure. One woman stepping outside the box to please her men. An exotic resort suite featuring an erotic piece of furniture that makes ménage a trois even hotter than usual. Really.
My Thoughts:
There aren't many authors who write ménage stories that I find really enjoyable, however Vivian Arend is quickly becoming one of my favorites. Paradise Found introduces Aussie resort manager Kylie's brother Trent, his best friend Mason and their lover of one year Paige, a Canadian. Paige, Trent and Mason have enjoyed a no strings attached sexual relationship but they are also adventurers and have taken many outdoor tours together, hiking, kayaking etc. Paige is a pastry chef and after spending 5 years in Australia she is sticking to her original plan to return to Canada. The problem is that she has developed very strong feelings for her lovers and it is going to break her heart to leave them.
Trent accepted an invitation from his sister to spend the weekend at Bandicoot Cove as part of the 'trial guests' for the soft opening of the resort. Trent has helped and supported Kylie in her stressful managerial position (he doesn't know what is going on in his sister's personal life – lol), when he asks for a room big enough for 3 she assigns him one of the penthouse suites which is just out of this world. The opening scene of this novella is good sexy fun because Paige surprises Trent and fulfills one of his long held sexual fantasies. Then Mason arrives and he also enjoys some private time with Paige.
One of the things I really liked about this story is that Ms. Arend crafts a plot that allows the guys to spend equal amounts of time with their lover. Trent and Mason haven't seen Paige in a couple of weeks because they work and live in different areas so their relationship thus far has been a series of rendezvous for their travels and sexual exploration. Trent and Mason have been longtime friends and communicate well. They both care deeply for the free spirited Paige and want more than a sporadic sexual romp with her. In fact, they have big plans and a special surprise for Paige. Trent and Mason are however unsure about whether she will want to be in a permanent unconventional relationship with two men. I really liked all three of these characters and the author made me want them to be together.
The love scenes in Paradise Found are extremely sensual and sexually explicit. Vivian Arend always manages to instill some fun sexual kink in her stories and this one is no exception. I'll hint that it involves a unique piece of furniture situated in the penthouse, which is especially made to accommodate a threesome. Interestingly enough it is one of Paige's guys that advised Kylie in it's design. 😉
Ms. Arend develops intriguing secondary characters who I'm sure will be making appearances in the second and third installments of the series. Most notable is a certain sexy musician who is hired to play for the soft opening. There is also Mason's lovely sister McKenzie and a number of friends.
Paradise Found provides emotional moments and conflict as Paige's belief that her lovers don't want her around for the long term is reinforced when the cat is let out of the bag about the guys plans to take leaves from work and travel for 6 months. Since Paige hasn't been privy to their plans, which have obviously been in the works for some time, she makes an emotionally charged decision to cut the weekend short and leave the island. The guys don't know where she has gone and panic. I really felt Paige's heartbreak and Trent and Mason's turmoil when they discover her missing.
Ms. Arend crafts a lovely HEA for this threesome who find do find their paradise, but it's not on Bandicoot Cove (which certainly is a little piece of paradise IMHO). I thoroughly enjoyed Paradise Found and am always impressed with Ms. Arend's ability to craft a sensual, solid story into a novella. If you enjoy a sexy ménage a trois tale you may like to give Paradise Found a try. I'm looking forward to reading the next two novellas in the series.
As a side note, if you do plan to try Paradise Found, I would suggest that you indulge in Exotic Indulgence first as it does lay the foundation for the series of ménage stories. 😉
I give Paradise Found 3 1/2 Bookies
Tropical Sin
,
Bandicoot Cove Series Book III
: Available September 6, 2011
Island Idyll
,
Bandicoot Cove Series Book IV
: Available September 20, 2011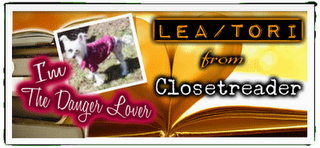 ***FTC Disclaimer: Most books reviewed on this site have been provided free of charge by the publisher, author or publicist. Some books we have purchased with our own money and will be noted as such. Any links to places to purchase books are provided as a convenience, and do not serve as an endorsement by this blog. All reviews are the true and honest opinion of the blogger reviewing the book. The method of acquiring the book does not have a bearing on the content of the review.