Format Read: e-ARC provided by Author for Review
Length: Novella – 87 pages
Series: Bandicoot Cove, Book 3
Genre: Erotic Contemporary Romance, Ménage a trois
Release Date: September 6, 2011
Publisher: Samhain Publishing
Formats Available: eBook, Kindle, Nook
Book Blurb:
It takes more than a rock star to rock your world. Sometimes you need a friend.

McKenzie Wood is Australia's star gossip mag journalist, and she's just spied the story of a lifetime: rumor-shrouded rock star, Nick Blackthorne—who thinks he's incognito at Bandicoot Cove resort. The word is Nick's a sex addict about to come out of the closet, and who better to lure Nick out than her BFF, Aiden Rogers—a pulse-poundingly gorgeous firefighter who is always there when she needs him, no matter the challenge.

Aiden admits it's pretty damned pathetic that he can rush into burning buildings, but not have the guts to tell McKenzie he's in love with her. No way can he tell his best friend he'd like to do some seriously sinful things to her, especially since she's never shown one iota of sexual interest.

Nick looks forward to some "unfamous" downtime in his home country. He's surprised to find his creative muse stirred—more like brought to rigid attention—by a couple so sexy that all he can think about is the three of them. Together.

Three bodies move together as one, and the music becomes a smoldering beat that rivals the island's heat. When the truth inevitably comes out, the heat might be enough to save three souls…or end up just another sinner's lament.

Warning:

One plus one plus one equals OMG sex, are-you-freaking-kidding-me orgasms and some serious mind-blowing climaxes.
My Thoughts:
The synopsis of this novella gives an excellent overview of this, the third story in the Bandicoot Cove series. As a friend of Kylie, the manager of Bandicoot Cove, MacKenzie (Mack) Wood garnered an invitation to the soft opening of the resort. There was no question that her best friend and constant companion Aiden Rogers would come along. As mentioned in the book blurb, Aiden has been head over heels in love with MacKenzie for a long time but has never told her how he feels because he doesn't think his friend has reciprocal feelings. With all the pheromones swirling about Bandicoot Cove, it isn't surprising that the lights finally blink on for Mack that Aiden and she could share much more than friendship.

I really liked Aiden, he is a tall handsome firefighter who is smart and inherently kind and gentle. He has a calming influence on Mack who as an intrepid reporter for one of the nations rag magazines can be extremely pushy and does get herself into hot water. This is in evidence when she spots drop dead sexy internationally famous musician Nick Blackthorne at the resort and sees "exclusive" in neon lights flashing over the reclusive musician's head. Mack wastes no time zeroing in on Nick like a hungry piranha seeking a meal, but Aiden puts a stop to her interrogation. Despite the intrusion, Nick is immediately drawn to the beautiful couple who are obviously in love.
Tropical Sin has a couple of surprises in store related to Nick who I would describe as the 'intervenor' turning Mack and Aiden's burgeoning sensual relationship into a ménage à trois. I thought the way Nick ingratiates himself into the couple's intimate encounter was very unique. Nick is a complex character, he has a bucket load of tragic personal issues and his musical muse has abandoned him for two years. It is sharing in Mack and Aiden's passion that inspires the lyrics and music to flow and he is able to pick up his guitar again. I felt Nick's turmoil and even though it is clear his involvement with Mack and Aiden is a short term arrangement it worked because there was no expectations beyond the two men sharing Mack for the night. That being said, Nick's issues and haunted heart tugged at my heartstrings and I would really like to read his story if Ms. Couper writes it.
Mack and Aiden do have worries to work through concerning the change in their relationship but I found the climax and conclusion of this novella very satisfying and emotional. Mack's twin brother Mason who was introduced in Paradise Found, Book II of the series, provides support and insight to his sister. If you enjoy a sizzling hot sexually explicit friends to lovers romance, enhanced by a fantasy ménage scene you may like to give Tropical Sin a try. What does the title signify? Well you will have to read Mack, Aiden and Nick's story to find out. 😉
I give Tropical Sin 3 1/2 Bookies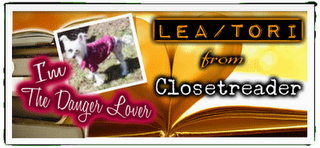 ***FTC Disclaimer: Most books reviewed on this site have been provided free of charge by the publisher, author or publicist. Some books we have purchased with our own money and will be noted as such. Any links to places to purchase books are provided as a convenience, and do not serve as an endorsement by this blog. All reviews are the true and honest opinion of the blogger reviewing the book. The method of acquiring the book does not have a bearing on the content of the review.