Format Read: eARC provided by Author for review
Length: 284 pages
Genre: Contemporary Romance
Series: Midnight Series Book I
Release Date: September 30, 2011
Publisher: Wildrose Press
Formats Available: e-Book, Paperback, Kindle
Book Blurb:
Thirteen years—that's how long Isabeau Montgomery has been living a lie. After an automobile accident took her mother's life, Izzy hid herself away, surviving the only way she knew how. Now she is happy in her carefully reconstructed life. That is until he walks through the door of her bar…

Black Phoenix singer/front man Noah Clark came to Long Island City with a goal–one that doesn't include an instant, electric attraction to the dark-haired beauty behind the bar. Coaxing her into his bed won't be easy, but he can't get her pale, haunted eyes nor her skill on the piano out of his head.

Can Noah help Isabeau overcome the past? Or will her need to protect her secret force her back into hiding and destroy their chance at happiness?
My Thoughts:
It's a special feeling when you start reading a novel not expecting much but are immediately drawn into the storyline, then by the end of the second chapter you are captivated. After Midnight was such a read for me. Each scene advances a plot that is rife with sensuality and intrigue building to a crescendo in the story's closing pages. IMHO the author's passionate descriptive prose, in part, can be credited for provoking my response to her novel, but I think it is also due to the poignancy of Isabeau and Noah's love story.
Isabeau Montgomery was a musical prodigy, a concert pianist whose genius was revealed at the age of 5. Isabeau performed until she was 12 years old, traveling extensively with her mother playing to sold out concert halls. She was famous, considered the premier virtuoso of her time. Then her mother was killed in a tragic car accident which left Isabeau fighting for her life. As far as anyone knows, Isabeau has not played since her beloved mother's untimely death, most believe it's because one of her hands was badly damaged in the accident. However, there is far more to her tragic story. She is now 25 years old and has carefully established a specific routine to her life.
Isabeau owns and operates a small bar in New York City that is well attended and she maintains a cozy apartment above the bar that she calls home. Isabeau is a petite, delicate human being, an extremely private person who keeps a well of pain and personal secrets locked inside. She doesn't like to be touched. She has supressed the music that resonated in her mind during the early years of her life for a variety of reasons. Then one night Noah Clark walks into her bar and completely disrupts her equilibrium, her muse is unleashed.
As noted in the synopsis, Noah is the lead singer of Black Pheonix, a famous musician in his own right. The band broke up years earlier following the death of Noah's best friend, the band's drummer. Noah has his own skeletons rattling around in the closet having lived fast and wild when the band was at the peek of its success. At 41 years old, he has learned from his mistakes, matured, and the music is calling him. Noah has reassembled the remaining members of Black Pheonix in New York to cut a demo CD at a recording studio down the street from Izzy's Place. Noah, as Isabeau muses near the beginning of the story is so "inherently sexual that any woman would have to be blind not to be affected by his virile good looks and confidence". Ms. Grimm has developed a hero who exudes those qualities in spades.
After meeting Noah, Isabeau refuses to acknowledge their mutual attraction. I felt Noah's frustration and heartache at not being able to elicit the time of day from Isabeau. The sexual tension sizzles and flares until one evening, Isabeau finally acquiesces and gifts him with a smile. It is one of many powerful emotional scenes that affected me deeply. Despite significant misgivings about getting involved with Noah she allows him some of her time and finally permits him to touch her.
He leaned into her. "If you still want me to stay away from you, you'd better tell me now."

"Noah?"

"Yeah?"

"Kiss me."

She didn't have to ask twice. He dipped his head, settled his lips on hers and plundered. He dragged her against him, and drank in the hot, potent taste of her as he fed on her mouth like a starving man.

She softened, a tiny sound of passion slipping up her throat—an urgent invitation. His pulse leaped. So did other parts of his anatomy. Her fingers burrowed through his hair.

He deepened the kiss, stroking his hands down the sides of her body to settle on her hips. He used them to guide her as he stepped forward once, twice, until her back settled against the trunk of the maple. Awash in the smell of her, the feel of her, he pressed closer, until no space existed between them. Her breasts flattened against his chest, her hips arched into him. Heat from her body flowed into his, sparking a fire. His heartbeat echoed in his head.

After Midnight © Sarah Grimm
Damn…
While Isabeau exhibits strength of character and resolve, scratching below the surface of her armor reveals a fragility, and a firm belief that she is not attractive to men. Noah intuitively knows he must move slowly if he is going to earn her trust. Their romance is a slow burn and the build up to the scene where they finally make love is intense, electric. These two have such explosive chemistry, but even after they become intimate, Isabeau cannot give herself completely to Noah. He wants all of her and feels she must play the piano again to be whole as music is part of her soul. Noah makes a huge mistake in an attempt to force her to play. I felt their suffering when things go very badly.
There are a number of strong, well crafted secondary characters who play important roles in the storyline. Most notable is Dominic, Noah's good friend, confidant, the bass guitarist of Black Pheonix who also befriends Isabeau. And, Thomas, the man she considers to be her father even though there is no biological connection. Thomas and Isabeau have a very special, unique relationship.
A suspense subplot winds through the narrative that initially involves threats against Isabeau then escalate into violent attempts on her life. What I liked was it added intrigue and a chilling sense of danger to the story but doesn't overpower the essence of the romance in fact, I thought it enhanced it.
After Midnight was a compelling, sensual page-turner and I was sorry when it concluded. The dialogue is crisp and tense, IMHO extremely well orchestrated. A number of themes are addressed in this novel that form the tapestry of Isabeau's character. Isabeau and Noah's story stayed with me long after finishing and it is a novel I will read again. If you enjoy an unique love story with endearing characters you may like to give After Midnight a try. I'm looking forward to reading more of Sarah Grimm's work.
Sarah Grimm will be joining me here at Book Lovers on Wednesday October 5th for an interview and chat about After Midnight.

I give After Midnight 5 bookies.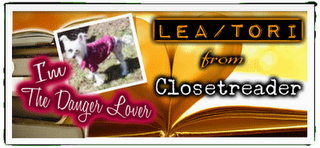 ***FTC Disclaimer: Most books reviewed on this site have been provided free of charge by the publisher, author or publicist. Some books we have purchased with our own money and will be noted as such. Any links to places to purchase books are provided as a convenience, and do not serve as an endorsement by this blog. All reviews are the true and honest opinion of the blogger reviewing the book. The method of acquiring the book does not have a bearing on the content of the review.