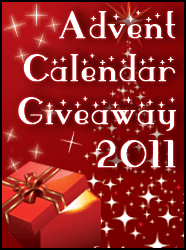 Welcome to the first day of Book Lovers Inc Advent Calendar. Starting today we will offer you one great read in a giveaway on all 24 days till Christmas.
Today you will have the chance to win a story by Nicki J. Markus. Now, I absolutely adored this story. It's only ten pages long but what was packed into those ten pages had me in a book hangover for nearly two days!
Purchasing Info: Author's Website, Goodreads, Amazon

Book Blurb:
It seems like any ordinary day as Nick waits for the train, but then a chance encounter with a young woman turns his world upside down. What is it that she is running from and will helping her jeopardise his own secret, making him a target too?
The Review:
Running Blind is one of the best short stories I have read in a long time.
Nick is minding his business on the train when he sees a girl running for the ready-to-close doors. His gut instinct is to help her get on the train, so he helps her, and then he sees the policemen running after her.  Read the rest of the review.
~~~~~~~~~~~~~~~~~~~~~~~~~~~~~~~
~*~*Giveaway*~*~

Thanks to Nicki we have a ebook copy of her new novella Day-Walker for one lucky commenter!
All you have to do is tell us how you get yourself into the christmas mood.
(You can read our full giveaway policy here)
This giveaway is open to everyone!
Giveaway ends on Saturday, December 10th; and we will announce the winner on Sunday.
Good luck!