Hey Everyone!
The holidays are approaching but sadly I'm not saying this because I feel the Christmas spirit due to holiday songs being played everywhere or smelling mulled wine on the street, no sadly I say that because all our clients have gone crazy and realized that the year is almost over and they want to finalize things before 2012 rolls around. Meaning that this past week I didn't get home before 9-10 pm. Every.single.night. I could hurt these people with my Death Glare; why don't they realize that people (=that is I) need and want to get in the holiday spirit by relaxing and spending time on more agreeable matters?! Grr. So another weekend I had to work, and I so cannot wait for the holidays to roll around and go on vacation. I want some breathing time please!
But I'll take a deep breath and let you know who won this week (don't forget to enter the remaining giveaways there will be tons of giveaways ending next week, you'd better not miss out on them):
This week congratulations are in order for…
The lucky winner of an
 ebook copy of one of Sara Brookes' Sypricon novels (Impulse Control, Perfect Limit or No Restraint) 
is: 
erinf1
The lucky winners of a paperback copy of In the Dark of Dreams by Marjorie M. Liu are: gconoy – Jason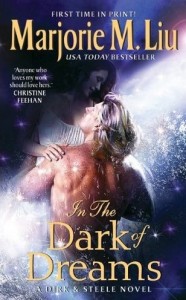 The lucky winner of an ebook copy of Day-Walker by Nicki J Markus  is:  Karen C  
Congratulations winners, you have all been notified by e-mail of your win. You have 72 hours to get back to us, or we'll have to draw a new winner.
Have a nice Sunday everyone and stay tuned: there is a new bookish Advent
surprise every day here at BLI! 🙂