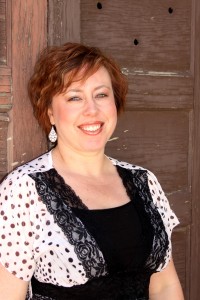 Today at BLI, we're very pleased to be welcoming author Amanda Bonilla! She shares with us some of the traditions and tendencies that crop up around Christmas, noting a a few great pieces of advice for one and all to consider when it comes to generosity. For our parts, we couldn't agree more!  Stay tuned after the post for a readerly treat from Amanda.
First of all, I'd like to thank BLI for hosting me today! You guys are great! ☺
Since the time my kids were little, I've told them, "You don't have to like everyone. But you do have to treat everyone with kindness and compassion."
During the holidays, everyone adopts a "Goodwill toward your fellow man" attitude. And while this is wonderful, I believe that we should practice this philosophy year-round, rather than one month out of the year. And so, in the interest of spreading the love for my fellow humans, here's my list of things you can do to have that holiday spirit year-round:
Remember those less fortunate than yourself.
We all have moments where we want to throw ourselves on the floor and throw a king-size hissy fit. Maybe the book we've been waiting months for didn't show up on time, or your fav department store just sold out of the super cute boots that you had your eye on. Maybe we whine because our smart phones are outdated and we don't have an upgrade for another year or we really, really want an iPad. But it's important to remember that there are people out there who can't afford a five dollar book, or don't have suitable boots or coats for the winter weather. Some people can't even afford groceries, let alone cell phones. It doesn't have to be Christmas for you to buy books/school supplies/clothes for disadvantaged kids, or adopt a family through your local Dept. of Health and Welfare. One of the things most requested by disadvantaged families in my area this year: laundry detergent. Sort of puts that whole iPad thing in perspective, doesn't it?
Boost people up instead of tear them down.
Researchers have said that it takes ten compliments to reverse the psychological effects of one hurtful comment. Now, I don't think people should go around flattering each other needlessly or lying to one another so as to spare feelings. But I think that it's really important to focus on the positive and let negativity take a back seat. Sometimes all it takes to make someone's day is a friendly smile and a polite, "Hello!" Virtual smiles count, too. The internet can be a breeding ground for negativity. It's much too easy to be cruel or write hurtful things about a faceless person. Every day of the year we should consider people's feelings and how our words affect others. Remember that thing your mother told you about not saying anything at all if you couldn't say something nice? It's just as good an idea now as it was when you were a kid.
It is better to give than to receive.
Giving of yourself and your time is just as important as donating material things. There just aren't enough volunteers in the world. If you have the time to donate, schools are always looking for people to help out in classrooms, read with the kids, or make photocopies for teachers. Animal shelters are always low on help (I know mine is) and a lot of facilities just need people to help walk the dogs or play with the kittens. An hour of playing with cute, fuzzy kittehs? Sign me up!! Are you athletic? Do you play soccer, football, volleyball, tennis? Are you artistic? Can you paint, sew, play an instrument, sing? Most communities are desperate for adults to volunteer their services mentoring kids in arts-related activities or coaching youth athletic teams. I'm a huge advocate for sports. They teach kids about responsibility, and team work, and setting and working toward achieving goals. I coached high school volleyball for 5 years and believe me when I say, sports help keep kids out of trouble.
"The Holidays" is all-encompassing.
When we talk about "the holidays," most of us are referring to the time period between Thanksgiving and New Year's Day. But what about the rest of the months? Technically, there's at least one holiday every month of the year. Nothing in June, you say? Why not count the summer solstice. June is also National Accordion Awareness Month. There's a National Dance Week in August. Count it as a holiday! You hear people say, "I always get that warm, fuzzy feeling around the holidays." or "I try to give a little more around the holidays." I think we should all try to hold on to those warm, fuzzy feelings year-round. We should give more, care more, and feel more every day of every month of every year.
Do you volunteer, give to your community, or donate to local thrift stores or food banks? I'd love to hear about it! Let's spread the love, people!
About Amanda:
Amanda Bonilla lives in rural Idaho with her husband and two kids. She's a part-time pet wrangler, a full-time sun worshipper, and only goes out into the cold when coerced. She loves the outdoors, black clothes, pink appliances and thinks junk food should be a recognized food group. In the summer, she can be found sitting by the lake, enjoying the view from her dock.
Shaedes of Gray by Amanda Bonilla

In the shadows of the night, Darian has lived alone for almost a century. Made and abandoned by her former love, Darian is the last of her kind-an immortal Shaede who can slip into darkness as easily as breathing. With no one else to rely on, she has taught herself how to survive, using her unique skills to become a deadly assassin.

When Darian's next mark turns out to be Xander Peck, King of the Shaede Nation, her whole worldview is thrown into question. Darian begins to wonder if she's taken on more than her conscience will allow. But a good assassin never leaves a job unfinished…
You can find Amanda Bonilla at her website: http://www.amandabonilla.com/
~~~~~~~~~~~~~~~~~~~~~~~~~~~~~~~~~~~~~~~~
~*~*Giveaway*~*~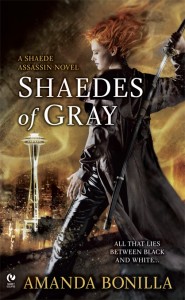 Amanda has generously offered a copy of her book, Shaedes of Gray, to one lucky commenter!
All you have to do is answer Amanda's question OR leave a meaningful comment about the post.
(You can read our full giveaway policy here)
Please leave a valid email when placing your comment so we can inform you if you win.
This giveaway is open to all.
Giveaway ends on Saturday, December 31, 2011; we will announce the winner on Sunday.
Good luck!