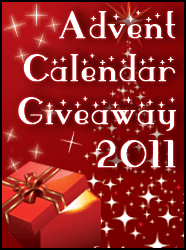 Welcome to the 19th day of Book Lovers Inc Advent Calendar. Each day we will offer you one great read in a giveaway on all 24 days till Christmas.
Today you will have the chance to win a copy of Eleven Scandals to Start to Win a Duke's Heart by Sarah MacLean. If you like Historical Romances that are both sweet and funny, this is so you! I loved this book, as I have a thing for grumpy, stuffy heroes. *g* The heroine is one passionate woman that will challenge his calm.   
Length: 367 pages
Genre:Historical Romance
Release Date: May 1st 2011
Publisher: Avon
Formats Available: Ebook
Purchasing Info:  Author's Website, Amazon, GoodReads
Book Blurb:
She lives for passion.

Bold, impulsive, and a magnet for trouble, Juliana Fiori is no simpering English miss. She refuses to play by society's rules: she speaks her mind, cares nothing for the approval of the ton, and can throw a punch with remarkable accuracy. Her scandalous nature makes her a favorite subject of London's most practiced gossips . . . and precisely the kind of woman The Duke of Leighton wants far far away from him.

He swears by reputation.

Scandal is the last thing Simon Pearson has room for in his well-ordered world. The Duke of Disdain is too focused on keeping his title untainted and his secrets unknown. But when he discovers Juliana hiding in his carriage late one evening—risking everything he holds dear—he swears to teach the reckless beauty a lesson in propriety. She has other plans, however; she wants two weeks to prove that even an unflappable duke is not above passion.
The Review:
Eleven Scandals to Start to Win a Duke's Heart (we'll call it Eleven Scandals), is the 3rd and final book in the Love By Numbers series. This is Juliana's story with the very cold Duke of Leighton. I really enjoyed the previous books in the series about the twin brothers, Nick and Gabriel and it was time their sister got her HEA. I couldn't wait to read Juliana's story. Ever since she met the mysterious and sexy man in the bookshop in the 1st book, and when we saw Simon in book 2…I was hoping he would be the hero of her book. So when I finally read the synopsis of Eleven Scandals I was in heaven! I might have squeed a little. *wink*
Juliana is a passionate woman, you can't miss that she is Italian and not English. I think what I loved the most about her is… Read the rest of the review.
~~~~~~~~~~~~~~~~~~~~~~~~~~~~~~~~~~~~~~~~
~*~*Giveaway*~*~

Sarah generously offered a signed copy of Eleven Scandals for one lucky commenter!
All you have to do is to either tell us what you want for Christmas !  Or what you wish you could give to a loved one.
(You can read our full giveaway policy here)
Please leave a valid email when placing your comment so we can inform you if you win.

This giveaway is open to everyone!
Giveaway ends on Saturday, December 31st, 2011; we will announce the winner on Monday.
Good luck!