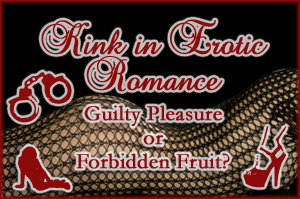 Welcome to Part I of BLI's new four part series:
"Kink in Erotic Romance: Guilty Pleasure or Forbidden Fruit?"
This weeks segment is entitled:
Ménage à Many Your Cup-of-Tea or No?
We are chatting about (you guessed it) ménage themes in romance and I'm thrilled to welcome and offer a big thank you to Mary, our special guest visiting from Mary's Naughty Whispers Blog!
First, just a little info about the series:
This will be a biweekly event during February and March.
There is a Giveaway opportunity and all the details noted below!
Every 2 weeks there will be different topics/thems discussed related to Kink in Erotic Romance!
And for the last 2 posts in March we will be welcoming a special guest author!!
I'm not a huge fan of ménage themes, in fact I've gotten extremely picky recently regarding this theme. However, I do have some favorite ménage reads. One stand-out is Lauren Dane's Undercover, the first book in her Federation Chronicles Science Fiction/Futuristic series published in 2008. Heroes Ash & Brandt are strong Alpha's and I loved the relationship development with kick-ass heroine Sera. Lauren Dane also incorporated a D/S theme in this storyline which, I felt suited the involved characters.
Sometimes I find a paranormal or science fiction genre romance with a ménage works better because this type of complex relationship is woven into the societal structure. That being said, I've read and enjoyed contemporary ménages as well. Jaci Burton's Riding the Night was a memorable read and I think part of the appeal is that there is a lovers reacquainted theme imbedded in the storyline between two of the protagonists. Also, Jaci Burton's ability to craft sexy, non-offensive love scenes has always impressed me. In other words, as with all readers, the author's voice must work for me. 😉
Given my reading tastes, I thought it would be best to ask a reader who enjoys romances that embrace relationships with multiple partners to share her experience with us. I found Mary on Twitter a while back and recently followed the breadcrumbs to her wonderful blog where she exclusively reviews ménage stories. Mary is an extremely prolific reader who hosts an active, fun site. She has kindly agreed to answer a few questions regarding ménage themes in romance and has some insights to share with veteran readers as well as newbies to stories that embrace these complex relationships! 🙂
So, without further adieu I'm going to hand the mic to Mary who has some awesome insights to share!
Lea: Mary! Welcome to Book Lovers! Thank you so much for agreeing to share your time with us today!
Mary: It's a pleasure to be here with you and your wonderful readers!
Lea: Do you read ménage stories exclusively Mary? Or do you mix up your romance reading a little and review ménage romances solely at Naughty Whispers?
Mary: I do read ménage stories exclusively. The stories must involve multiple males and one woman.
I do make some rare exceptions. Charlaine Harris is one of them with her Sookie Stockouse series, although we could consider her series as a love triangle. I would add also Laurell K. Hamilton, but here as well her two series, Anita and Merry Gentry, involve multiple partners.
Lea: What is it that you find so appealing about ménage themes in erotic romance?
Mary: I am fascinated by how several different people interact with each other. I think with two people it is already difficult and full of concessions, so just imagine how much more complicated it can be when there is a third partner, if not more, in the relationship.
I think the more people involved, the more complicated the relationship is. All the insecurities and emotions, like jealousy for example, are amplified.
We are also visual individuals and voyeurism in ménage erotica plays a big part as well as sharing our feelings. Being part of a ménage needs a lot of reassurance, tolerance and commitment as well as a great sense of communication. I do not read a ménage for the sex scenes but I would lie saying that it does not add brownies in the story! Unfortunately, most authors are not kinky enough in ménage stories, and they mix a lot BDSM with light bondage or think that the kinkiest sex scene ever is the one on the kitchen table or the dual penetration at the epilogue. There is a little lack of imagination most of the time but when an author knows how to write them, it is just the perfect finishing touch to the story.
Some MF authors will put the sex in #1 position, some will put the relationship #1 and for some it will be the plot. With ménage. authors, it is the same but they are even more challenged because they must include the multiple partners factor in each sex or relationship or plot! I believe that an author must be very talented to write this subgenre.
My idea of what makes a ménage a must read is this:
Characters = relationship = plot = sex
All of the above must be equally developed. Credibility and time factor must always be in the front of each story. If you read my reviews, that is and always will be my pet peeves!
In general, I consider a must read ménage when the author know what she/he is talking about. For example, If they write about BDSM, they must know the difference between a sub vs a slave or bondage (cuffs and blindfolds) vs BDSM lifestyle. A Dom is not a temporary status. But a male can have some dominant attitude in the bedroom.
I always feel it when an author put her/his soul into the story and that makes the read so very special.
Although it is very rare that I dislike a book completely. It happens but rarely. I always find something good in a ménage romance. This subgenre fascinates me, plain and simple.
Lea: Do you prefer the HEA in the story to include all three or four of the people involved in the relationship or can you handle it when, say, one of the guys walks away at the end?
Mary: Oh, definitely a HEA with everyone involved in the relationship! I need to know they will all receive equal love, equal sex and equal attention. I always feel frustrated when the third is just a sex toy. I am only satisfied if they are all together and profess their love in the end. No swigging, no swapping either.
Lea: If one of the people in the relationship does choose a separate path I like it when there is a sequel and we can find out what happens to him. Do you like that type of scenario or do you prefer standalone novels in a ménage? If so why?
Mary: I have a very very bad habit. I always start off by reading the last 3 pages of the books I intend to read. If the story does not end HEA for all parties, then I put the story aside for a later date, which usually never comes.
So to answer your question, it happened, not many times though, but somehow I felt cheated. I am really not fond of this type of ending.
When I read a ménage, I need to fall in love with the characters. So if one of them leaves or is not involved permanently at the end of the story, I feel like it was just a sex story, no longer a romance.
Lea: See, oddly enough, I don't mind when the third person in the relationship walks away at the end. As long as it is understood from the beginning. Like a one night of passion scenario. But, I do like it when that third person gets his own story. 😉
I always find that a ménage works better for me when the involved parties have been friends before their relationship evolves into a threesome. Do you find this as well, or does it strictly depend on the author's relationship development?
Mary: It depends on so many different things. I am not so sure about being friends before. For me, it is less credible that, after many years of friendship, all of a sudden, friends want to share a woman. So I will answer your question with a no. I prefer when all the parties do not know each other. It creates more conflicts, more emotions, more insecurities, more passion. That's the way I see it.
I also think that it depends on the author's talent and the ability to provide some high maintenance personalities. It also depends if the male characters are straight or bisexuals.
On top of everything else, I like to be surprised and kept on my toes. Unfortunately, when the males are friends, very often it is the same story: one or both had a terrible childhood, so they became as close as brothers. They became therefore inseparable. And that's hardly original and too widespread in recent stories.)
Lea: Do you have a preference between ménage à trois, or ménage à quatre?
Mary: Or ménage à cinq, or six…lol
Yes. I much prefer more than 3 people involved. I truly think that the more characters involved, the more interesting is the relationship. It's like in a team: if you do not work or play together, nothing will work. Different personalities mean more emotional involvement.
Somehow, I also think that in such relationships, you can have the best of all. I love cuddles so one male can be sweet and tender, but at times I like him intense, so another male can be possessive and intense and a third could make me laugh, a fourth could be kinky etc.
I mean the list is endless! But no. Not that endless. I think 3 or 4 guys are my limit of credibility, although I read some ménage with more than 5 guys and loved them. It all depends of the author's talent I guess.
Lea: LOL! Yikes, six would be really crowded! See, I've really soured on more than 3 being involved in the relationship. This is strictly a matter of personal reading preferences, of course, but I just find it's too many phalluses penetrating too many orifices. LOL But again, that's just me.
Any favorite authors?
Mary: So many: Laura Tolomei, Tymber Dalton, Natalie Acres, Madeleine Montague, Anne Douglas, Kaitlyn O'Connor, Cherise Sinclair, Kimberly Zant, MacKenzie McKade, Trista Ann Michaels and many more.
Lea: Do you have any book recommendations for readers new to ménage themes in romance?
Mary: It is difficult to choose only a couple but…
Sci-Fi MMF: Fierce Radiance by Tymber Dalton
Contemporary MFM: Their Virgin's Secret by Shayla Black and Lexi Blake
Contemporary MFMM: Cowboys boots and Unfinished Business by Natalie Acres
Contemporary MMF: Between friends by Lolita Lopez
Contemporary MFM: Forbidden Pleasure by Lora Leigh
Contemporary MMF: One-two-punch by Katie Allen
BDSM MFM: Grace's Final Submission by Sara Kingston
Lea: Lately I've noticed a growing number of authors are using m/m/f themes in ménages, do you have any preference regarding the relationship mix? i.e. m/m/f versus m/f/m.
Mary: I generally prefer MFM vs MMF and not because of the bisexuality factor.
Unfortunately, in MMF ménage stories, it is very rare to find the equality between the characters that I am so fond of in a ménage. Most of the times, the relationship starts with two males already in a relationship, looking for their female third. Too often the female is the sex toy or the voyeur in the relationship. She hardly receives equal love and sexual attention. So this is a bit frustrating and also redundant. Either she is almost an outsider or she is the center but rarely I find the equilibrium with all.
There is a huge demand of MM stories right now and some MM authors are trying to extend their horizon by offering some MMF ménage. But it is way obvious that their focus is MM, so the quality is not quite there.
I prefer MFM stories. I think they are more complex. We all know we can love several times in our life so loving several partners at the same time is fascinating. By nature, we are possessive and we do not share our partner.
I read many ménages so far, and I rarely find the same level of emotion with MMF vs MFM. MMF will prioritize sex vs MFM with feelings. If is of course a general opinion. There are exceptions.
Lea: Any final remarks regarding ménage in erotic romance?
Mary: Reading is a personal journey. I read my first ménage 5 years ago. It was Colters' Woman by Maya Banks. Since then, I never stopped reading this sub-genre.
The main misconception people have with ménage is in thinking ménage means orgies and porn. Most forget to add romance after the ménage.
Erotic ménage and erotica with ménage scenes are two distinct subgenre. One would be romance oriented and the second would be porn oriented. Generally the covers and the titles give us clues but if someone never read a ménage, it can be confusing and misinterpreted.
Lea: Coulters' Woman was the first ménage I ever read and enjoyed it too! I had an obsession with ménage stories after I read that one for quite a while. The relationship dynamic made many readers nuts but I think the contrast of characters and certainly adding the suspense element helped others to love the story! It's the old story though, what floats one person's boat sinks another! lol
Mary, once again, thank you so much for contributing to our series on Kink in Erotic Romance! We so appreciate your insight! 🙂
Mary: Thank you for this unique opportunity and for your interview. I love this sub-genre, and I hope that some readers will be curious enough to read a ménage romance and hopefully get as hooked as I am.
I also would like to thank all the ménage authors who are working hard to be published and who give me hours of great reads! You rock!
Where to find Mary:
Question: What is your feeling about ménage themes in erotic romance?

Guilty Pleasure or Forbidden Fruit?
~~~~~~~~~~~~~~~~~~~~~~~~~~~~~~~~~~~~~~~~
~*~*Giveaway*~*~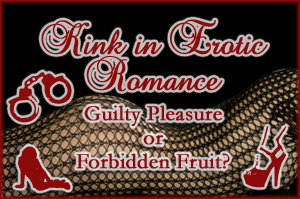 BLI is offering a $25.00 USD value Gift Card to the online Bookstore of the Winner's choice to one lucky commenter! (**The Online Bookstore must have GC's available to order to customers who live outside of the USA!) 🙂
*Please Note: You can enter this contest at each of the four posts for the duration of the series. Therefore you will have up to FOUR chances to win if you comment on each post!!
All you have to do is answer the question noted above or leave a meaningful comment regarding your thoughts about Menage themes in Erotic Romance!
(You can read our full giveaway policy here)
Please leave us a way to contact you.
(Email in blogger profile or twitter name – no way to contact you – no entry).
This Giveaway is open Internationally!
Giveaway ends on Saturday, March 24, 2012; and we will announce the winner on Sunday.
Good luck!