Please join us in welcoming multi-published author Kelly Jamieson to BLI today! Kelly writes contemporary romance, erotic romance and romantic suspense that evoke a range of emotions and are always hot, but always with a love story she hopes will move readers. Kelly's writing has been described as "emotionally complex", "sweet and satisfying" and "blisteringly sexy". Kelly books are published by Samhain, Ellora's Cave, Amber Quill, and Wild Rose Press. She is here to celebrate the release of her latest Samhain Publishing novel, One Wicked Night, which became available for download on October 25, 2011! Kelly also has a new publication coming from Samhain on Valentines Day, called Rule of Three!
Lea: Kelly! Welcome to Book Lovers, I'm so excited to be talking to you today about One Wicked Night! 🙂
Kelly: Thank you so much for having me here!
Lea: To start off, can you please tell us a bit about yourself?
Kelly: I wish I had something fascinating to say about myself, but I'm so ordinary and boring it could make you gag! LOL. I have a full time day job which is top secret (not really, but most folks there don't know about my writing) so sometimes I feel like I lead a double life. I'm also a wife and mother of two adult children. My daughter is currently living in France, so I'm a little stressed about that, but luckily I have my writing to keep me from curling into the fetal position and whimpering for the next five months while she's gone. If I didn't use my imagination to write stories, I would use it to imagine horrible scenarios of kidnap, injury or death that could be happening to her so far from home.
Lea: What a wonderful experience for your daughter! I'm sure she will be fine but I know, as a parent, you can't help but worry! You have a number of publications to your credit. How long have you been writing romance?
Kelly: I started writing "seriously" about five years ago. When I say "seriously" I mean, really trying to see if I could get published, because I've really always written. My other job and my kids kept me from really pursuing it for a while, but as they got older and more independent I decided to see if I could do it. I wrote for about a year before I sold my first book, Love Me, to Samhain Publishing. Now, that wasn't the first book I wrote – that one will NEVER be published, LOL. I'm not one of those writers who sold the first book she ever wrote—I had a LOT to learn!
Lea: Please describe a typical day of writing? Are you a planner or pantser?
Kelly: I don't know if I have a typical day of writing. I wish I did. I'm kind of a "feast or famine" writer. I work full time, and I try to write in the evenings, but sometimes there are family things that need to be done, and often there are "writing business" things that need to be done and so sometimes I go days without writing a word. Then on one of my days off, I'll write 5-6000 words. I very loosely plan my stories. I plan the turning points, but more the emotional part of those turning points than the actual event. I find that if I plan too much, I'm bored with the story. I like to find out what's going to happen as I go, and I let the characters take the lead. My husband laughs and shakes his head when I say things like, "I have to finish this scene because I need to know what's going to happen!"
Lea: One Wicked Night is a smoking hot ménage à trois that embraces m/m/f and m/m scenes.
Here is the blurb including the Samhain Warning: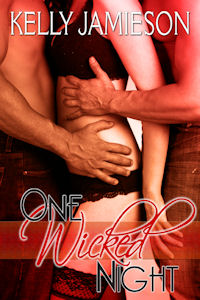 Release Date: October 25, 2011
Publisher: Samhain Publishing
Formats Available: eBook, Kindle, Nook
Purchasing Info: Publisher, Author's Website, Goodreads, Kindle, Nook, Kobo, All Romance eBooks
Book Blurb:
The boys are back in town…

Ten years ago, Kaelin Daume spent a steamy summer home from college secretly hanging out with town bad boy Tyler Wirth and his best friend Nick Kernsted. The connection was warm, complicated, and came to a crashing end when she walked in on her two forbidden friends with another woman. The shocking scene of sex and bondage has haunted her boring, oh-so-vanilla life ever since.

The fallout from that night tore Tyler's life apart. He left Mapleglen, disowned and disgraced, to build a successful advertising career and a unique relationship with Nick. Nothing could bring him back except his sister's wedding, and he plans to hightail it back to Chicago as soon as it's over. At least one good thing hasn't changed: Kaelin is as sweet as ever. Except she doesn't seem too thrilled to hear it.

As tensions run high, Kaelin can't resist the temptation to commit one crazy act of rebellion. Once the web of secrets, sins and lies starts to unravel, though, their lives will never be the same…

Warning: This book contains a nice girl who gets her naughty on with two hot men. M/M/F and M/M scenes may cause an increase in body temperature, pulse rate and respiration. Read with caution! For adult use only.
Lea: Wow! Talk about a complex relationship! Is this the first novel you've written with a ménage theme Kelly? And as part of that question, have you written m/m genre stories before?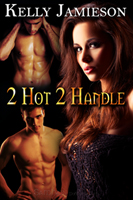 Kelly: One Wicked Night is not actually my first ménage story, nor my first M/M/F story (there is a M/M scene in it). I've written M/F/F ménages, M/F/M ménages (for those who may not know the difference, in M/F/M the two men don't get it on with each other, just with the woman, whereas in M/M/F, the two men also have some relationship). Also some stories end with a committed relationship between all three people, and some end with only two of the three being in a committed relationship. (But there's always a happy ending!) I haven't written just M/M romance although I enjoy reading it. I love writing ménage stories because of the complexity, exactly as you said. Falling in love is risky and complicated when it's just two people, but when it's three people, it's even more so.
Lea: Why are Tyler and Nick described as Kaelin's forbidden friends in the synopsis?
Kelly: Tyler is Kaelin's best friend Avery's "little brother". He's actually a couple of years younger than her, and when Kaelin started hanging around with him and Nick one summer when she was back from college, she never told Avery about it. Avery was busy with a new guy that summer and Kaelin was feeling a little left out. Also, Tyler was a bit of a rebel, even as a high school student, drinking, partying, crashing his parents' car into a tree (everyone believes!) and Kaelin was a model student—studious, serious, cautious—who would never get involved in things like that…except that one summer, she did.
Lea: I think it's safe to say that Tyler is the more complex and certainly most difficult of the three main characters. Please tell us more about him, he carries a lot of baggage doesn't he?
Kelly: Yes! There's a lot of family dysfunction that runs beneath the surface of the story. It's something that I hope readers will pick up on and think about even though it's not always directly addressed. We learn more about this through Tyler's mother, who also goes through some changes in the story. There's a father who's very controlling, a mother who enables that, and some sibling rivalry where the older child tries so hard to be perfect and the younger child has to get attention in other ways… Sometimes kids get labeled and then spend their life living up to that label. There's also some "tough love" that splits the family up, and readers can think about whether that was the worst thing or the best thing that could have happened to the family and to Tyler.
Lea: Tyler left the small town and his family a decade prior the opening of the book. Have he and Nick been lovers over that time? As part of this question please share a little more about Nick.
Kelly: Well, these are really great questions! Again, this is something that's left for readers to think about. In my mind, yes, they have been lovers over that time, they've been lovers since high school. Again, not wanting to give too much away, but I think Nick has always been in love with Tyler. I think he's always hoped for a relationship with Tyler, but also has always known that Tyler had feelings for Kaelin way back then, and always figured that Tyler would some day find a woman he'd want to spend his life with. Nick is solid and dependable and loyal, and one of the few people who knows the "real" Tyler. As Tyler says, Nick knows him better than anyone and loves him anyway. He calls Tyler on his bad behavior. Nick doesn't let Tyler get away with pushing him away to protect his heart, even though Nick knows his own heart might be broken.
Lea: Did Kaelin stay in Mapleglen after the guys left? What is her background?
Kelly: Kaelin was on summer break from college when she started hanging around with Nick and Tyler and she ran back to college right after she walked in on them that day. She had dreams of being a lawyer, but when she finished her undergraduate degree she had to go home to Mapleglen to help her family. Her father had suffered a brain injury when she was younger, and when her mother died, someone had to look after him. She's dutiful and loyal, and gave up her dream of law school to look after family. She's comfortable in Mapleglen, even though it's not everything she wants or needs.
Lea: While your story focuses on a ménage à trois relationship, it also addresses life in small town Mapleglen and prejudices that affect the main characters. There is some rather malicious, hurtful gossip that takes place and adds depth to their story. Do you have first hand experience with small town life Kelly?
Kelly: I grew up in a "small city", which was probably a little bigger than Mapleglen, at that time it was about 40,000 people. But yes, I saw those exact kinds of issues— hypocrisy, homophobia, gossip and rejection. There are good things about living in a small town, like the things that kept Kaelin there—support and friendship and comfort—but there are negative things too.
Lea: One Wicked Night is an emotionally charged story, for a number of reasons but Tyler's mother holds an especially important secondary role. Please tell us a little about her and her relationship with her son.
Kelly: I included Tyler's mom's point of view for a couple of reasons. One was to foreshadow and highlight what Kaelin's life could become if she didn't gather up the courage to go after what she wanted. The other reason was to help show the two sides to the conflict between Tyler and his parents. From Tyler's perspective, he felt angry and resentful toward his parents for not believing him and for kicking him out. He knew who he was inside, and it hurt him that his parents didn't. But from his mom's perspective, she saw a kid who was spiraling out of control, getting into riskier and riskier behaviors. Tyler's mom didn't believe the things he was accused of, but could see that he was teetering on the edge of really getting in trouble, and had to make that difficult decision to really shock him into growing up. As a mother, I can imagine the pain of having to do that and hoping that it was the right decision.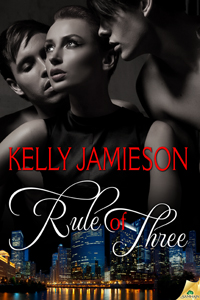 Release Date: February 14, 2012
Publisher: Samhain Publishing
Formats Available: eBook (Pre-Order)
Purchasing Info: Publisher, Author's Website
Book Blurb:
If you follow the rules, you miss all the fun…

Kassidy is a good girl who wants to be bad. Dag is a bad boy who is very, very good. And Chris? He likes to watch!

When wicked-sexy Dag returns to Chicago to catch up with his old college buddy Chris and meet The Girlfriend, none of them are anticipating the unexpected turn of events that switches a loving twosome into a scorching hot threesome. As old feelings resurface, and new attractions are explored, a storm of sexual sparks is unleashed that leads them into forbidden areas.

Always the good girl, Kassidy blossoms under the attentions of two loving men, but neither she nor Chris are expecting the ménage to take a quarter turn toward Dag… and his feelings for Chris. When it's revealed that Dag's attraction to Chris is one big reason he left town, a tangled mess of old hurts and new feelings might destroy friendship. Love. Might destroy everything.

Warning: This book contains a couple already in love, a couple falling in love and a couple in love who didn't know it; also multiple scorching sex scenes including girl with boy, girl with two boys, boy with boy and two boys with girl…whew!
Lea: You have a busy year ahead! Please share what readers can expect next from the desk of Kelly Jamieson, and tell us a little about Rule of Three!
Kelly: The idea for Rule of Three came from an advice column I'd read, where a man wrote in about how to deal with his best friend…who was in love with him. The man wasn't gay, and had a girlfriend, and he cared about his friend, but didn't love him that way. Many of us have experienced that pain of loving someone who just sees us as a friend, and my imagination went with that scenario and how that might all play out…
Lea: Please summarize One Wicked Night for us twitterstyle (in 140 characters or less). 
Kelly: Ha! I love Twitter! The tag line I'd originally come up with for the story might say it:
"If she's going to risk it all to be bad, it better be good."
Lea: Now for the mean question. lol Please tell us 3 reasons why people should read your books?
Kelly: Ooooh. Three reasons, hmmmm. Well, keeping it succinct:
1. They're hot
2. They're emotional
3. They always have a satisfying ending that will make you feel good.
Lea: Excellent Answers!
Kelly, thank you so much for taking time out of your busy schedule to join us today!
Where to find Kelly:
~~~~~~~~~~~~~~~~~~~~~~~~~~~~~~~~~~~~~~~~
~*~*Giveaway*~*~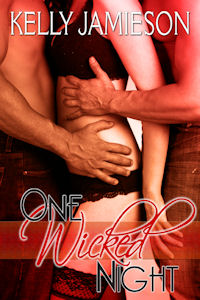 Kelly has generously offered a Digital copy of One Wicked Night to one lucky commenter! 🙂
All you have to do is leave a meaningful comment about Kelly's interview or a question for her!
(You can read our full giveaway policy here)
Please leave us a way to contact you.
(Email in blogger profile or twitter name – no way to contact you – no entry).
This Giveaway is open Internationally!
Giveaway ends on Saturday, February 11, 2012; and we will announce the winner on Sunday.
Good luck!