Today the wonderful Ann Mayburn is here to celebrate the release of her newest title Sodom and the Phoenix. She will tell us about her Virtual Seduction series and how she came up with the idea. She also brought a hunky dude so prepare yourself for a bit of drooling.Make sure to answer her question at the end of the post for your chance to win your own copy of the book. Please give Ann a warm welcome. 
Ten years ago if you had told me that I'd have a computer as thin as a kids book with a touch screen I would have told you to stop smoking crack. What if ten years from now you find yourself making a reservation at a 5 star resort devoted to making your every fantasy a reality, virtual reality. Sounds crazy, but with as quickly as our world is advancing it is far from out of the questions.
In my series 'Virtual Seduction' such a place exists and it is called the Sodom Virtual Reality Resort located in Detroit Michigan. At Sodom your every sexual desire can be fulfilled in the safety and anonymity of VR(virtual reality). Want to know what it would feel like to have sex while in an endless free fall from an airplane? Done. Ever wondered what it would be like to have your own harem of werewolves salivating to satisfy your burning lust?
Wonder no more. At Sodom you can either enjoy your fantasy by yourself, or invite another resort guest to come play with you. You can have a wild fling with a complete stranger in a fantastical setting without the worry of STDS, pregnancy, or uncomfortable looks the morning after. In VR you can look like anyone or anything you want so you don't have to worry about realizing that the man you called 'Big Daddy' last night in a fantasy is also your dentist.
In 'Sodom and the Phoenix' our leading lady, Tanwen, journeys to Sodom as part of her efforts to find herself after her divorce. Married at a young age, Tanwen never really had a chance to be young and single and she wants to make up for lost time, but really isn't into casual sex and finds the dating scene intimidating. Her solution is to book a stay at Sodom and do all the kinky, forbidden things her ex-husband would never even consider. By doing them in VR Tanwen believes that she can bypass all the messy relationship stuff and just work on finding her passion.
Fate, however, has different plans in store for Tanwen. She finds out that she has been booked during a BDSM convention and finds herself lost in a sea of leather and latex. Tanwen catches the eye of one of the Dom's and finds herself sharing her time in VR with him, slowly but surely doing the one thing she promised herself she wouldn't, fall in love.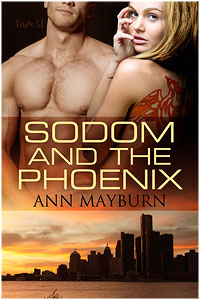 So, if you had access to Sodom's fabulous VR equipment, what fantasy would you like to indulge in?
I'll be giving away a copy of 'Sodom and the Phoenix' to one lucky commenter who is brave enough to share their dreams. 😉
About the author:
Ann is Queen of the Castle to her wonderful husband and three sons in the mountains of West Virginia. In her past lives she's been an Import Broker, a Communications Specialist, a US Navy Civilian Contractor, a Bartender/Waitress, and an actor at the Michigan Renaissance Festival. She also spent a summer touring with the Grateful Dead(though she will deny to her children that it ever happened).

From a young age she's been fascinated by myths and fairytales, and the romance that often was the center of the story. As Ann grew older and her hormones kicked in, she discovered trashy romance novels. Great at first, but she soon grew tired of the endless stories with a big wonderful emotional buildup to really short and crappy sex. Never a big fan of purple prose, throbbing spears of fleshy pleasure and wet honey pots make her giggle, she sought out books that gave the sex scenes in the story just as much detail and plot as everything else-without using cringe worthy euphemisms. This led her to the wonderful world of Erotic Romance, and she's never looked back.

Now Ann spends her days trying to tune out cartoons playing in the background to get into her 'sexy space' and has learned to type one handed while soothing a cranky baby.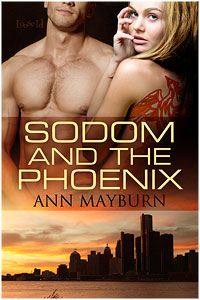 About the Book:
Tanwen Evans has traveled to the world famous Sodom Virtual Reality Resort to find her passion. Her twenty year marriage to her high school sweetheart has recently ended, and with both of her children out of the house she finds herself alone for the first time in her adult life. Unwilling to trust her heart to another man, she believes that indulging in some racy virtual reality fantasies will help her find her long buried sexual side without the messy complications of a relationship. When she arrives at Sodom she discovers much to her shock, and fascination, she has been booked during the annual 'Leather Kiss' BDSM convention.

Bryan Hamilton isn't a fan of virtual reality fantasies, he prefers real life any day of the week. As a founding member of 'Leather Kiss' he attends the convention at Sodom, but usually enjoys his submissives without the aid of technology. When he runs into Tanwen all of his plans change. With her gentle disposition and her ladylike manners she calls to him like no woman has since the death of his wife. He discovers that she is a natural submissive and begins a campaign to win her heart, that includes joining her in a series of mind-blowing VR adventures.

Tanwen has to fight her growing attraction to the handsome Master who is supposed to be just a vacation fling. The more they're together, the more she finds herself yearning to have Bryan be her Master both in the virtual and the real world. She has to decide what's more important, protecting her heart or taking a chance on the kind of love she's always dreamed about.
Places to find the book: 
Goodreads, Amazon, All Romance, Loose ID
~~~~~~~~~~~~~~~~~~~~~~~~~~~~~~~~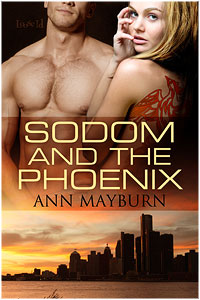 ~*~*~Giveaway~*~*~
Ann is offering an ebook copy of 'Sodom and the Phoenix'  to one lucky commenter.
All you have to do is answer Ann's question:
So, if you had access to Sodom's fabulous VR equipment, what fantasy would you like to indulge in?
(You can read our full giveaway policy here)
Please leave a valid email when placing your comment so we can inform you if you win.
This giveaway is open worldwide!
Giveaway ends on Saturday 11 February 2012; and we will announce the winner on Sunday.
Good luck!