Welcome to this week's news post! It hjas been a bit of a quiet week but we  have more Harry Potter news,  upcoming news on books and some fun tidbits!
The digital transition of Harry Potter continues with the recent announcement that Overdrive who has partnered with Rowling and Pottermore will be offering the series in ebooks and audiobooks to schools and libraries.  Overdrive will be delivering worldwide rights including ebooks in French, German and Italian and will be available via most ereading devices. There is no concrete date where the books will be available for lending but it is rumoured via this article that April the 30th is the date.
Looks like the popularity of the Fifty Shades trilogy is never-ending. A whole slew of mainstream press articles have been reporting on the phenomena of Fifty Shades which book clubs around the US have picked up and raving about the series – I suspect that because the books have never been marketed as a straight up romance and that its not published by an established romance publisher is the reason why so many people have picked up the series, although I am bemused that it is reported that erotic romances never really existed before until this series.
I reported a few weeks ago about Amazon having disagreements with some publishers who have pulled out of the Kindle store due to contractual agreements. Well Publisher's Lunch may have shed some light to the matter, which suggests that Amazon is asking publishers more promotion in listings and format conversion. Another article from Device Magazine which has followed these developments has also suggested that the ongoing exclusivity and contractual clauses is going to increase an ever increasing market dominance with Amazon, Barnes and Noble and the ibookstore which will harm e-publishing and choice.
News in brief:
The producers of The Hobbit have an official channel on Youtube which has the trailers but also production clips which has behind the scenes footage. You can check it out here.
And now for upcoming books to watch out for!
First up! Coveted by Shawntelle Madison – I really like the premise with an OCD heroine.
SOMETIMES WHAT YOU COVET IS IMPOSSIBLE TO KEEP.

For werewolf Natalya Stravinsky, the supernatural is nothing extraordinary. What does seem strange is that she's stuck in her hometown of South Toms River, New Jersey, the outcast of her pack, selling antiques to finicky magical creatures. Restless and recovering from her split with gorgeous ex-boyfriend, Thorn, Nat finds comfort in an unusual place: her obsessively collected stash of holiday trinkets. But complications pile up faster than her ornaments when Thorn returns home—and the two discover that the spark between them remains intense.

Before Nat can sort out their relationship, she must face a more immediate and dangerous problem. Her pack is under attack from the savage Long Island werewolves—and Nat is their first target in a turf war. Toss in a handsome wizard vying for her affection, a therapy group for the anxious and enchanted, and the South Toms River pack leader ready to throw her to the wolves, and it's enough to give anybody a panic attack. With the stakes as high as the full moon, Nat must summon all of her strength to save her pack and, ultimately, herself.
Nalini Singh has posted the cover for the next Guild Hunter series- Archangel's Storm which follows Jason's story.
Enter New York Times bestselling author Nalini Singh's darkly beautiful world of archangels and immortal power, as a pact is sealed between two souls bound by blood, stirred by desire, and driven by vengeance…

With wings of midnight and an affinity for shadows, Jason courts darkness. But now, with the Archangel Neha's consort lying murdered in the jewel-studded palace that was his prison and her rage threatening cataclysmic devastation, Jason steps into the light, knowing he must unearth the murderer before it is too late.

Earning Neha's trust comes at a price—Jason must tie himself to her bloodline through the Princess Mahiya, a woman with secrets so dangerous, she trusts no one. Least of all an enemy spymaster.

With only their relentless hunt for a violent, intelligent killer to unite them, Jason and Mahiya embark on a quest that leads to a centuries-old nightmare… and to the dark storm of an unexpected passion that threatens to drench them both in blood
Chloe Neil's latest book, Biting Cold is slated in the summer
Turned into a vampire against her will, twenty-eight-year-old Merit found her way into the dark circle of Chicago's vampire underground, where she learned there was more to supernaturals than met the eye—and more supernaturals than the public ever imagined. And not all the secrets she learned were for sharing—among humans or inhumans.

Now Merit is on the hunt, charging across the stark American Midwest, tailing a rogue supernatural intent on stealing an ancient artifact that could unleash catastrophic evil on the world. But Merit is also the prey. An enemy of Chicagoland is hunting her, and he'll stop at nothing to get the book for himself. No mercy allowed. No rules apply. No lives spared. The race is on.
And finally we have the cover for Lisa Shearin's latest book, All Spell Breaks which is out on May 29th!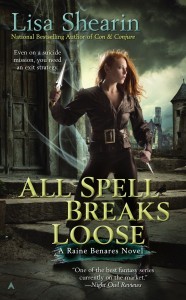 So with the success of Fifty Shades trilogy do you think erotic romance will be more mainstream? And what do you think of any of the books I listed? Any books you are hankering  for coming out this month?