Welcome to this week's news post and we have a jam packed edition with major news about Agency pricing, book covers and some fantastic tidbits! So sit back and get a nice cuppa because one or two links will lead you to wanting one and enjoy!
The big news this week is that the Department of Justice in the US who has been investigating due to anti-trust issues is now threatening the Big five publishers, and Apple for collusion according to a report in The Wall Street Journal. It does not help that there was reports that Apple had approached Publishers previously and suggested that Agency pricing should be used to counteract Amazon's dominance in the ebook market but it seems this may have given impetus for an investigation and it looks like that Agency Pricing is going to end especially since its going to be pretty costly with lawsuits and fines. And this doesn't involve the EU and UK  ongoing investigations either but this will mean good news in the long run for ebook readers because the cost of ebooks looks likely that it will be going down.
Breaking news as I was writing this post although it is not surprising but  it looks like that Dorchester is no more. The struggling publisher has filed for a notice of forclosure and the owner The Backe Grope Inc is going to sell Dorchester along with the rights of any of books they own. However it doesn't  look like that any of the issues of late payments and royalties is going to be resolved as the creditors doesn't look like they will be getting any of the funds from the sale.
April is the month of Pottermore! The site where additional new content was written by JK Rowling and the place to buy audio and ebooks is going live in April. It looks like the kinks have been weeded out which was why the site and launch was postponed from the Beta release but it is good time to be a Harry Potter fan!
News in Brief:
If you have a spare hour and I highly recommend y'all checking these out because kicking back with a nice cuppa and enjoy a Curran POV snippet and a cute Q & A with Patricia Briggs and Kim Harrison.
Gordon aka the second half of the fantabolous Ilona Andrews has written a smexy POV Curran scene (pssst HOT TUB scene from Magic Strikes!!!)   You can check out the fun here!
Patricia Briggs and Kim Harrison are currently on a signing tour due to their new releases of Fair Game and A Perfect Blood. There was a livestream video of their Q&A signing event on Wednesday at Seattle. Definitely worth watching  because its fun and informative you can check it out here – Livestream video
And finally – You know you are all secretly wanting to check out the debut trailer of Breaking Dawn Part 2 – well its going to feature as part of the trailers in the opening weekend of  The Hunger Games!!!!  Smart and savvy move on Lionsgate/Summit.
I really love this week's upcoming covers!!!
First up!  Love this premise so much! Liz Williams – World Soul
What if being a librarian was the most dangerous job in the world?

Worldsoul, a great city that forms a nexus point between Earth and the many dimensions known as the Liminality, is a place where old stories gather, where forgotten legends come to fade and die—or to flourish and rise again. Until recently, Worldsoul has been governed by the Skein, but they have gone missing and no one knows why. The city is also being attacked with lethal flower-bombs from unknown enemy. Mercy Fane and her fellow Librarians are doing their best to maintain the Library, but… things… keep breaking out of ancient texts and legends and escaping into the city. Mercy must pursue one such dangerous creature. She turns to Shadow, an alchemist, for aid, but Shadow—inadvertently possessed by an ifrit—has a perilous quest of her own to undertake.
He's a fallen angel. She's a rockabilly reporter. Together they must solve a deadly string of murders plaguing the mortal and the immortal worlds.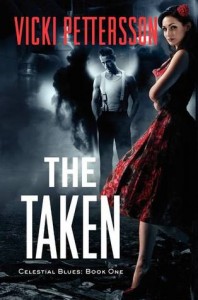 Griffin Shaw used to be a PI, but that was over fifty years ago when gumshoes hoofed the streets . . . and he was still alive. Now he's a Centurion, an angel who assists other murdered souls through their journey to the afterlife. But while Shaw might be an ang

el … he's no saint. Haunted by the mysterious events surrounding his own death, he seizes a chance to wreak some vengeance when he witnesses a deadly attack on journalist Katherine "Kit" Craig.

Joining forces, the unlikely avengers take to the streets, hunting a killer whose trail of bodies stretches across Las Vegas and into an immortal netherworld. It is a dangerous trek that lead them into the darkest corners of Sin City and into the heart of an evil conspiracy extending beyond the lights of the Strip that could destory them both.

But destruction isn't the only threat Griffin faces. The closer he gets to Kit, the more he finds himself bewitched by her mortal charms. Can he resist falling under her spell? And does he want to?
I really enjoy this series and this latest entry sounds like fun!
She's holding tight. He's hanging loose.

Eve Monroe is a stock-car PR pro who puts her career first—until an on-track wardrobe malfunction reveals more than the sexy smile of her race-car brother's jack-man, Nolan Ford. The video's become an internet sensation, and it's Eve's job to calm the sponsors and put a spin on the unexpected exposure. It may …be purely a public relations job, but now that Eve's seen what's under Nolan's crew suit, she can't help but be a little revved up.

And they both have the same drive.

When Eve and Nolan end up in Vegas during race weekend, the chemistry is combustible. Somewhere between cocktails and a smoking-hot motel-room derby of their own, Eve and Nolan wake up hitched, thanks to a detour to a Vegas chapel. A hangover marriage to a virtual stranger isn't good for anyone's image, so Eve plans to play the happy wife long enough to satisfy the press, and then quietly part ways. Now all she has to do is convince her new personal jack-man. But Nolan has plans of his own…
And finally – Ilona Andrews unveiled the cover for Gunmetal Magic – the spinoff book featuring Andrea Nash from the Kate Daniels series. I LOVE the small details such as the smoking gun!
Some people have everything figured out — Andrea Nash is not one of those people. After being kicked out of the Order of Knights of Merciful Aid, Andrea's whole existence is in shambles. All she can do is try to put herself back together, something made easier by working for Cutting Edge, a small investigative firm owned by her best friend, Kate Daniels.
When several shapeshifters working for Raphael Medrano — the male alpha of Clan Bouda and Andrea's former lover — die unexpectedly at a dig site, Andrea is assigned to investigate … and must work with Raphael. As her search for the killer leads her into the secret underbelly of supernatural Atlanta, Andrea knows that dealing with her feelings for Raphael might have to take a backseat to saving the world …
The main question is about the potential lawsuit about Agency Pricing – do you think this will be the end of fixed ebook prices? And what do you think about Dorchester's demise?