Welcome to this week's news post! We have news that the first publisher to remove Agency pricing is HarperCollins' price drop, more YA adaptations and movie news as well as our usual covers and books to watch out for!
HarperCollins has dropped Agency pricing and will be allowing discounts and other associated special offers with retailers this week, they are the first publisher to undergo this and I suspect that Hachette and Simon and Schuster will follow suit soon since they have also settled with the DOJ. Macmillan, Penguin and Apple who have refused to settle will be heading for trial sometime next year to challenge this ruling.
And talking about HarperCollins – one of their imprints, Harper Voyager which releases SF and Fantasy titles, are looking for open and unagented manuscript submissions for a two week period. In the weeks between the 1st and the 14th of October, they will be looking for SF and Fantasy titles, YA and speculative and dystopian ficiton. For more information click here.
The makers of the Espresso books on demand machine has announced a partnership with Eastman Kodak and Readerlink Distribution Services which will help to distribute the machines into more outlets such as bookshops and supermarkets. This will allow over 100,000 locations where books will be printed on demand instead of customers having to wait if they ordered over the internet.
There is an interesting article from The Book Seller has reported that 55% of readers who buy and read YA books are actually adults. I am not that surprised by this because books like The Hunger Games, Twilight and Harry Potter have gained a huge crossover audience which attract YA and adults.
News in Brief:
The movie adaptation for Divergent has been given a release date, while shooting is scheduled for next year, the film is slated for release on 21st March 2014.
Ilona Andrews has posted another mini snippet and more details on the special edition of Magic Bites which will have two Curran POVs,  and a quiz.
This makes me happy! Kristen Callihan, has posted some tidbits about  the next Darkest London book. The title for book four will also be announced soon.
The 7th Chicago Vampires has a cover and a blurb!
In a city full of vampires, trouble never sleeps.

At the tender age of 27, Merit became a sword-wielding vampire. Since then, she's become the protector of her House, watched Chicago nearly burn to the ground, and seen her Master fall and rise. Now she'll see her mettle—and her metal —tested like never before.

It started with two . . . Two rogues vanishing without a trace. Someone is targeting Chicago's vampires, and anyone could be next. With their house in peril, Merit and her Master, the centuries old Ethan Sullivan, must race to stop the disappearances. But as they untangle a web of secret alliances and ancient evils, they realize their foe is more familiar, and more powerful, than they could have ever imagined.
This YA looks very interesting. Taken by Erin Bowman.
There are no men in Claysoot. There are boys—but every one of them vanishes at midnight on his eighteenth birthday. The ground shakes, the wind howls, a blinding light descends…and he's gone.

They call it the Heist.

Gray Weathersby's eighteenth birthday is mere months away, and he's prepared to meet his fate–until he finds a strange note from his mother and starts to question everything he's been raised to accept: the Council leaders and their obvious secrets. The Heist itself. And what lies beyond the Wall that surrounds Claysoot–a structure that no one can cross and survive.

Climbing the Wall is suicide, but what comes after the Heist could be worse. Should he sit back and wait to be taken–or risk everything on the hope of the other side?
The Madman's Daughter looks like a new take on the Island of Doctor Moreau.
London, 1894. Juliet Moreau has built a life for herself—working as a maid, attending church on Sundays, and trying not to think about the scandal that ruined her life. After all, no one ever proved the rumors about her father's gruesome experiments. But when she learns her father is alive and continuing his work on a remote tropical island, she is determined to find out if the accusations were true.

Juliet is accompanied by the doctor's handsome young assistant and an enigmatic castaway, who both attract Juliet for very different reasons. They travel to the island only to discover the depths of her father's madness: he has created animals that have been vivisected to resemble, speak, and behave as humans. Worse, one of the creatures has turned violent and is killing the island's inhabitants. Juliet knows she must end her father's dangerous experiments and escape the island, even though her horror is mixed with her own scientific curiosity. As the island falls into chaos, she discovers the extent of her father's genius—and madness—in her own blood.
And Orbit UK has released their cover for Frost Burned by Patricia Briggs.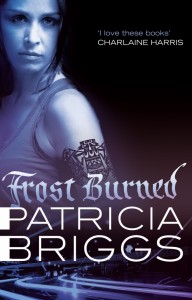 So what do you think about any of the stories I highlighted this week? Have you come across any good deals involving HarperCollins books?