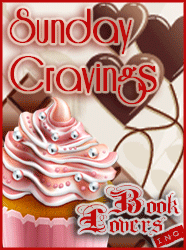 Hello Book Lovers all over the world!!! It's Sunday, so you all know it's this time of week we gather and drool over all the new releases of the week to come 🙂 And this week, believe me when I tell you there are a lot of books worthy to crave. At least the way I see it! There are so many releases we can easily make a Sunday Cravings special edition for each one of us to squize into just one post all the books we want. Yeah, there are that many books scheduled for release this week 😛
So, let's start!
Stella and Lea: Darkest Caress by Kaylea Cross
Two-hundred-year-old Daegan Blackwell is one of the last remaining Empowered, an ancient magical race. Daegan's duty is to lead and protect his remaining Brethren in the coming war foretold by prophecy. The last thing he expects is to meet the one woman who will either save or destroy him-his destined mate.

Fiercely independent Realtor Olivia Farrell believes darkly handsome Daegan is simply a prospective client. Until she's attacked by a man with a strange aura-and Daegan fights him off, taking away her pain with just his touch. At first, Olivia refuses to believe she's part of a magical race, yet mounting evidence and her powerful chemistry with Daegan are too strong to deny.

But as Daegan's partner, Olivia becomes a target in the battle between good and evil that threatens her life, as well as the very existence of the Empowered. And the only one who can save her is the man claiming to be her destiny…
Stella: I have only read Kaylea Cross' military romances but as I LOVED them I am more than excited to discover her new paranormal romance (which she based on some Scandinavian myth if I remember correctly).
Stella: Somebody To Love by Kristan Higgins
After her father loses the family fortune in an insider-trading scheme, single mom Parker Welles is faced with some hard decisions. First order of business: go to Gideon's Cove, Maine, to sell the only thing she now owns—a decrepit house in need of some serious flipping. When her father's wingman, James Cahill, asks to go with her, she's not thrilled — …even if he is fairly gorgeous and knows his way around a toolbox.

Having to fend for herself financially for the first time in her life, Parker signs on as a florist's assistant and starts to find out who she really is. Maybe James isn't the glib lawyer she always thought he was. And maybe the house isn't the only thing that needs a little TLC….
Ever since Caro made me see the light and discover Kristan's books (thanks again Caro *kisses*) I have become a die hard Kristan Higgins fan. So I am very happy and excited that it's finally time for another book of hers to be released! 😀
Susi, Caro and Jackie: Tricked by Kevin Hearne
Druid Atticus O'Sullivan hasn't stayed alive for more than two millennia without a fair bit of Celtic cunning. So when vengeful thunder gods come Norse by Southwest looking for payback, Atticus, with a little help from the Navajo trickster god Coyote, lets them think that they've chopped up his body in the Arizona desert.

But the mischievous Coyote is not above a little sleight of paw, and Atticus soon finds that he's been duped into battling bloodthirsty desert shapeshifters called skinwalkers. Just when the Druid thinks he's got a handle on all the duplicity, betrayal comes from an unlikely source. If Atticus survives this time, he vows he won't be fooled again. Famous last words.
Susi: I can not say how much I want this one. Okay I admit the cover is soooo ugly but the first 3 books in this series were just awesomesauce. Any book that has sentences like "This isn't the druid you are looking for." has a place on my keeper shelf forever. I even made bf listen to them in audio. Tuesday will again be a day where I sit in front of pc and stalk audible to finally catch up to my time and have it ready for download. WANT
Caro: Tricked!!!!!! Ditto what Susi said! I cannot wait for Atticus' new adventure. This is one of these series i buy in print AND in audiobook LOL
Jackie: For me, it's Tricked also, for all the same reasons as Caro and Susi. I'm hoping to see a bit more for Oberon in book 4 since he wasn't a large part of Hammered.
Jackie and Anna: The Immortal Rules by Julie Kagawa
In a future world, Vampires reign. Humans are blood cattle. And one girl will search for the key to save humanity.

Allison Sekemoto survives in the Fringe, the outermost circle of a vampire city. By day, she and her crew scavenge for food. By night, any one of them could be eaten.

Some days, all that drives Allie is her hatred of them. The vampires who keep humans as blood cattle. Until the night Allie herself is attacked—and given the ultimate choice. Die… or become one of the monsters.

Faced with her own mortality, Allie becomes what she despises most. To survive, she must learn the rules of being immortal, including the most important: go long enough without human blood, and you will go mad.

Then Allie is forced to flee into the unknown, outside her city walls. There she joins a ragged band of humans who are seeking a legend—a possible cure to the disease that killed off most of humankind and created the rabids, the mindless creatures who threaten humans and vampires alike.

But it isn't easy to pass for human. Especially not around Zeke, who might see past the monster inside her. And Allie soon must decide what—and who—is worth dying for.
Jackie: After reading and growing to love her Iron King series, I can't wait to see what she does with her "vampire dystopian" tale. Kagawa had a neat take on fairies so I'm hoping she has something just as interesting in her new release.
Anna: Julie Kagawa is one of my favorite authors and believe me when I say it that The Immortal Rules is plainly amazing!!! It totally rocked my world 🙂
Alisha: The Prophet by Amanda Stevens
My name is Amelia Gray.

I am the Graveyard Queen, a cemetery restorer who sees ghosts. My father passed down four rules to keep me safe and I've broken every last one. A door has opened and evil wants me back.

In order to protect myself, I've vowed to return to those rules. But the ghost of a murdered cop needs my help to find his killer. The clues lead me to the dark side of Charleston—where witchcraft, root doctors and black magic still flourish—and back to John Devlin, a haunted police detective I should only love from afar.Now I'm faced with a terrible choice: follow the rules or follow my heart
Amanda Stevens, as far as I'm concerned, is a an absolute wizard (witch?) with words. She weaves such spellbinding environments, such truly chilling situations, and such powerful emotional connections within and between her characters that…well, that her books will be auto-buy for me, hands down. The Prophet is an immediate continuation of the Graveyard Queen series, and the two novels released thus far have provided so much promise, and have been so affecting, that it's hard for me to not be both excited and spooked by the prospect of reading this next book. (Do I jump for joy, or do I run for my stuffed animal? I dunno!)
That's it for this week! Picking a few among all the amazing releases of this week was hard work, believe me 😛 Which are your Sunday Cravings?