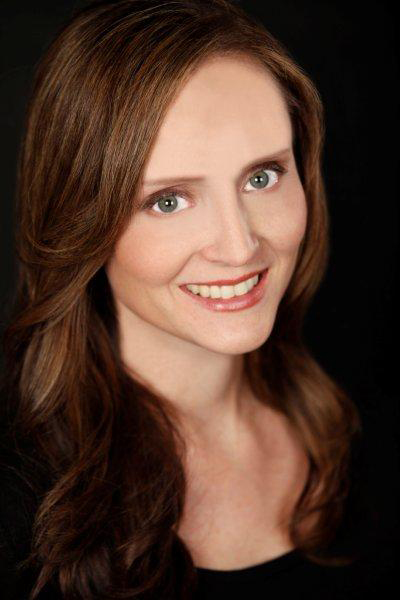 Today we're thrilled to welcome author Stefanie Sloane at Book Lovers Inc. The Saint Who Stole My Heart , the 4th book in Stefanie's Regency Rogues series is coming today! Our review will be up in a few hours, don't forget to check it out. Please let's give a warm welcome to Stefanie who will give us a glimpse of  a deleted scene from her last book. Welcome Stefanie!
"In writing, you must kill your darlings."
—William Faulkner
Every writer can attest to the anguish and pain to be found in the act of deleting scenes. Unfortunately, there are times when it's unavoidable. Believe me, I've tested this theory, and it always wins. The "darlings" Faulkner refers to in the quote above are an author's favorites: favorite characters, favorite set-ups, favorite themes. Anything she enjoys writing, really. Because if you enjoy writing it, chances are that you cannot be objective about the material. It's too easy; too breezy for you to pull off. And if you can't be objective? Then there's no way for an author to know if it's exactly what the book needs.
During the revision process for The Saint Who Stole My Heart, it became very clear that a favorite scene of mine needed to be reworked. Actually, what we really needed to do was rip it apart, switch out point of view and intent for others, and hand stitch it back together.
Ouch.
But I can say, without a doubt, that the second version of the scene is exactly what the book needed.
Still, I'd like to think that the original scene was all for naught. So here it is, in all of its un-copyedited glory. Enjoy! I know I did.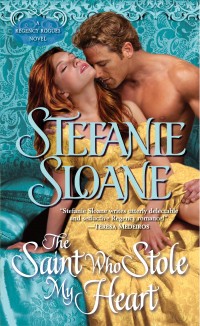 "My dear, did you sleep well?" Bessie inquired of Elena as she ladled a third spoon of sugar into her tea.
Dash savored a forkful of bacon and looked across the breakfast table to Elena, the faint smudges of blue beneath her eyes confirming what he already knew: the woman had been about far past her bedtime.
"I'm afraid not," she answered, reaching to smooth her severely coiffed hair. "Attributable to the city sounds, no doubt. I'm sure I'll grow used to such things soon enough."
He watched her slim, delicate fingers run lightly along the sides, capturing a stray length and neatly tucking it behind her ear. One could hardly tell that this was the same mahogany mass he'd born witness to last night, the heavy tresses falling nearly to her waist, the candlelight caressing the hint of gold woven throughout like a seductive tapestry.
Good God. "Seductive tapestry?" What on earth was this all about? Dash reached for his tea cup and stared into it, searching for some hint of opiate that had clearly been dropped into his tea. Had his Corinthian agent status been compromised?
"Dash, my boy, are you in need of tea, or have you taken to reading the leaves?"
"Neither, Bessie," Dash replied, examining the dregs at the bottom of the cup one last time before returning it to its spot. "Simply curious, that is all."
Both women eyed him with suspicion, Elena quickly turning her attention to her own cup. Dash peered across as though to gain a better view, catching her eye with a concerned glance.
He really had to stop teasing the woman in such a way. The problem was, it was far too fun. She was so tightly laced, making for an irresistible victim, as far as Dash was concerned. Every other woman of his acquaintance wanted nothing more than to ignore what he had to say and focus on what he could do. To them. Well, their person, if one wanted to be exact.
But Elena seemed to hardly notice him, at least in that way—though she'd appeared slightly rattled last night when he'd found her, all but undressed, and staring at a portrait of him. Hardly a stitch of fabric about her, and what was there hardly doing its job to cover up the sweet, supple curve of her hips. Dash wondered if the hint of attraction might be something he could use to his advantage—as pertained to his Corinthian business, of course. Not that seducing the woman would be a chore. The merest hint of her rounded, full breasts suggested they would fit perfectly into his hands–"
"You look rather exhausted as well," Bessie remarked, pulling Dash from his poorly-timed and all together ill-advised revisit to the evening before.
"Odd, that both of you would have difficulty sleeping—on the very same night," she continued, stirring her tea rhythmically while she looked at Dash, then Elena, a certain gleam in her eye.
Dash knew that gleam. It was never, ever a good sign.
"Come now, Bessie," Dash began, returning his attention to his breakfast plate. "Nothing odd about it at all. A late evening spent at one's club tends to rather drain a man."
"Quite so," she agreed. "As does wandering about in the dark—together."
Dash grit his teeth. This was not good either. Not at all.
"I'm sorry, Lady Mowbray?" Elena asked, drawing Dash's attention. Her face was titled slightly to the right, her brows gently arched as though she hadn't a clue as to what the old woman was referring to.
If he hadn't of known better, Dash would have believed her. Damn, but he admired her more for it. Stupid seductive tapestries.
"Really, my girl, don't play coy with me," Bessie said, sipping from her tea with a rather superior air.
There was no point in prolonging the inevitable, no matter how gifted a liar Elena might be. "One of your spies, then?" Dash asked, offering the woman the white flag.
"They are your servants, and it is there job to ensure the safety of all those who dwell within Carrington House," she replied simply, reaching for a fourth teaspoon of sugar.
"It's not at all what you—or the servants, for that matter—may be thinking. Assuming—really either, actually," Elena interjected awkwardly, turning to give Dash a sharp glance. "I couldn't sleep, that part is true. So I thought to visit the library. Only I found myself lost."
Bessie nodded in acceptance of Lady Elena's explanation, though the gleam remained.
"And I came to her rescue," Dash added, thinking better of his phrasing when Elena kicked him under the table. "That is, I found her, returned Elena to her suite, and that's all there is to it."
"Really?" Bessie asked, the gleam fading with each passing moment.
"Truly," Dash confirmed. The woman's sensitivity to Bessie's assumption only served to confirm his suspicions that, if he were to take advantage of her, she'd fall prey—eventually. The realization both titillated and troubled him.
"Honestly," Elena promptly added.
Bessie pursed her lips, then set her cup down, clearly completely put off her tea. "Well, that's a disappointment."
Dash had no more time then to heave a small sigh of relief before Elena kicked him a second time.
"Lady Mowbray, you are my chaperone, are you not?" she asked, folding her hands in her lap.
Bessie did the same, a supreme look of defeat upon her face. "I am."
"Should you not then be relieved to hear that nothing…" Elena began, trailing off as she was want to do when speaking of something she'd rather not.
"Untoward? Unseemly? Improper?" Dash offered, kicking himself this time for his lack of control.
Elena glared at him anew. "Yes, to all of the above."
"Really, my dear girl, I feel you may be confused as to a chaperone's duties," Bessie replied, using a feminine, yet firm tone. "Let me explain. Midnight meetings with just anyone are cause for alarm. But Dash is a viscount—a viscount, my dear. They do not come along every day—especially one so handsome."
Elena's fingertips came to rest on the table and she leaned forward, as though readying to pounce. "No, Lady Mowbray, and I say this with all due respect, but I believe you are the one that is confused."
"I disagree."
Dash was finding the situation all too entertaining, especially now Lady Elena's fair skin literally glowed with righteous indignation.
And then she kicked him. Again.
——————————————-
*~*~Giveaway~*~*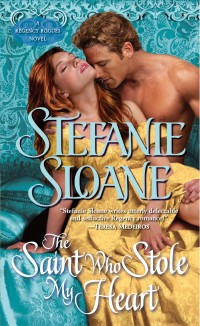 Stefanie has generously offered all 4 books in her Regency Rogues series to 1 lucky commenter!
All you have to do is leave Stefanie a question or answer the question: Do you like reading deleted scenes from books?  
(You can read our full giveaway policy here)
Please be sure to include a valid email address in the comment form (need not be in the actual body of the comment).
This giveaway is open to all!
Giveaway ends on Saturday, May 5th, 2012; we will announce the winner on Sunday.
Good luck!