Welcome to this week's post and it has certainly been a very very eventful one, and not all of it was good with the news about the issue of plagiarism and the popular blogger The Story Siren which has caused a major and epic fallout. However there was also good news, with the announcement by Tor/Forge ebooks will be DRM free this summer, more adaptations based on books and we also have the usual books to look out for!
The Story Siren was accused of plagiarism when fashion bloggers Beautifully Invisible and Grit and Glamour found their How To's blog posts were lifted without any credit. They provided evidence although they never named The Story Siren as the plagiarist but her identity was easily tracked down in their post about the  incidents. I am not going to delve into great detail about the The Story Siren's and plagiarism because blogs like The Smart Bitches, The Book Lantern and Cuddlebuggery have all summarised it perfectly. What I find really sad, disappointing and frankly disgusting is the fact that some of The Story Siren's supporters, have attacked the victims, and the people who called her out especially when her response was slow with providing a real heartfelt apology.
We had to deal with the issue of plagiarism here at Book Lovers Inc  and we weren't the victims because it was an ex-co blogger who was responsible  – we were shocked and horrified by this but we felt we had to post an apology and an explanation to our readers and authors because covering this up would send out the wrong message and that we condoned it.  And I think this is why the uproar has been so harsh because The Story Siren who is seen to be a leading YA blogger and has extensively blogged against plagiarism – and has gone the offensive about the offenders.  I wished she did admit to it when it first came to light because she would have fared better but this whole incident leaves a nasty taste  and I think with a community that has faced so much drama and controversy about negative reviews and BE NICE/YA Mafia affair – this is going to be another dent in their history.
Now to better news – and I am really happy about this! Tor and Forge ebooks will be DRM free over the summer. I really do think this will help indie and big online stores to compete with Amazon Kindle because DRM ties you into a device and in the case of the Kindle, it is hard to shop around. I really do hope other publishers follow in their footsteps because DRM is one of the issues that frustrate a lot of ebook readers and it has been proven that it is not a great way to combat piracy which is the main reason why it is being used for.
Syfy  have announced two projects based on books this week.  I reported some time last year that CBS was developing Charlaine Harris' Grave series about a woman who can sense where the dead are buried – well it looks like Syfy will be adapting it instead and with the potential into a series. They have also picked up Stephen King's Eyes of the Dragon  which is set in a fantasy world where a prince is accused of murdering his father.
News in Brief:
Veronica Roth has posted a short story with Four's POV in the dagger throwing scene from Divergent – Insurgent, the sequel will be out next week!
Heroes and Heartbreakers have an exclusive short story by Ann Aguirre set in the Enclave World – you can check Endurance  out here!
Author Jim C Hines blogged about sexy poses by Urban Fantasy heroines, well he's done it again and did a hilarious tribute to  the heroes! LOVE IT!
Fans of Octavia  rejoice!  Around ten of her backlist titles  of books will be available in ebook format via Open Road Media.
Now for upcoming books to watch out for and we have several cover reveals from much anticipated releases!
Sci Fi romance author Jess Granger has unveiled her first YA cover, Legacy of the Clockwork Key, under her YA Pen-name of Kristin Bailey. This  is the start of a steampunk trilogy about a young girl  and the mystery that surrounds her father's inventions the book is slated to come out later this year.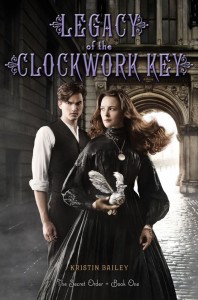 When a fire consumes Meg's home, killing her parents and destroying both her fortune and her future, all she has left is the tarnished pocket watch she rescued from the ashes. But this is no ordinary timepiece. The clock turns out to be a mechanical key-a key only Meg can use- that unlocks a series of deadly secrets and intricate clues that Meg has no choice but to follow. She has uncovered evidence of an elite secret society and a dangerous invention that some will stop at nothing to protect, and that Meg alone can destroy. Together with the handsome stable hand she barely knows but hopes she can trust, Meg will be swept into a hidden world of deception, betrayal, and revenge. The clockwork key has unlocked her destiny.;
Karen Chance also posted the new Midnight Daughter's book, Fury's Kiss.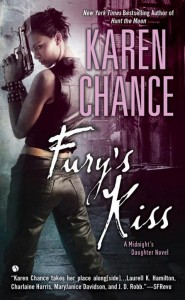 Dorina Basarab is a dhampir—half-human, half-vampire. Subject to uncontrollable rages, most dhampirs live very short, very violent lives. But so far, Dory has managed to maintain her sanity by unleashing her anger on those demons and vampires who deserve killing…

Dory is used to fighting hard and nasty. So when she wakes up in a strange scientific lab with a strange man standing over her, her first instinct is to take his head off. Luckily, the man is actually the master vampire Louis-Cesare, so he's not an easy kill.

It turns out that Dory had been working with a Vampire Senate task force on the smuggling of magical items and weaponry out of Faerie when she was captured and brought to the lab. But when Louis-Cesare rescues her, she has no memory of what happened to her.

To find out what was done to her—and who is behind it—Dory will have to face off with fallen angels, the maddest of mad scientists, and a new breed of vampires that are far worse than undead…
Is it September yet? Ann Aguirre has also released the cover for the 2nd book in her post apocalyptic Enclave series- Outpost.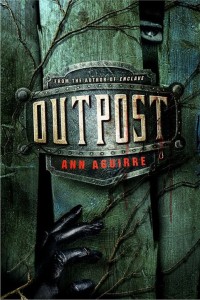 Deuce's whole world has changed. Now living topside in a community called Salvation, she has a whole new set of problems. Down below, she was considered an adult, and she contributed to the whole. Now, topside, the people of Salvation think she's a brat in need of training. She hates school, and she doesn't fit in with the other girls. They've spent their lives learning to cook and sew–suitable woman's work. Deuce only knows how to fight. To make matters worse, Fade keeps her at a distance, and the band of four has broken into fragments.

Stalker presses for a closer relationship, but Deuce sees him as a training partner, and she's busy trying to find her place in Salvation. She refuses to accept that she's wrong for being who she is, but tensions rise as she struggles against the status quo. Her feelings for Fade haven't changed, but he seems not to want her around anymore. Confused and lonely, she starts looking for a way out.

Once she's free from school for the year, Deuce pursues a chance to serve in the summer patrols–those responsible for making sure the growers and planters can work the fields without danger of Freak attack. It should have been routine, little fighting, but things have been changing on surface, just as they did below ground. The Freaks are smarter. They're watching. Waiting. Planning. The monsters don't intend to let Salvation survive, and it will take a girl like Deuce to turn the tide.
The big question is the issue of plagiarism, what do you feel about this latest incident? And what do you think of the new move by Tor/Forge about DRM? Do you think other publishers will follow suit? 
I am going to leave you with this hilarious reading of 50 Shades of Grey by Ellen.