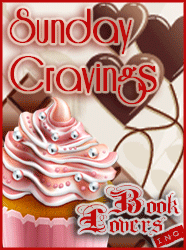 Remember last week we couldn't just pick one book from all the amazing titles that were scheduled for release? Well, this week isn't all that much better… Again, there are so many books we just can't pick only one… Among the highlights are Insurgent by Veronica Roth, the newest release by Sherrilyn Kenyon, Black Dawn by Rachel Caine and so, so many others that should I start listing them, this post would never end. I'm exaggerating a bit here, but you get what I mean 😛
So, without further delay, let's start with this week's Sunday Cravings!
Caro: Insurgent by Veronica Roth
One choice can transform you—or it can destroy you. But every choice has consequences, and as unrest surges in the factions all around her, Tris Prior must continue trying to save those she loves—and herself—while grappling with haunting questions of grief and forgiveness, identity and loyalty, politics and love.

Tris's initiation day should have been marked by celebration and victory with her chosen faction; instead, the day ended with unspeakable horrors. War now looms as conflict between the factions and their ideologies grows. And in times of war, sides must be chosen, secrets will emerge, and choices will become even more irrevocable—and even more powerful. Transformed by her own decisions but also by haunting grief and guilt, radical new discoveries, and shifting relationships, Tris must fully embrace her Divergence, even if she does not know what she may lose by doing so.
I can't wait to read insurgent! Book 1 was so amazing I Want to know what happens next. It was so good it made me forget it was labelled YA. Everyone should try this series!
Marlene: Deadlocked by Charlaine Harris
With Felipe de Castro, the Vampire King of Louisiana (and Arkansas and Nevada), in town, it's the worst possible time for a body to show up in Eric Northman's front yard—especially the body of a woman whose blood he just drank.
Now, it's up to Sookie and Bill, the official Area Five investigator, to solve the murder. Sookie thinks that, at least this time, the dead girl's fate has nothing to do with her. But she is wrong. She has an enemy, one far more devious than she would ever suspect, who's out to make Sookie's world come crashing down.
It's just not May without a new installment in the Perils of Pauline, whoops, I meant the adventures of Sookie Stackhouse. But I still want to know what happens. Really, really want to know. And the author has said there aren't that many left. Definitely Deadlocked.
Alisha: Beguiling the Beauty by Sherry Thomas
When the Duke of Lexington meets the mysterious Baroness von Seidlitz-Hardenberg on a transatlantic liner, he is fascinated. She's exactly what he's been searching for—a beautiful woman who interests and entices him. He falls hard and fast—and soon proposes marriage.

And then she disappears without a trace…

For in reality, the "baroness" is Venetia Easterbrook—a proper young widow who had her own vengeful reasons for instigating an affair with the duke. But the plan has backfired. Venetia has fallen in love with the man she despised—and there's no telling what might happen when she is finally unmasked…
I must say, I absolutely love historical romances that feature strong-willed, intelligent heroines. Since that very type of woman is at the center of this tale, I'm looking forward to the dynamics of the romantic intrigue. Mark my words, this will be a memorable series (trilogy) of books!
That's it for this week Book Lovers! What about you? Which are your Sunday Cravings?