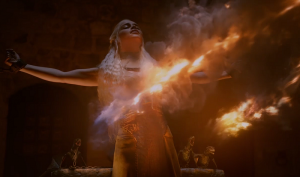 I fervently adore negative reviews.  A negative review provides the perfect framework to fully interact with a book. That pissed off reviewer hates things about a book that I loved, is outraged by something I completely missed, or shares in the absurdity of the so-called worldbuilding the author alleges to have undertaken.
On any given day, I have to listen to an abusive oil lineman convince a Judge that the wife cut the brakes in her own car, or a Napoleonic landlord claim it was a violation of the lease for a family to light a fire in the fireplace in Alaska in the winter.
I want to read something cathartic; wherein the assholes get what's coming to them. Alternately, I'm interested in something that gives me hope for the human condition. Either/Or. When I don't get that…..
I. Am. Pissed.
But I fly right passed pissed into furious when I start getting shit for DARING TO HAVE AN OPINION.
Based on the imbalance of comments on my posts I suspect many of you prefer the pissed-off dragon to the enthusiastic one. Thank you internet for providing me an audience accepting of my never-ending snark and frequent outbursts of rage. (Seriously people, do any of you read my positive reviews?)
I don't even need to fully read a book to express my firm opinions on it. I remember when the last Harry Potter book came out. I hadn't read any of them since the abysmal 5th book.
In Harry Potter And The Contrivalitious Ending, Snape's presumably complex motivations to work as an utterly reviled triple-agent in order to defend a pseudo-egalitarian society are retconned as a wish that he got to hit that back in high school.
Are you fucking kidding me? In the man's entire life, he never associated with any magnificent adult women who were able to demonstrate the pathetic emptiness of his obsession with a teenage twit who had shit taste in men. (Raise your hand if you noticed James Potter was nothing more than an abusive jock!)
When I discovered this little development (thank you internet spoilers), I shared my outrage with my compatriots. At which point I got slammed by the fangirls.* How could I have forgotten the unquestioned perfection of the Fridged Mother?**
Which leads me to the current novel-induced internet shitstorm. The End of Sookie Stackhouse. (YAYAYAYAY It's over!) In which Sookie's Precious Magic Fairy Vagina ends up with something Southern-Fried instead of Viking-Shaped.
Let us now consider the different between a negative review, such as those referenced above, and a personality disorder.
In general, having a personality disorder means you have a rigid and unhealthy pattern of thinking and behaving no matter what the situation. This leads to significant problems and limitations in relationships, social encounters, work and school.
Let's be unambiguously clear. Threatening suicide because the author did not write the Magic Fairy Wedding you wanted is a sign that you need immediate medical intervention. As in medication coupled with 24 hour sight/sound supervision. And you probably shouldn't be consuming any entertainment more complex than My Little Pony.
[youtube http://www.youtube.com/watch?v=pO20qU-VwgA]
This is you, Sookie Fandom.
If you have a problem with the ending, go write your own fucking book. It doesn't have to be well-written or original to make you rich. Cassandra Clare and E.L. James proved that. (Derivative and plagiarized fan fiction ftw! I'm trying to speak in their fan-bases' language. How did I do?)
In the meantime, I would be open to discussing any opinions people have on Sookie's character's new-found ability to permanently exit an abusive relationship in favor of something less likely to end in her brutal rape, torture, and murder. Be warned, I am not a fan and will drag Sookie through as much mud as her long-lost cousins over in Laurel K Hamilton's world.***
*One of said fangirls was a very close friend. She pissed me off to the point that I didn't talk to her for a month with all her bullshit. When she became a Twilight fangirl we chose to adroitly evade the topic entirely.
**Fangirls were noticeably silent on my mocking of the names of Harry Potter's Purported Spawn.
***Not that I'm implying Anita would be rolling around in anything less than 75% santorum.