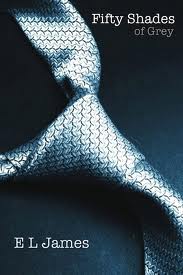 I've remained, for the most part mute about Fifty Shades of Grey and the media frenzy surrounding it and the connecting novels, Fifty Shades Darker and Fifty Shades Freed, mainly because the first novel of the trilogy wasn't my cup of tea.
Why didn't you like it? You may ask.
Well, I found Christian Grey to be a tad too stalkerish for my taste and Anastasia too forgiving of his interference in her life outside of his dominance in the bedroom. The truth is I would have charged the dude with assault and had a restraining order slapped on him quicker then you could blink an eye. The relationship crafted between the protagonists in the novel IMHO is dysfunctional and gave me the heebs. There I said it, I didn't like the book, in fact it landed in the DNF pile. I have other criticisms of the novel but what floats one person's boat torpedoes and sinks another's and lord knows Fifty Shades has floated the boats of millions and millions of readers out there as evidenced by it's strangle hold on the top of Bestseller Lists everywhere. And, I say yay! If you liked Fifty Shades and it has peaked your interest in a genre that you previously had no interest in then consult the many online lists published of what to read after E L James' books and go forth and enjoy because I gotta tell you there is a veritable treasure trove of excellent erotic romantic fiction, BDSM themed and otherwise to choose from that has been around for a long, long time. It is also worth noting that the vast majority of said work is far better written.
In reference to the "dysfunctional" comment regarding the relationship detailed in Fifty Shades of Grey, I have read and enjoyed BDSM (acronym encompasses: Bondage & Discipline(B&D), Dominance & Submission (D/s), Sadism & Masochism (S/M)) themed erotic romance for years so it wasn't that aspect of the story that sent my 'ick' meter into the red zone. And, I know, there are folks who would argue that all aspects of BDSM relationships are by nature dysfunctional and to try to convince them otherwise would be impossible because they would tell you to stop blowing smoke up their ass. But, well, whatever, I digress.
Okay, you may wonder what has caused the above noted diatribe. Well, during my morning lurk on Twitter a number of Tweets citing an article entitled How 'Fifty Shades of Grey' Is Shaking Up the Business of the Romance Genre written by Chris Berube for thedailybeast.com, annoyed me to the point of spitting hand grenades. There have been a litany of insulting articles published spawned by the popularity of Fifty Shades of Grey, and the awful label "mommy porn" but the idea that it is the first piece of erotic fiction to ever hit the shelves is laughable and, hello, NONSENSE!
To Quote Mr. Berube's article:
Both writers include explicit sex scenes in their novels, the kind that would normally be excised from modern romance fiction. Reisz is getting a big marketing push for a first time novelist, which is a direct result of James's infamy.

How 'Fifty Shades of Grey' is Shaking Up the Business of the Romance Genre © Chris Berube
"Normally be excised from modern romance fiction." WHAT???
As any fan of erotic romance will tell you there are a plethora of books available that offer far more explicit sexuality. As well, I've read BDSM themed stories that make the kink in Christian and Anastasia's story seem very light.
And what's this about "James' infamy"? Infamy is defined on Dictionary.com as: "extremely bad reputation, public reproach, or strong condemnation as the result of a shameful, criminal, or outrageous act: a time that will live in infamy." I think it can safely be argued that writing a popular erotic novel does not make someone infamous. Charles Manson is infamous, the correct adjective to describe E L James, Mr. Berube, would be FAMOUS.
There are a number of other points made in Chris Berube's article concerning self-publishing and Harlequin that require debate by more knowledgeable folks then I but I also took exception to this:
Another way that Harlequin is adapting is through the same technology that has enabled self-publishing. Since the introduction of the Kindle, Harlequin has become one of the most successful publishers in the format, in part because the device offers some level of anonymity. Readers who might feel shame about their predilection for tawdry paperbacks can now enjoy them discreetly. One could just as easily be reading Madame Bovary on the subway as Wild Western Nights, and no one else has to be the wiser. By the end of 2011, digital accounted for 18 percent of Harlequin's global revenue.

How 'Fifty Shades of Grey' is Shaking Up the Business of the Romance Genre © Chris Berube
You know what Mr. Berube? I've been reading erotic literature in paperback with sensual covers in plain view for years while riding public transit. If anyone dared comment on my choice of reading material I would tell said nosy interloper in as few words as possible to MIND THEIR OWN BUSINESS. I don't care what anyone thinks about my predilections. In fact, I freely talk with friends and colleagues who don't read erotic stories about why I love the genre, because they are darn good, well written books.
So, don't insult me or others who enjoy reading and talking about erotic literature Mr. Berube. Do your research, or better still talk to someone who reads and enjoys the genre, you don't know what the hell you are talking about. Further, what one person considers tawdry, another considers tasteful, enjoyable literature and find sanctimonious, opinionated jerks like yourself uninformed and rude.
I don't understand what it is about human sexuality that makes people so nuts! It's part of our biological make-up, there is no reason to be ashamed if you enjoy erotic kink in the fiction you read. There is nothing dirty or tawdry about it.
In closing I'm sharing a piece from William Shakespeare's Romeo & Juliet. Eroticism permeates the Bard's poetry and plays and he was born April 26, 1564 and died April 23, 1616, just a tad before E L James wrote Fifty Shades of Grey. Certainly there are passages that are far more erotic that can be found in Shakespeare's work than this one, however it is one of my favorites because of the sexual tension.
Act 1 Scene V
ROMEO
[To JULIET] If I profane with my unworthiest hand
This holy shrine, the gentle fine is this:
My lips, two blushing pilgrims, ready stand
To smooth that rough touch with a tender kiss.
JULIET
Good pilgrim, you do wrong your hand too much,
Which mannerly devotion shows in this;
For saints have hands that pilgrims' hands do touch,
And palm to palm is holy palmers' kiss.
ROMEO
Have not saints lips, and holy palmers too?
JULIET
Ay, pilgrim, lips that they must use in prayer.
ROMEO
O, then, dear saint, let lips do what hands do;
They pray, grant thou, lest faith turn to despair.
JULIET
Saints do not move, though grant for prayers' sake.
ROMEO
Then move not, while my prayer's effect I take.
Thus from my lips, by yours, my sin is purged.
JULIET
Then have my lips the sin that they have took.
ROMEO
Sin from thy lips? O trespass sweetly urged!
Give me my sin again.
JULIET
You kiss by the book.
References: Berube, Chris. "How 'Fifty Shades of Grey' is Shaking Up the Business of the Romance Genre ." thedailybeast.com.  June 6, 2012 < http://www.thedailybeast.com/articles/2012/06/06/how-fifty-shades-of-grey-is-shaking-up-the-business-of-the-romance-genre.html>
Shakespeare, William. "Romeo and Juliet" <http://shakespeare.mit.edu/romeo_juliet/romeo_juliet.1.5.html>