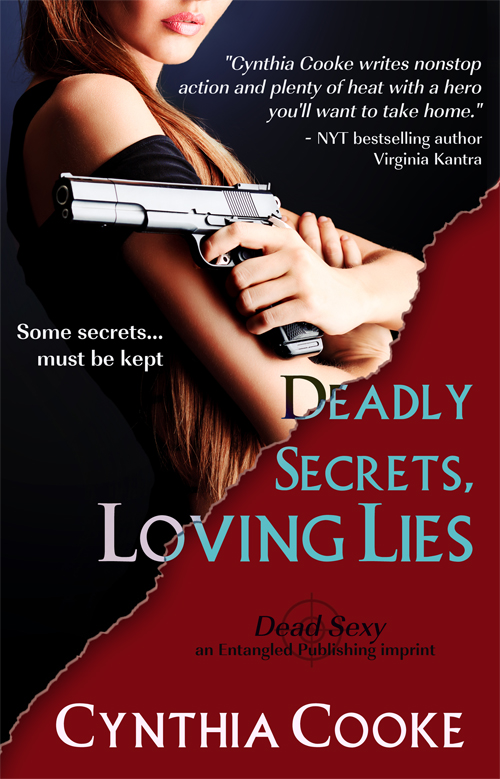 Format Read: ebook from NetGalley
Number of Pages: 169 p.
Release Date: May 13, 2012
Publisher: Entangled Publishing
Genre: Romantic Suspense
Formats Available: ebook
Purchasing Info: Goodreads, Amazon, Barnes & Noble, Author's Website, Publisher's Website
Book Blurb:
Family secrets must be kept, and painful wounds must be ignored.
After an all-out assault by a vicious terrorist bent on destroying her entire family, a former government agent must break the strict rules she has always lived by when she emerges from hiding to reluctantly accept the help of her all-too-sexy ex-lover. Running a deadly race against time, they rush to rescue her kidnapped sister, find her missing father, and bring the notorious villain to justice. But nothing ever goes as planned. Bullets fly, danger abounds, and their
passion reignites even faster than the lies are flowing. But their stubbornly held secrets just might spell the end of their rekindled love and hopes for the future…as well as their very lives.



My Thoughts:

Deadly Secrets, Loving Lies starts out with a bang.
No, not that kind of bang, the other kind. The one that involves guns–and explosives. Not many women get a package from their dad and immediately call the head of a national security agency, then retreat to a crow's nest with a high-powered sniper rifle.
But then, not many women are fully-functioning empaths, either. Or former secret agents themselves. Or the daughters of retired heads of said national security agency. Let alone all of the above.
For a very small package, it brought a lot of baggage with it to Genie Marsters' hiding place out in the desert.
It kicks off one heck of a story, though. And from that point, the action never stops.
The security agency wants Genie to come in from the cold. (It's the National Counter Terrorism Agency, NCTA for short). There are bad guys out to get her and her father. Really get them, as in kill or capture. One of her dad's old ops seems to have come home to roost, and its personal.
The NCTA sent her former partner, and former lover, Kyle Montgomery, to fetch her. Problem number one, they still love each other. Problem number two, they don't trust each other anymore. That's because of problem number three. Genie never told Kyle that she has two sisters, one of whom was involved with a "person of interest" in their last op. The Agency thinks that Genie might be compromised.
All of the above is just backstory for the beginning of the suspense. And you might have noticed I skipped over the bit about Genie being an empath. That almost tips this into the paranormal, but doesn't quite.
Still, this story barrels on at the kind of breakneck pace that makes you think of summer movie blockbusters. There's always another chase scene, and someone is always getting shot at. The tempo never lets up.
Every single thing that could be involved, got thrown into this mix, and it all holds together. There are government experiments, along with a conspiracy theory. There's a megalomaniac who wants to take over the world. There's someone who has some deep-seated father/son issues to work out.
And those sisters have some serious sibling rivalry problems. Enough to make me glad I'm an only child.
And secrets, are there ever secrets! Genie keeps everything secret. Her dad kept everything secret from her. And it turns out that there are even more secrets than either of them knew about, enough to keep you guessing about who the villain, or villains are until the end.
If you like your romantic suspense on the wild, crazy and explosive side, you'll enjoy Deadly Secrets, Loving Lies.
I enjoyed it enough to give it 4 stars. They might be shooting stars.

***FTC Disclaimer: Most books reviewed on this site have been provided free of charge by the publisher, author or publicist. Some books we have purchased with our own money and will be noted as such. Any links to places to purchase books are provided as a convenience, and do not serve as an endorsement by this blog. All reviews are the true and honest opinion of the blogger reviewing the book. The method of acquiring the book does not have a bearing on the content of the review.