I understand that it is ridiculous to write in ALL CAPS and than add extraneous exclamation points. (Dude, we get it already, you're loud and excited.)
But allow me to assure you that today is a day totally worthy of duplicative emphasis. Why? Because today I GOT BOOKSHELVES!!!!!!
I'm a nomad by nature, moving across the country every few months, and subsequently living out of 3 pieces of luggage. One of which was always full of books. (I cannot tell you how many times TSA totally unpacked my carryon for being suspiciously heavy and dusted every single book for bomb residue. USians are not supposed to be aggressively literate. It is highly suspect behavior).
My mother does not approve of buying books when you can get them at the library for free. She never let me have more than a single small bookshelf growing up. I had to hide my collection under other pieces of furniture or amidst clothes (Which were, for some reason, totally acceptable to buy en-masse – even though I might not wear the article more than once.)
Now that I have a semi-permanent position out on the Tundra and a bloody lease, I can have things that don't collapse for easy shipping. Without further ado, I present DRACON'S FIRST BOOKSHELVES: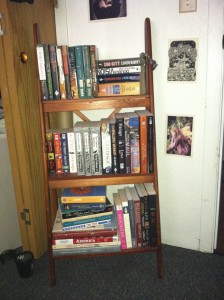 This is the first shelf I got when I came to Alaska. My assistant gave it to me since I had no furniture. She didn't specify if it was a loaner or destined for a garage sale. I am assuming the latter since she hasn't asked for it back in 5 months.
Anyways.
These are all the carry-on duffle bag books. My favorites and TBR pile. That's right, my TBR pile was only 9 (paper) books deep when I got my job! A year of unemployment give you a ton of time to catch up on reading. It was glorious….
Hilarious digression: Some of you may notice the yellow book on the bottom shelf by Inga Muscio (C*** – One of my all time favorites. 5 stars. READ IT NOW). When Boston-Logan TSA is going through your bag, and individually examining each bloody book for terrorist activity – they won't touch that one. Every single time the person scanning would see the title, drop the book back in my duffle, and go make some lower-level minion run and get a paperbag to contain it.
But this is just the intro shelf. I also have two brand-new massive bookshelves. The kind of shelves a book addict can really grow into. Also, as my roommate said, they are super-classy.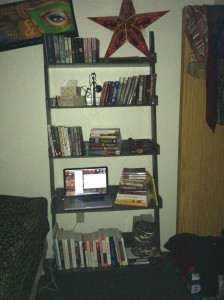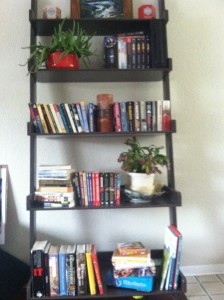 Now I know exactly what you are all thinking right now:
"Psh! These pictures bite. I can't see the titles! How can I be nosy about your reading habits without a title close-up? How can I be uttlerly baffled at your method of organization? How can I demand reviews of books languishing in my very own TBR pile/wishlist?"
I know this, because it's exactly what I think when I spend time on bookshelf porn. Well, except for the last bit. But this is a review blog, so it's a fair extrapolation.
Close-ups! First from bedroom shelf.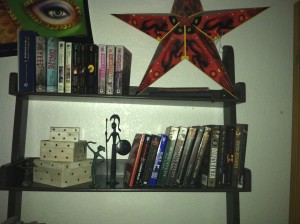 The top shelf has poetry and incomplete series. These are books I am waiting to purchase paper versions of the remaining books in the series so I have a complete set. My sets have to match. This can be a bit difficult when the original US publisher never bothered to finish printing the Obernewtyn series and now I am searching online in Australia's used book stores to complete the series.
The second shelf has steampunk + random favorites. Took me forever to find copies of Poison Study and Magic Study with nice covers. I'm having similar difficulties with Touch of Power. I like the UK cover, but it's out of print.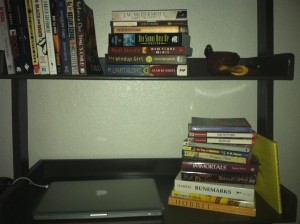 The third shelf has superheroes and my ever-growing TBR pile. Plus incense and my dragon dagger. An amazing friend bought it for me in Indonesia when she was studying abroad. (Thanks Juli!)
The fourth shelf is doubling as a desk since I don't have one. Next to my laptop is a bunch of the YA and children's classics I reread all the time due to their awesomeness. You'll notice a high percentage of dragon-themed books. Allow me to assure you that I don't love everything with dragons in it. I am very particular about my dragons. They have to be exceptional to warrant repeated readings.
The bottom shelf is all non-fiction. Sociology. Feminism. The Law.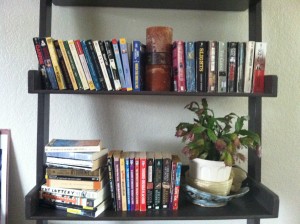 Next up, the close-up from Living Room Shelf. Since this is a public area, I mostly put books I think people would be more interested in borrowing. Non-scifi fiction (that's all to the right of the candle), and random YA (the left of the candle).
The lower shelf is classics. SF and otherwise. Books people are more likely to have heard of and not reject out of some ridiculous bias to genre-fiction.
The top shelves have DVDs. The bottom shelf has Huge Hardbacks I've gotten at garage sales for $.50 and cookbooks. There is a reason I don't do hardbacks. They are huge and ungainly. They also mess with the aesthetic flow of my newly acquired shelves.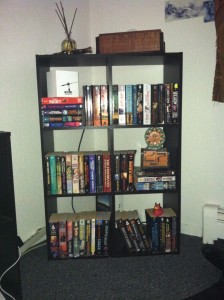 Last but not least we have….mass market paperback shelf! It is deep enough to stack double. Which is really good news since I just found a fantastic used bookstore with quite the eclectic collection of SF. The lower right corner section's occupants are the result of that discovery.
I believe this is actually supposed to be a closet organizer. One of these things that you can stack and put cloth cubes in. But who cares? It was super-cheap and holds books just as well.
The TBR books are kinda mixed in with the already-read books. The thrill of shelf-assembling and book-organizing had pretty much lost it's appeal by the time I got to this one.
So, anyone impressed by my shelves? They are remarkably bare. For now. Each shelf is deep enough for double-stacking and have been rated to hold serious weight. I was planning for the future here. Book Depository, here I come! MWAHAHAHAHAHA!
(Update: In the time lapsed between me writing this post and it actually posting, I went to Book Depository twice. Did you know they have a .com AND a .co.uk? And for some reason the prices for identical editions vary. It's very strange, but that did not stop me from buying 13 new books for my new shelves. And pre-ordering two more.)
Oh, and just in case you were wondering, my ebook collection dwarfs the paper books. It's hard to say no to a free or cheap book/story when it doesn't take up any physical space. I delete them if they are terrible – but I have to go through them to find out. Very time intensive. How about you all? Are you less picky when it comes to selecting ebooks since there is no need to find shelf space? Does your virtual TBR shelf taunt you the way your paper TBR pile does?