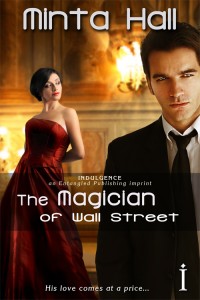 Format Read: ebook from publisher
Number of Pages: 138 p.
Release Date: April 23, 2012
Publisher: Entangled Publishing
Genre: Romantic Suspense
Formats Available: ebook
Purchasing Info: Goodreads, Amazon, Barnes & Noble, Author's Website, Publisher's Website
Book Blurb:
Oliver Pendragon's days as the Magician of Wall Street are legendary. When he finds a way to get everything he's ever wanted—including Abby Daltry—of course he can't refuse, even though there will be hell to pay if ever Abby found out. But when he discovers his old business partner is out for Abby's blood, Oliver will do anything to protect her…and win her heart.

New Age bookstore owner Abby is perfectly happy with her life the way it is—the independence, the quirky clientele, and even the occasional tarot card reading—are all part of the charm. But when the cards reveal Oliver is back and bringing danger along with him, she refuses to heed the warning for another chance with the only man she'd ever loved.

As shots fly, the Magician will have to perform his best trick ever if he hopes to keep Abby safe and by his side forever.



My Thoughts:

The Magician of Wall Street isn't really a magician, or at least, not a stage magician. He's a financial wizard. Or he was.
But there's something singularly appropriate that a story about a man called "The Magician" begins with a tarot card reading, a reading where, when you look back at it after the story ends, every single thing in it has come true. But not in the way that the heroine thinks.
I found this chilling, how Abby is totally warned about what's going to happen, and completely ignores the warnings because of her preconceived notions about Oliver (the Magician) who admittedly hurt her terribly, and Gil, her old friend and Oliver's former business associate.
In spite of all the evidence that Gil was running a Ponzi scheme (a la Bernie Madoff) Abby refuses to believe that Gil might want to hurt her as part of his plans. Because she doesn't trust Oliver not to control her the way her father did. And the way she knows her daddy still wants to.
Abby has some serious "Daddy issues". And Oliver is definitely a LOT like her father. Which does make one wonder a whole lot about why she got so deeply involved with a man just like dear old dad.
But I digress.
The Magician of Wall Street had two different stories going on. The surface story was the suspense. The financial genius, Oliver, loses his investment firm because his associate, Gil was running a Ponzi scheme under his nose. Oliver missed the whole thing because he was too busy with Abby.
And Abby thought Oliver was too busy working to pay enough attention to her, so she left him, moved to the West Coast and went into partnership with her best friend in a New Age bookstore. From Abby's perspective, Oliver may have lived with her and slept with her, but he didn't love her. Oliver never let himself lose that much control. Oliver was all about taking control–of her. So Abby ran away.
And Gil, he manipulated the whole thing. Well, not the love. But he pointed them at each other and watched them dance. Then messed everything up by trying to kill them. Except these two people are already very, very messed up. Gil just added bullets and explosives.
Abby's daddy threw in money and a company. I'm not sure who was more destructive. This story has an absolutely fantastic beginning. The scene with the Tarot card reading really works.
But Abby keeps wimping out after that. Gil was right, she is easily manipulated. This was an okay story, but after that fantastic beginning, I'd hoped for better.
I give The Magician of Wall Street 3 Stars.
***FTC Disclaimer: Most books reviewed on this site have been provided free of charge by the publisher, author or publicist. Some books we have purchased with our own money and will be noted as such. Any links to places to purchase books are provided as a convenience, and do not serve as an endorsement by this blog. All reviews are the true and honest opinion of the blogger reviewing the book. The method of acquiring the book does not have a bearing on the content of the review.

~~~~~~~~~~~~~~~~~~~~~~~~~~~~~~~~~~~~~~~~
~*~*Giveaway*~*~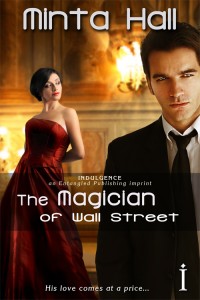 Entangled Publishing has generously offered a digital copy of The Magician of Wall Street to one lucky commenter! 
All you have to do is leave a meaningful comment about the review to enter!
(You can read our full giveaway policy here)
Please leave us a way to contact you.
(Email in blogger profile or twitter name – no way to contact you – no entry).
This giveaway is open to International entries!
Giveaway ends on Saturday, June 16, 2012; and we will announce the winner on Sunday.
Good luck!