It's finally time for our (abridged) recap of the Lover Letter Convention in Berlin ( June 2-3, 2012). We had a blast and thought we would share some pictures and experiences with you today.  We although brought some goodies- not much but it's signed so don't forget to leave a comment.
Day 1 – The Arrival
The German View:
We (the bf, a friend et moi) started our trip in Magdeburg at 12 pm. After a 2 hour train ride we arrived in Berlin and made our trip to the hotel. With my great google maps navigation skills we only had a tiny bit of a longer trip packed with all the bags to the hotel but well I didn't have to carry my bag. (Susi the egoistic one). We checked in and after a small break we made our way back into the city to take advantage of the movies in English. *g* When we were done we had a heartattack when my phone informed us Caro's flight landed 1,5 hours early and we imagined her laying on the floor there sobbing that the evil Germans didn't come to get her. Then we started thinking and realized that she should still be in Munich and without having beamed herself to Berlin there was no way she could already be here. But we didn't want to risk it so classy as we are we went to a store, bought beer and the German version of Champagne and made the trip to the airport. And surprise, her flight was on schedule so we had 1,5 hours to wait for Caro's arrival.
I fretted over: what if I don't recognize her? I did and when she came out of the gate I saw I wasn't the only one worrying. We really hit it off from the first minute. *g*


So we grabbed the French girl and her bags and made our way back to the hotel- in the rain. When we are all soaked through but finally back in the warm room we started chatting about this and that, drank some Champagne and before we realized it it was 3 am and no one was really tired. All this adrenaline is better than coffee.
The French View:
Germany is a SCARY place…I mean come on, they speak German there!!! LOL I was sooooo scared of getting lost. I admit I might have told Susi a thousand times I would roll in a ball crying for my mom if she wasn't there to greet me LMAO. I often overreact 😉 Since we're still writing posts together you can see we didn't break up our friendship after meeting LOL. If you don't all know it yet, Susi's made of awesomesauce.
Day 2 – Bears & Dinner
After waking up and getting ready we were (or maybe just Susi) this close to tears when we realized the stupid bakery thingie near our hotel doesn't have any coffee to go. GASP! So we had to wait for my fix till we arrived in the city.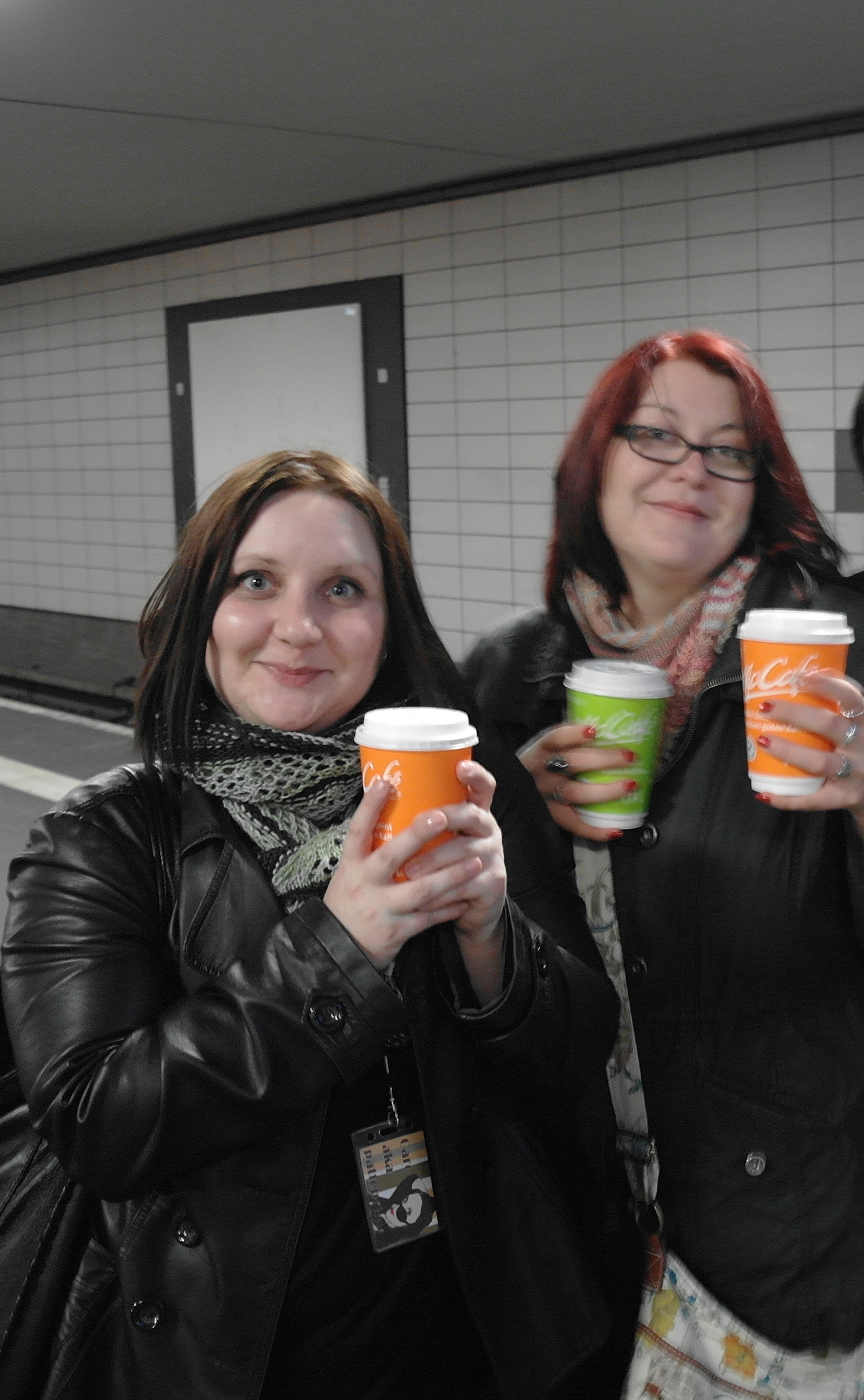 We spent some hours sight seeing and giggling over the stupid pics we took.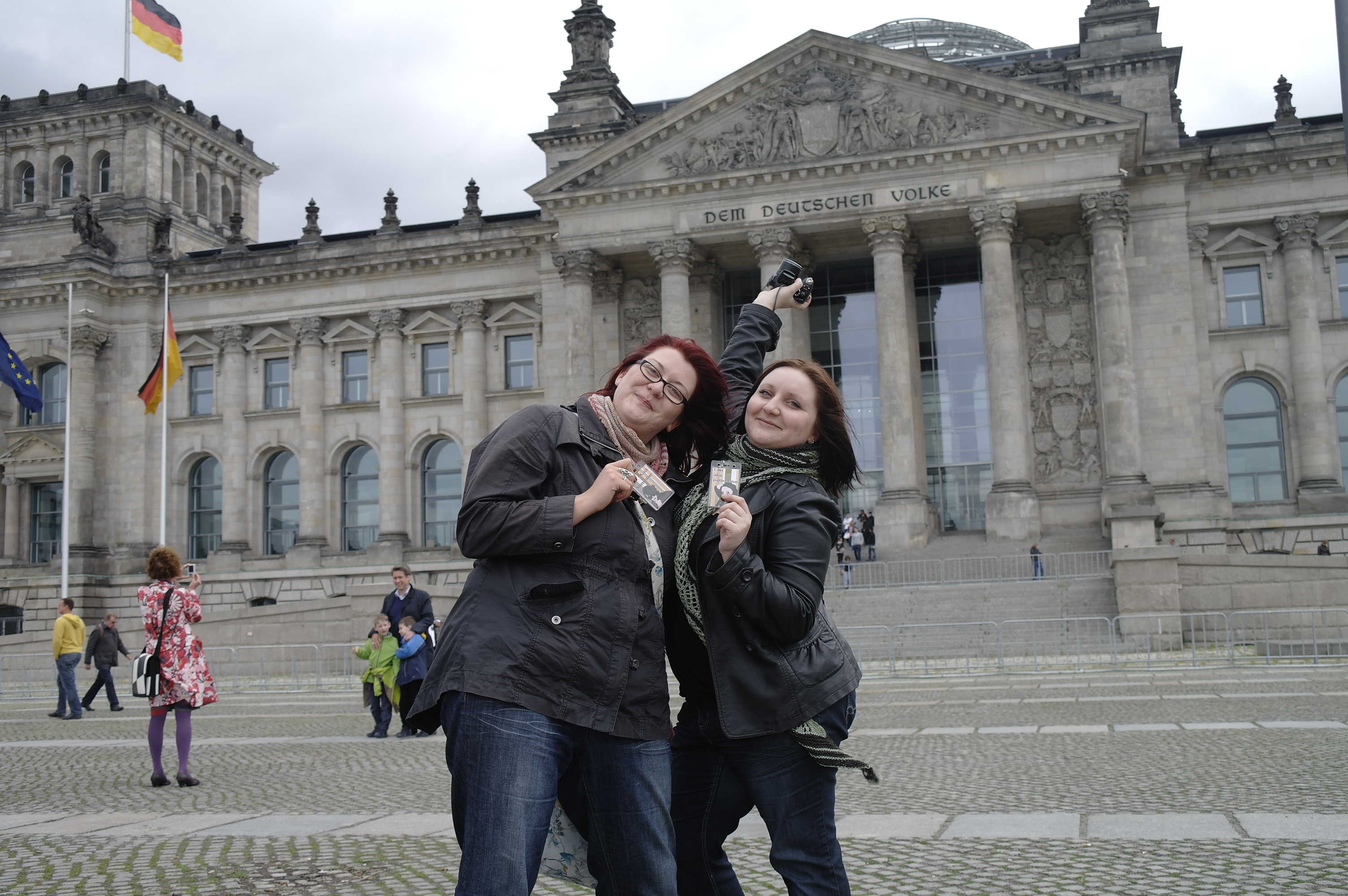 Caro developed a deep affection for the Berlin bears.


We met up with some authors (Nalini Singh, Maya Banks and Lara Adrian) and the great Dutch ladies: the ROOB girls (Natasha, Leontine and Pearl), Lucy, Aurian and her besty Freya.
These ladies are made from awesomesauce. We giggled and laughed and it could be we entertained the whole restaurant. All the ladies and Mr. Adrian were wonderful and well they all stole our heart.
Caro's two cents: It was SO much fun meeting the Dutch Horde! ⇐ yes they invaded Germany! I had a blast! It's hard not to love them seriously.
Day 3 – Chattety Chit-Chat
On our first convention day we got into the mood with some panels.
Susi only attended the first panel cuz she loves Caro that much. It was all about historicals- their setting, the tropes and the different characters found in them. Michelle Styles, Maya Banks and Lara Adrian talked about their experience in the genre and I loved to hear all about their research methods. Really surprising how different authors do that.
After that we went to the Category romance panel with Nalini Singh, Maya Banks and Michelle Styles. I loved to hear some more about these. I love to read a category romance when the mood for something happy and quick strikes me.
After that we thought to give the Blind Dates a try and met the wonderful Michelle Styles and talked about category romances and well romance in general.She brought us books- English books YAY
After that we attended readings by Larissa Ione and Sandra Henke (well that one was accidental and Caro REALLY enjoyed it), Maya Banks and Lara Adrian. It was nice to hear the authors read BUT after lunch it really makes you all sleepy. LOL (not to mention we were sitting on pillows on the floor *Zzz ZZzzz*)
Caro's two cents: Listening to a German reading is quite the experience. I felt left out when people started laughing. I was all 'what??? What happened?' Good thing I had my own personal translators LOL. Funny enough they only translated the dirty parts…I wonder why…LOL
Susi: Because we know you!!!!!
If there's one thing we realized very quickly, it's that if you wanted seats in a panel/reading/Q&A you just had to avoid where Nalini Singh went LOL. She was very very popular.
The end of the day was the book signing. We were a bit late- and by that I mean not 30 minutes early. LOL We waited 45 minutes to get into the room because Nalini's line was going all through the house. But we got all the good stuff signed and left the convention with a smile on our face.
Day 4 – Let's Talk About Sex
If there was 1 panel we didn't want to miss it was the Let's Talk About Sex one *sings* (admit it now you have that song in your head too!). This panel was hilaaaaaarious. I haven't laughed so much in ages. Maya Banks rocked that panel. ⇐ Yes I have a huge Maya crush now. See there were a few guys at the convention, not many but they were there. And during this panel one of them asked questions that really had us laughing our ass off. It was super fun to see the men side of reading romances.
As much as we were reluctant about the 'blind dates' concept at first when we read the schedule it soon became obvious it was a great idea. We really wanted to have a blind date with Maya and yes we 'arranged' to be at her table at the right time Muahahhaaha. It was such a great idea, 5 of us readers with 1 author for 1 hour. Just fun!
We first had one with Shannon McKenna, then with Maya. (Yes we basically spent our time in Blind Dates LOL). Shannon was great- she's funny, witty and made us giggle. I love how ironic and sarcastic she can be. I can't stress enough how much fun Maya was. Susi and I both agree on that. She really rocked. Well all the authors were really super nice (at least the ones speaking English…I have NO idea about the German ones LOL)
We also attended a game each day- it was fun to enter a competition with an author and I have to say we met some great Austrian gals there. Larissa Ione was so wonderful and well she did help us with the romance genre questions. But well the others cheated- I'm sure about that. *wink*.
At the end of the day we went out to dinner again with the Dutch ladies, Nalini and her mom and had a great time recapping all the fun we had over the weekend.
Well and as it goes at a convention we got books. Here they are:
And well here are the books of all 3 of us stacked. LOL

PS: When we came back to the hotel, we had a big laugh at some scenes from one of the German books. Let's just say a garden hose was used in a very unconventional way LMAO.
Susi: This whole weekend was such a blast. It wasn't only great because of the convention- it was awesome for me because I met the crazy French gal. *sobs* We had so much more fun and finally someone didn't roll their eyes at my silliness. But well the convention was great too. I didn't expect it to be that meet-and-greety. We really got to talk to the authors and well be silly together. I still can't believe how great they were. I adore Maya Banks- her humor and well everything about her was made of awesomesauce. And well Nalini was soooo lovely I felt like hugging her all the time. So well great times- as Aurian told me today- if I could register for next year already I would do so in a heartbeat.
Caro still crying: *sob* I didn't want it to end! It was just SO much fun. I tried getting into Susi's suitcase but with all the books and underwear it was impossible to fit LOL. I've added SO many books to my TBR-list now. I just want to gobble down all of their books.
My 2 'coup de coeur' are Nalini (adorable!) and Maya. So different and still both made of awesomesauce. (Now you believe me when I said I fell in love with Maya? I've only mentioned her 100 times already and that was the Abridged version)
Did you ever attend a book convention?
Any funny or cute stories you can share?
Which one do you ever really WANT to attend? 
~~~~~~~~~~~~~~~~~~~~~~~~~~~~~~~~~~~~~~~~
~*~*Giveaway*~*~
We have 2 little swag packs for two lucky commenters.
All you have to do is answer one of our questions or leave a meaningful comment about the post(fangirl squees are acceptable too *wink*).
(You can read our full giveaway policy here)
Please be sure to include a valid email address in the comment form (need not be in the actual body of the comment).
This giveaway is open to all!
Giveaway ends on Saturday, 23 June 2012; we will announce the winner on Sunday.
Good luck!