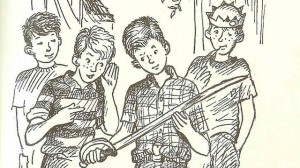 You may have heard about the recent passing of author Donald J. Sobol, author of the classic children's mystery series, Encyclopedia Brown. Though Sobol reached the ripe old age of 87 before he died (of natural causes), his passing brings a wave of wistfulness and sentimentality, particularly when one realizes that there will be no more new work released (his last Encyclopedia Brown book will be released this October by Penguin). It's the end of an era, for many.
For my part, Encyclopedia Brown books were some of my absolute favorites, providing endless entertainment and numerous challenges. What hooked me (and countless children since the 1960s) was the high level of engagement asked of readers, as well as the relatable childhood interactions depicted in each tale. Also, the mysteries presented in the books were challenging yet not impossible, and they always encouraged readers to employ lateral thinking when problem solving. It's no surprise that John Sobol, Donald's son, recounts how his father heard testimonials from "countless librarians and parents about children who hated to read until they picked up an Encyclopedia Brown book."
These ruminations about Sobol and his impact on the bookish lives of so many has also got me thinking about the early influences that contributed to our love of books. Though we're taught to read in youth, we're not all necessarily book lovers from the get-go. Some of us discover a passion for reading in adulthood, brought upon by the introduction of some or other popular book (the Harry Potter series is a great example). Some of us may have even detested having to read, or felt that reading purely for pleasure was a disdainful notion. But for those that now love love love to read, there's always *something* that initiates the compulsion.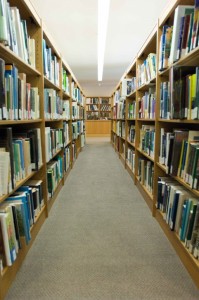 For me, that love for reading came very early, yet I'm not sure what sparked it. I wasn't raised as part of a family of readers, but I did have a parent that indulged the voracious love–as much inexplicable as it was strong–that I had for reading. I'd be taken to the local library once a week to stock up on new books and spend a sizable amount of time just soaking in the book-filled atmosphere–even then, I'd felt libraries were magical, mystical places. And when presents were given for whatever occasion, I could always count on receiving a few books.
Fortunately, my younger brother was also a book worm. I loved to collect science fiction books, while by brother racked up the epic fantasy novels. He collected dozens of R.L. Stine's Goosebumps books, and I'd amassed a wealth of Fear Street books. I was big on Nancy Drew, and he was all about the Hardy Boys. And we'd trade, and we'd read and recommend stories to each other. More than many things, I think it was that shared passion for reading that helped me feel it was OK to love books; it's a tie my brother and I maintain to this day–we can always count on a pleasant chat about books, any old time.
So I'm curious about what sparked your own love of books. It's quite fascinating how we all come to our current book lover status via different paths, laced with so many elements: the encouragement of a loved one; the memorable writing of a given author; the dreaded reading assignment that unexpectedly became an enjoyable task.
Are you familiar with Sobol and/or the Encyclopedia Brown series? If so, do you have a favorite mystery?
From where (and when) did you develop a love of reading? Was it recent or long-standing? Was it encouraged by others (parents, friends, colleagues, etc.), or was it something you fostered on your own?