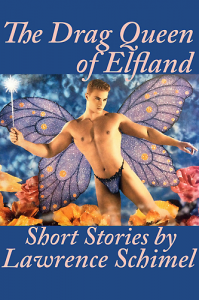 Format Read: ebook provided by author
Number of Pages: 144
Release Date: May 13, 2012
Genre: Urban Fantasy
Publisher: Circlet Press
Formats Available:  ebook, paperback
Purchasing Info: Goodreads, Powells, BookDepository
Book Blurb:
The Drag Queen of Elfland is a collection of fantastical stories imbued with a refreshingly queer sensibility. These seventeen stories feature a lesbian werewolf taking back the night, a gay vampire discovering the perils of going to the gym (too many mirrors, for starters), a young lord's son undertaking a quest to obtain a magical sword and win the heart of the boy he loves, and much more. Sometimes funny, sometimes moving, sometimes sexy, and always imaginative, these stories show readers the secret worlds that lurk beneath the surface of our own.
My Thoughts:
Excellent! An uneven number of stories. There won't be a tie like last time.
As before, each story will get a blurb, and a + or – indicating if it's worth reading. Then we'll rate the collection as a whole.
The Drag Queen of Elfland:
 "Don't run, he told himself. It will only make things worse. If they thought he was a woman they might want to rape him. If they knew he was a man, they were probably out fag-bashing. Or maybe they meant to rape him anyway, their irrational homophobia giving them the excuse in their own minds, to perform the very acts they abhorred."
The very best speculative fiction provides insight into our culture. No sugar-coating. No Extra Special Episodes. Just a bald-faced description. Take it or fucking leave it. Then call and yell at dumbass legislators who are all aflutter about Hate Crimes Legislation and ENDA. (+)
Take Back the Night: I reviewed this one before. It's still awesome (hello there dream job!), but there are so many variations in werewolf mythology. As a bookstore owner you should arm yourself with facts. Why did you just jump in presuming you knew all the rules? Voluntary shift or moon based? Transmission via saliva or…ahem…other bodily fluids? You could have had a lot more fun. Just saying. (+)
Old as a Rose in Bloom: Useless father-figure! Too busy tormenting a hapless teenager to provide the obvious solution to your daughter's crisis. I am embarrassed on behalf of the entire living realm. (-)
Fag Hag: Serves you right lady, dealing magic roofies. Though I am curious….For a girl, the spell required menses blood. What did you need from a boy? Inquiring minds want to know. (+)
Barbarian Legacy: I demand a rewrite from the henhouse's perspective! Was the rooster too tough to digest? Were the chickens devoured out of genuine hunger or merely silenced? Is the henhouse vegetarian? (+)
Black Sounds: Ah, ennui. You can tell the narrator is a poet because it takes him so long to get to the bloody point. Even when covered in blood. (-)
Occasion a Need: Remember that ridiculous little subplot in the first Sookie Stackhouse book about the queer guy with (vampire) AIDS? This is the opposite of that plot. Rather than a vomit stain of homophobia and bigotry, this story manages to be well-written with fully developed characters dealing with sex, psychosis, and death. In 7 pages. (+)
Femme de Siecle: Great idea! Let's make the eternal struggle between your period cravings and body image issues literally eternal. Now if you'll excuse me, I need to devour an entire pizza and some deep-fried cheesecake. Who knew vampire repellent could be so satisfying? (+)
The Farrier and the Elves: Closeted assholes, an asshole taking advantage of them, animal abuse, and lots of unprotected sex with a character suffering from an unnamed-yet-fatal illness. Why rush the conclusion? There are a few more repulsive plots you could have tied in here. (-)
Calvinism: As a fallen Catholic and fire-breathing atheist I am not shocked, titillated, enraged, or amused by a gay Jesus. Yawn. But enough with excessive capitalization. Even the shittiest of word processing programs has a grammar check feature. Turn it on and lose the affectation of devotion. (-)
Crow Feathers: I call bullshit. The beaten and molested teenage girl, upon learning of the ability fly AWAY, does not go back to her abusers to say goodbye. (-)
Heart of Stone: It's a sweet story. Sweet, but dull. (-)
An Oath of Bone and Velvet: This is not a complete story. Where is the conflict? The plot? The resolution? This is merely the prologue to what could be an interesting story. If it were ever written. (-)
Coming Out of the Broom Closet: Hey, I've read this one before too! When I was in 5th grade. It's in 100 Wicked Little Witch Stories.  Which everyone should have a copy of because it's frakking awesome. (+)
Hemo Homo: A new twist on vampiric reactions to blood-borne pathogens. About time! No bullshit magic immunity to all humanity's ailments and insight into the implications of immortality? Build a time machine and go submit a script for Torchwood Miracle Day. You could single-handedly turn a mediocre season into something fabulous. (+)
In Sheep's Clothing: Attack of the weresheep! (+)
Burning Bridges:  What aspect of the obsessive, emotionally-stunted pyrokinetic's story was improved with the introduction of Mrs. Bates? That's a trick question. S&M Mrs. Bates killed any hope of nuance or character development. (-)
Our final tally comes to 9+ and 8-.
But this collection is difficult to rate as a whole.
It is not very cohesive. There isn't a unifying theme. Despite the implications of the title, these stories are not all queer, nor do they all involve the fae.
However, all the stories, whether I liked them or not, were extremely well-written. This is clearly a testament to the skill of the writer. Mr. Schimel ended up being more harshly criticized than the authors in other anthologies I've read, simply because, after reading the great offerings, I had no patience for mediocrity. The problem with an author-specific collection is you only get rated against yourself.
So….I'm giving The Drag Queen of Elfland 3.5 stars. Many of the stories would individually warrant 4 or 5 stars, but taken as a group? Meh. Instead, you should read each story separately. If you find this author in other anthologies, rest assured his work will be among the best the collection has to offer.

You should read The Drag Queen of Elfland if you are a crazy busy and only have time to read a short amount each day. If you only have time for 15 minutes of reading, make it count.
****FTC Disclainer. Most books reviewed on this site have been provided free of charge by the publisher, author or publicist. Some books we have purchased with our own money and will be noted as such. Any links to places to purchase books are provided as a convenience, and do not serve as an endorsement by this blog. All reviews are the true and honest opinion of the blogger reviewing the book. The method of acquiring the book does not have a bearing on the content of the review.