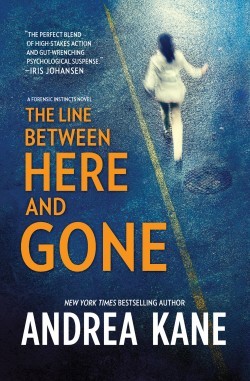 Format Read: Print ARC picked up at a Conference
Number of Pages: 400 p.
Release Date: June 19, 2012
Publisher: Mira
Series: Forensic Instincts #2
Genre: Mystery/Thriller
Formats Available: Hardcover, ebook, audiobook
Purchasing Info: Amazon | B&N | Kobo | Book Depository US | Book Depository (UK)
Book Blurb:
"The man she loved is gone forever. The child she lives for could be next."Each day is a struggle for Amanda Gleason's newborn son as he battles a rare immune deficiency. Justin's best chance for a cure lies with his father, who was brutally murdered before Amanda even realized she carried his child.

Or was he?

One emailed photo changes everything, planting a seed of doubt that Amanda latches on to for dear life: a recent photo of a man who looks exactly like Paul. Could Justin's father be alive? The mother in her is desperate to find out. But tracking down a ghost when every second counts is not for amateurs.

"Forensic Instincts is the one team up for the challenge."

A behaviorist. A former navy SEAL. A techno-wizard. An intuitive. A retired FBI agent. A human-scent-evidence dog. Together they achieve the impossible, pushing ethical and legal boundaries whenever the ends justify the means.

The manhunt is on for the elusive father. Yet the further FI digs into his past, the more questions are raised about whether the man Amanda fell in love with ever really existed at all.

Dark secrets. Carefully crafted lies. From the congressional halls of Washington, D.C., to exclusive Hamptons manors, there are ruthless people who would stop at nothing to make Forensic Instincts forget about the man Amanda desperately needs to find.

Little do "they" realize that once Forensic Instincts takes the case, nothing will stop them from uncovering the shocking truth that transcends "The Line Between Here and Gone."
My Thoughts:
The first book in the Forensic Instincts Series is The Girl Who Disappeared Twice, and I will say that its title makes way more sense than this one. It isn't necessary to read Girl to read Line, but it helps to explain the team dynamic at Forensic Instincts, because that's what drives this group. It's about the team of crime solvers. And what makes them tick together. You don't see much of how they tick separately.
And the book is so darn good you don't care, either.
I kept seeing this as one of the crime shows, like Bones or NCIS, and it would so work.
This is a thriller, it's all about solving the case. There's no romance here, and there's not supposed to be.
What you have is a tightly-knit organization of pretty-close-to-geniuses who got tired of trying to solve cases by coloring inside the lines, so they don't. They work on cases where the ends really do justify the means.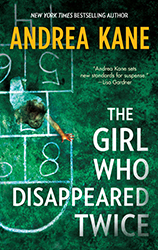 Like rescuing a little girl from her kidnappers. That was Girl Who Disappeared Twice. In Line Between Here and Gone, it's a case where an infant's life is on the line. His mother thought the father was dead in a no-body homicide. But he's been photographed after his supposed death.
She doesn't want child support. It's not that mundane. The baby, Justin, needs a bone-marrow transplant, and his mother is not a donor. His father is the best chance, if he can be found in time.
But about that no-body homicide–there's a cover-up, and it's a doozy. Somebody, it turns out lots of somebodies, don't want anyone looking into that case. Not even to save a baby's life. Even if they have to scare, or maybe kill, a few adults along the way.
This thriller kept me, not just up late, but glued to a chair until I finished it. I read Girl and Line back to back non-stop until I was done. The team at Forensic Instincts fits perfectly into the "Five Man Band" trope (see the TV Tropes Wiki for a complete description). This makes for not just a great organization, but a fantastic group dynamic for storytelling purposes.
And they have a totally awesome dog, named Hero, who frequently steals the show.
I give The Line Between Here and Gone 5 stars. I just wish it had a better title. I hated the title. I loved the book.

***FTC Disclaimer: Most books reviewed on this site have been provided free of charge by the publisher, author or publicist. Some books we have purchased with our own money and will be noted as such. Any links to places to purchase books are provided as a convenience, and do not serve as an endorsement by this blog. All reviews are the true and honest opinion of the blogger reviewing the book. The method of acquiring the book does not have a bearing on the content of the review.