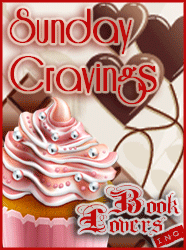 Hello Book Lovers all around the world! How are you? How did you spend your weekend? Mine was busy enjoying myself at a beach and later cursing the scorching sun for making me look like a clown. And I was under an umbrella the whole time with the appropriate sunblock on… Anyway, back to books. Next week is yet another not so crowded with book releases week. Which is a good thing. I'm barely able to keep up with my TBR list. So, no new books is a good thing on my book 😛 But, even if there aren't many scheduled releases, we somehow manage to always crave for something new.
So, here are this week's Sunday Cravings.

Stella: Thirteen by Kelley Armstrong
The #1 New York Times bestselling author Kelley Armstrong delivers the novel her fans have been clamoring for: The epic finale of the Otherworld series.

It's been more than ten years, a dozen installments, and hundreds of thousands of copies since Kelley Armstrong introduced readers to the all-too-real denizens of the Otherworld: witches, werewolves, necromancers, vampires, and half-demons, among others. And it's all been leading to Thirteen, the final installment, the novel that brings all of these stories to a stunning conclusion.

A war is brewing—the first battle has been waged and Savannah Levine is left standing, albeit battered and bruised. She has rescued her half brother from supernatural medical testing, but he's fighting to stay alive. The Supernatural Liberation Movement took him hostage, and they have a maniacal plan to expose the supernatural world to the unknowing.

Savannah has called upon her inner energy to summon spells with frightening strength, a strength she never knew she had, as she fights to keep her world from shattering. But it's more than a matter of supernaturals against one another—both heaven and hell have entered the war; hellhounds, genetically modified werewolves, and all forces of good and evil have joined the fray.

Uniting Savannah with Adam, Paige, Lucas, Jaime, Hope, and other lost-but-not-forgotten characters in one epic battle, Thirteen is a grand, crowd-pleasing closer for Armstrong's legions of fans.
Oooh! I can't believe Kelley Armstrong's Women of the Otherworld series comes to an end 🙁 *sad panda face* Bitten, the 1st book in the series was my introduction to urban fantasy and ever since this series and Kelley had a special place in my heart. Though I still have a couple of books to catch up, I'm excited to see how she brings everything to an end in Thirteen.
Marlene: Dragon Justice by Laura Anne Gilman
In my time with PUPI, formally known as Private, Unaffiliated Paranormal Investigations, I've seen a lot. Learned a lot. And not all of it's been good. But what we do-make people accountable for crimes committed with magic-is important work. Still. Even I need to take a break every now and again. Or so I've just been told (ordered). So hey, vacation. Maybe I'll finally figure out what's going on with the "special bond" between me and the bossman, Benjamin Venec. Venec seems to like that idea-he's invited me down to join him on a jaunt to Philly. But no sooner do I arrive in the City of Brotherly Love than we're called in to look at a dead body. And that's when life gets really complicated….
I read the entire PUPI series (Hard Magic, Pack of Lies, Tricks of the Trade) in one glorious reading binge, and I can't wait for this latest one. Her whole urban fantasy Cosa Nostradamus (I still smile when I read that) universe is a blast. Really. The idea that good old Ben Franklin was out there with that kite because he wanted to catch some current to perform magic is just priceless. If it sounds like fun to you, start with Retrievers.
So, how about you? Which titles would be your Sunday Cravings Choices for the week to come?