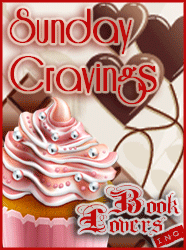 Hello Book Lovers! Anna's not back yet, so I am doing my best to hold down the fort in her absence. Of course, I will be traveling for the next two weeks, so if I can't find another Book Lover to fill in, we may be without Sunday Cravings for a bit.
But that isn't anywhere near important as the fact that Winter Has Come to Alaska. I'm sure you are all rolling your eyes at me while wiping the dripping sweat off your collective brows – but it's true. For the last few days, my car windows have been covered in frost in the morning. My roommate even turned her car on to heat it up before heading out today. WINTER IS HERE.
With that horrifying cheerful prospect to keep you all going, I present this week's Sunday Cravings. It is, after all, important to stock up on your reading before weather makes the roads impassable and otherwise interferes with regular postal service.
Caro: Hello from Germany!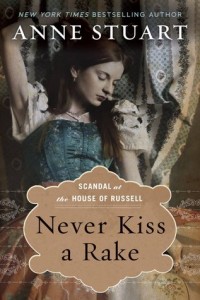 Never Kiss a Rake by Anne Stuart.  OMG I've been waiting for this one for years.  I spent the last 1 checking her blog every week hoping to see a release day for this book. I want it SO bad it hurts.   I'd better be good. 😉
Anguished by death. Driven by revenge.

Bryony Russell and her two sisters are left destitute by the disgrace and unexpected death of their father, a wealthy shipping magnate. He left a cryptic note, and Bryony is determined to find the real villain and clear her father's name. In disguise as a servant, Bryony infiltrates the home of her father's business partner to find proof of his guilt…or innocence. It's not just clues that Bryony finds, but temptation too…

Adrian Bruton, Earl of Kilmartyn, immediately suspects there is something not quite right about his new housekeeper. The brooding, irresistible rake plays along because he has his own guilty secrets, and his venal, scheming wife holds the key to them, trapping him in a hate-filled marriage. But against his will he's fascinated by Bryony, seeing past the scars on her face to show her the beauty she never knew she had. Bryony must uncover the truth and attempt to preserve her father's legacy, before things go too far and she falls in love with a man who might very well be her worst enemy.
Alisha: Now that's a ringing endorsement! (adds to TBR)
Just now checked out a review for the book:
Anne Stuart is in a league all her own, so when reading a book written by her, it almost requires it's own rating system.
Can't believe I've never read an Anne Stuart yet…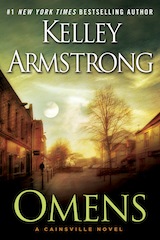 This is a relatively quiet week, except for us Kelley Armstrong fans of course! Omens (Cainsville, #1) by Kelley Armstrong.
It seems Kelley Armstrong is cracking open a brand new series…and since everything she writes seems to be amazing, I definitely want to pick up this book as soon as it's out. I can't quite tell how much of a paranormal aspect the book will have–though it sounds like ghosts or the otherworldly are involved. What's really intriguing, though, is the prequel story, which take the form of a choose-your-adventure app. Cray cray!
Twenty-four-year-old Olivia Taylor Jones has the perfect life. The only daughter of a wealthy, prominent Chicago family, she has an Ivy League education, pursues volunteerism and philanthropy, and is engaged to a handsome young tech firm CEO with political ambitions.

But Olivia's world is shattered when she learns that she's adopted. Her real parents? Todd and Pamela Larsen, notorious serial killers serving a life sentence. When the news brings a maelstrom of unwanted publicity to her adopted family and fiancé, Olivia decides to find out the truth about the Larsens.

Olivia ends up in the small town of Cainsville, Illinois, an old and cloistered community that takes a particular interest in both Olivia and her efforts to uncover her birth parents' past.

Aided by her mother's former lawyer, Gabriel Walsh, Olivia focuses on the Larsens' last crime, the one her birth mother swears will prove their innocence. But as she and Gabriel start investigating the case, Olivia finds herself drawing on abilities that have remained hidden since her childhood, gifts that make her both a valuable addition to Cainsville and deeply vulnerable to unknown enemies. Because there are darker secrets behind her new home, and powers lurking in the shadows that have their own plans for her.

Note: You can preorder signed & personalized copies from Schuler Books via BookTalk Nation here.
Cass: I was going to join the Kelley Armstrong train. I loved Women of the Otherworld – but her YA series have left me, shall we say, cold. This choose-your-own-adventure crap is making me super nervous about the new series. Maybe I'll wait…..
Marlene: Nothing really floats my boat this week. But OMG next week!
What are you adding to your towering TBRs this week? Or like Marlene are you strategically holding back until next week?