Welcome to this week's edition of our news in the Bookish world. For this week we have news from upcoming movie and tv adaptations, Books on Board closing their doors for the time being, and Romantic Times award winners and much more news!
First up, a heads-up for those who have bought and have ebooks on their shelves at Books at Board, last Sunday, they announced they are temporarily closing and re-structuring due to financial issues because of changes stemming from Agency pricing which has harmed their sales. This is a huge shame because Books on Board use to be my go place to get ebooks when I first adopted an ereader but this will allow more customers to choose from the bigger sites like Amazon or Kobo and we as readers and publishers need more indies selling because it helps with competition. There is also an irony that Books on Board was supportive of Agency pricing but it definitely looks like the major publishers move to this model has actually helped to hinder indies selling ebooks and helped to consolidate the big sellers market share and that is not a good thing for the longterm. I really hope that Books on Board will re-open but I would definitely go and download and backup any ebooks you may have bought and the same for any future purchases even from major sellers just to be safe.
A Silicon Valley start-up is working in conjunction with several colleges and schools in Texas where teachers are able to track student's progresses in ereaders to see if they have the read the books they are assigned to. I think this is way too much into Big Brother territory and it does raise issues about privacy but on the other hand this could be a useful tool to follow student engagement with a text they are assigned too and if they are using the right approach. And this technology is not new, Amazon has a similar system where they are able to track and collate information about a book which is purchased and read.
There has been several upcoming adaptations from Stephen King, first the trailer for CBS' Under the Dome  which will air this summer has been released and it looks damn good! But there is also plans afoot from former  The Walking Dead producer, Glen Mazzara who will be adapting a prequel movie based on King's The Shining. Stephen King is also releasing the sequel to the classic chiller later this year entitled Doctor Sleep.
Another cool adaptation which was announced this week, is C.J Cherryh's The Morgaine Stories which is a fantasy epic tale of a young woman who can time-travel and a warrior who serves her. The first book, The Gates of Morgaine: Irvel has already been adapted into a screenplay and I really hope it gets the greenlight very soon!
And finally, the casting for Canadian Space's adaptation of Kelley Armstong's Bitten has started filming this week and have announced the full cast of actors starring in the Urban Fantasy series. Actors Greyston Holt will be playing Clay and Greg Bryk as Jeremy will be joining Laura Vandervoot as Elena. For more details and other casting announcement click here. 

News in Brief:
The Romantic Times Awards has announced its winners and nominees – several of my favourite books and authors have won from last year which includes Meljean Brook's Riveted and Kristen Callihan's Firelight!
I heart this book so much because it was a fantastic debut, but Susan Ee's Angelfall has sold the British Commonwealth rights to Hodder and Stoughton with the exception of Canada which will be published under Amazon's YA imprint. Susan Ee has also recently sold the movie rights to the post apocalyptic YA series and the second untitled book is slated for this October.
And Larissa Ione has posted an intriguing  snippet from her upcoming brand new PNR series on Facebook – Bound By Night.
And now books to watch out for!
Its not a real books to watch out for post if there's not a Jaci Burton lickalicous cover included and I haz one for y'all! One Sweet Ride is out later this year.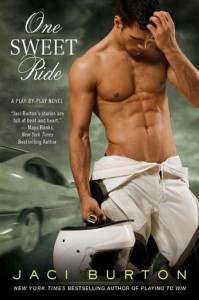 Race car driver Gray Preston enjoys fast cars and an uncomplicated life, until political aide Evelyn Hill enters the picture and complicates the hell out of it with a request that he help out his estranged father's political campaign. Racing and politics don't mix, but Gray and Evelyn's sexual attraction sizzles like asphalt in August.
I was not aware there was a novella slated later this year after the last full Sookie Stackhouse book. But After Dead is a bit of an addendum and an epilogue to the events in Dead Ever After.
Dead Ever After marked the end of the Sookie Stackhouse novels—a series that garnered millions of fans and spawned the hit HBO television show True Blood. It also stoked a hunger that will never die…a hunger to know what happened next.With characters arranged alphabetically—from the Ancient Pythoness to Bethany Zanelli—bestselling author Charlaine Harris takes fans into the future of their favorite residents of Bon Temps and environs. You'll learn how Michele and Jason's marriage fared, what happened to Sookie's cousin Hunter, and whether Tara and JB's twins grew up to be solid citizens.This coda provides the answers to your lingering questions—including details of Sookie's own happily-ever-after…The book will feature extensive interior art by acclaimed Sookie artist Lisa Desimini, including a Sookieverse Alphabet, color endpapers, and several full-page black and white interior illustrations.
And finally Contaminated by Em Garner has caught my eye – love the gritty tone of the cover and the premise looks good too!
After the Contamination—an epidemic caused by the super-trendy diet drink SlimPro that turned ordinary citizens into violent, uncontrollable creatures—the government rounded up the "Connies" to protect the remaining population. Now, two years later, the rehabilitated are being allowed home, complete with shock collars that will either control, or kill, them.Velvet Ellis has struggled to care for her ten-year-old sister since her parents were taken in the round up. When she finds her mother in one of the "Kennels," Velvet resolves to do whatever it takes to put her family back together. But the danger isn't over. It's beginning all over again…Gritty and grabbing, Velvet is a harrowing, emotionally charged novel for fans of Carrie Ryan and The Walking Dead.
So what do you think about the temporary closure of Books on Board? Do you think they will re-open or is this another hint that indies are facing huge problems due to Agency pricing and strength of big sellers like Amazon and Kobo?