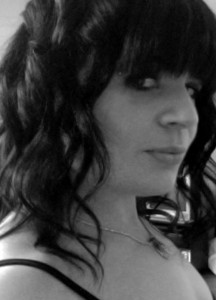 Please join us in welcoming Tiffany Reisz to BLI today! Tiffany is here as part of her blog tour celebrating the release of her book The Siren, which is receiving high praise from reviewers far and wide.
About Tiffany:
Tiffany Reisz lives in Lexington, Kentucky with her boyfriend (a reformed book reviewer) and two cats – one bad and one sad. She graduated with a B.A. in English from Centre College in Danville, Kentucky and is making both her parents and her professors proud by writing erotic women's fiction under her real name. She has five piercings, one tattoo, and has been arrested twice. When not under arrest, Tiffany enjoys Latin Dance, Latin Men, and Latin Verbs. She dropped out of a conservative southern seminary in order to pursue her dream of becoming a smut peddler. Johnny Depp's aunt was her fourth grade teacher.
If she couldn't write, she would die.
"Tiffany Reisz is a smart, artful, and masterful new voice in erotic fiction! An erotica star on the rise!" – Award-winning author Lacey Alexander
Lea: Tiffany! Welcome to Book Lovers, we are delighted to have you join us here today! 🙂
The Siren is receiving rave reviews across the blogosphere. Congratulations! BTW, I hope you aren't under arrest right now because we've been looking forward to your visit. 😉 I know you've likely been asked this many times but my curiosity won out. How did you end up attending a conservative southern seminary and what lead you to drop out to write erotic fiction?
Tiffany: I think it's hard for people to imagine that someone can love God and love sex. For me it's entirely natural. God invented sex after all. I love theology and philosophy. I'm a mystic by nature. Sacred mysteries seem far more reasonable to me than trying to explain everything away. Sex is a sacred mystery – two people becoming one – not unlike the unity of the three persons of the Trinity. See? Now you've got me in seminary mode again.
Lea: I've seen The Siren described as a romance but not really a romance. Why would the novel provoke that description from readers?
Tiffany: The book is romantic and deals with love and relationships but it doesn't follow the romance formula at all. You have a hero and heroine…and another hero and another hero and another heroine. And it has multiple sequels so while THE SIREN comes to an ending, it's a very open ending. I simply do not write romance novels. They aren't my gig. I write characters who are too weird, too damaged, too complicated to have all their problems solved simply by falling in love. And anyone who has ever fallen in love knows that that's often the beginning of the story, not The End. My stories go where romance novels fear to tread.
Length: 432 Pages
Genre: Erotic Romance, BDSM
Release Date: July 24, 2012
Publisher: Mira
Formats Available: Paperback, Kindle, Nook
Purchasing Info: Author's Website | Goodreads | Amazon | B&N | Kobo | Book Depository US | IndieBound | Kindle | Nook.
Blurb:
The Siren is a modern-day retelling of My Fair Lady with uptight English literary fiction editor Zachary Easton as an unwilling Professor Higgins and well-known wild child Nora Sutherlin as his erotica-writing Eliza Doolittle. Zach only has six weeks left at Royal House New York before he heads to Los Angeles to take over as Chief Managing Editor at Royal West. When his boss orders him to help Nora Sutherlin rewrite her latest novel, Zach agrees to work with her only if he is given complete control over the fate of her book. If Nora doesn't rewrite it to his satisfaction in six weeks, Royal won't publish it.

Zach calls Nora a "guttersnipe writer" but she's not your typical guttersnipe. Her personal life is as torrid as her prose and unbeknownst to Zach, her books aren't her only source of income. Nora is determined to prove Zach wrong, to prove she's a real writer worthy of his respect. But her good intentions are complicated by her volatile relationship with her virginal nineteen-year-old roommate Wesley and her inability to completely leave her dangerous former lover Søren in the past. Desperate to win Zach's good opinion of her, Nora keeps her "other job" a secret from him fearing that if he finds out she's the Underground's most famous dominatrix he won't be able to see her as anything other than a sex worker.

The clock is ticking. Nora has six weeks and five hundred pages to rewrite. Will she be able to keep her focus and prove she's a professional writer? Or will she pick the business of pleasure over the business of writing? As the work on her book progresses, Zach and Nora forge a tenuous truce that turns into friendship and intense attraction. Still grieving his broken marriage, Zach is slow to trust Nora. When he discovers the secrets she's been keeping from him, will Zach be able to forgive her and sign her contract? Or will he send her back to the gutter where he found her?
Lea: The Siren sounds unique, complex and dark. What was the impetus for Nora Sutherlin and Zach's story?
Tiffany: I had a ladyboner for Jason Isaacs, the British actor, back in my seminary days. I had this mental image of him shirtless and blindfolded with his hands tied behind his back. Didn't know how he got that way but I wanted to find out. So the characters of Zach and Nora started to coalesce. Zach, like Jason Isaacs, would be British, Jewish, very well-educated and erudite. Nora needed to be the kind of woman who would tie up a man and blindfold him. Who else but a Dominatrix? A stuffy British guy probably wouldn't come across a Dominatrix in everyday life, right? Well, not unless he was a book editor and this Dominatrix also wrote erotica. Suddenly I was writing a modern erotic version of My Fair Lady with a Professor Henry Higgins type trying to get this wild guttersnipe writer to straighten up. Sexiness ensued!
Lea: Are there any authors whose work erotic BDSM themed and otherwise you particularly admire and have perhaps provided inspiration for your stories?
Tiffany: My inspirations are the classics – The Story of O by Pauline Reage and The Sleeping Beauty Chronicles by Anne Rice. Since I'm writing in the tradition of the classics, my books are a bit more hardcore than readers are used to. One reviewer said THE SIREN was the first BDSM book she's read that focused on the SM (sado-masochism) and not the BD (bondage and domination). A lot of BDSM writers shy away from letting their heroes be into sadism. Dominance is fine. Sadism crosses that blurry line for a lot of readers and writers. Some of the most interesting and chivalrous men I've ever known have been sexual sadists who express their desires though pain-play; it's very natural for me to write heavy pain like that you read of in The Story of O or in other classic works of BDSM erotica.
Lea: Is The Siren the first BDSM themed erotic story you've written?
Tiffany: THE SIREN is the first full-length novel in my BDSM world of The Original Sinners. But I was writing kinky stuff even as young as fourteen. I might not have understood BDSM or kink as a world or a philosophy. I just naturally found myself writing incredibly dominant/borderline violent men and the women who loved them and were as dominant and bloodthirsty as they were.
Lea: The blurb gives us an overview of The Siren but could you please share a short excerpt from your book?
"You do realize that working with you could be very bad for my career," Zach said. "I do literary fiction, not—"

"Literary friction?"

"I can't believe I'm doing this." Zach shook his head.

Nora leaned in close to him. He was suddenly and uncomfortably aware of the long bare cure of her neck. She smelled of hothouse flowers in bloom.

"I can."
Lea: Okay, one of our standard BLI Questions: Please summarize The Siren for us twitterstyle (in 140 characters or less).
Tiffany: It wasn't easy and I had to use the hell of out ampersands but here we go…
SIREN is the 1st in a series of BDSM novels featuring a quirky & beautiful Dominatrix, her various lovers & her wealthy & powerful clients.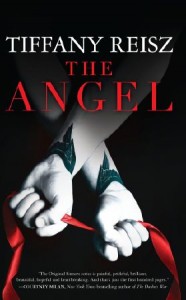 Lea: What can readers expect next from the desk of Tiffany Reisz?
Lea: I have a desk? Where? Once I find this desk, I'll tell you what's on it. But I will say THE SIREN has two sequels coming out this year featuring Nora and her men. THE SIREN (book one) is the beating. THE ANGEL (book two) is the aftercare.
Lea: Tiffany, thank you again for joining us today, it's been wonderful to chat with you. 🙂
Tiffany: Do I get a cookie? I was promised cookies.
Where to find Tiffany:
~~~~~~~~~~~~~~~~~~~~~~~~~~~~~~~~~~~~~~~~
We have 2 copies of THE SIREN up for grabs. *Please read the following carefully*!
Little Bird Publicity has generously offered a print of The Siren to one lucky commenter from the USA! 🙂
Book Lovers Inc. is offering a copy in any format to one International Entry! *Please Note if a print copy is requested it must be to a country on The Book Depository's delivery list.
All you have to do is leave a meaningful comment about Tiffany's interview or a question for her!
(You can read our full giveaway policy here)
Please leave us a way to contact you.
(Email in blogger profile or twitter name – no way to contact you – no entry).
Giveaway ends on Saturday, August 11, 2012; and we will announce the winner on Sunday.
Good luck!