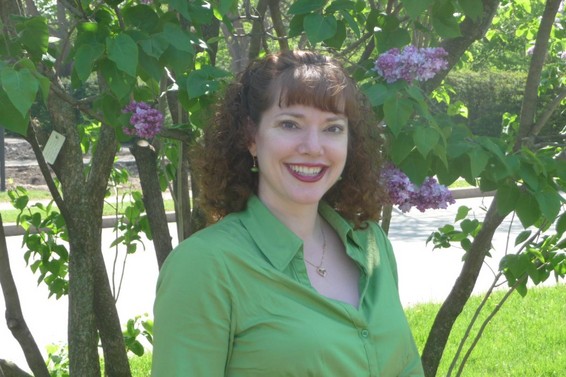 Happy Monday, Book Lovers! I am happy to welcome back to BLI Christi Barth who is celebrating the release of her latest book, Planning for Love, the first novel in her Aisle Bound trilogy, a delicious and frothy wedding themed contemporary romance series! Please give Christi a warm welcome and join us while I chat with Christi and interview her about this new book and series of hers, about the joys (and not) of wedding planning!
Stella: Hi Christi, we are happy to have you back at Book Lovers Inc! Can you tell us a bit about what has happened since you were here last time in November 2011 when you were promoting the release of Cruising Toward Love? What have you been up to since, any big news?
Christi: I've been writing like CRAZY! On January 17 (my wedding anniversary, so we had a built-in celebration evening ready to go!) I sold a 4 book deal to Carina Press. Gave myself two days to absorb it all, and then started writing, and haven't had time to breathe since.
Stella: Your latest novel Planning For Love was released on August 1st by Carina Press, congratulations! Can you tell us how you got The Call and how is your first experience of being published by Carina, is it in any way different from your previous releases?
Christi: With my previous sales to epublishers, I got the notice in an email. Nice, but anti-climactic. With Carina, Angela James actually called me at ten in the morning. My boss caught snippets of the conversation, because I'd squeal loudly words like 4 book deal over and over. Luckily, he's a fan. Having my editor call with a contract offer really makes a difference. I feel like the entire Carina team is behind me 110%. They are an impressive juggernaut, and I'm thrilled to be a part of it.
Stella: Planning For Love is the 1st novel in the Aisle Bound trilogy; can you tell us a bit about the series, what inspired it? Any specific event/moments which sparked the idea for the series?
Christi: For once, I've got a great answer to this question! I used to be a wedding planner. 9 out of 10 people who learned this would say you should write a book!. Then they'd launch into elaborate eye winks about bridezillas, and mother of the bride horror stories.
Except, in my experience, 90% of weddings are wonderful. They are a celebration of friends and family and enduring love. Most people do pull it together and behave like grown-ups. So I didn't want to write a scathing tell-all. But a series that focuses on the wedding industry, showcasing people who spend every day creating the perfect happily ever after? That felt like a good place to start. And maybe a few crazy hijinks did slip into my manuscript. It is a comedy, after all!
Stella: Can you tell our readers what they can expect of Planning For Love? 
Christi: In the harsh spotlight of reality television, a romance-a-holic wedding planner tries to snare the anti-Cupid. It is about a Chicago wedding planner, reality television, buckets of romance, a hero's search for redemption – all good stuff. Here are a couple of titillating lines to whet your interest:
"Whatever it takes to put a smile on your face," she promised with a saucy wink.
"I can think of seven things without even trying. You've even got clothes on in five of them."
Stella: Can you please give a short profile introduction of Ivy and Ben, the hero and heroine of Planning For Love?
Christi:
Ben Westcott: A tall and rangy build. Broad shoulders that contrast with the vee shape of his torso. His chin holds a movie-star cleft deep enough to anchor a small boat. A streaky thicket of blond hair sets off piercing blue eyes. Combined with his ever-present tan, it gives him a bit of a surfer look. Dimples make him irresistible to all women. He's usually in shorts and tee shirt, except for the tuxedo he wears when filming weddings. Oh, wait. You want to know about him, not just the drool-worthy way he looks? Sorry, I get sidetracked thinking about my sexy hero all day long. Ben's hiding a BIG secret, so I can't say much. I can tell you that the man's allergic to love.
Ivy's in love with love. Great for her career as a wedding planner, but not great when she sees latches onto every single first date as marriage material. Her best friend claims she could go out with Daffy Duck and still seem him as a potential husband. She's searched for the perfect love her whole life. When she finds Ben, she's got to enact a plan to make him realize love's not so bad.
Stella: Now can you tell us 3 reasons why people should read Planning For Love?
Christi: 1) It is very, very funny. Laugh-out-loud funny. Let me tease you with…a skydiving (adult) ringbearer….. 2) It is the perfect beach read, which everyone needs, especially if you can't make it to the beach! 3) A super sexy hero – here's a glimpse of him seducing Ivy:
"You really are like cotton candy. Every layer I find is pink and soft and melts in my mouth."
Stella: Was there a scene or a character you particularly enjoyed writing? (or to the contrary that writing was quite hard but the end result made it all worthwhile?)
Christi: I loved writing Ben; so cocky and charming on the outside, but sooo much more to his story that Ivy thinks at first glance. My favourite scene, however, is always the last one. I adore giving my characters their happy ever after!
Stella: Can you summarize Planning For Love for us Twitter-style (140 characters or less)?
Christi:
"Hopeless romantic Ivy Rhodes
and
anti-Cupid Bennett Westcott
request the pleasure of your company for
their disaster of a courtship."
Stella: Music plays kind of an important role at weddings, which song would play at Ivy and Ben's wedding? 😉
Christi: First of all, my years as a wedding planner have permanently RUINED some songs for me, because I heard them so much. So it wouldn't be At Last or Always and Forever. Addicted to Love is a perfect fit for Ivy, but Ben would object. Strenuously. Their song would have to be It Had to Be You.
Stella: What shall we expect from you, what is next on your schedule?
Christi: On December 1 my novella Ask Her At Christmas will release. It is part of the Romancing the Holiday anthology from Carina Press, along with novellas from Helen Kay Dimon and Jaci Burton. I'm so excited to be in a book with these ladies!
Stella: Any teaser you would like to share with us regarding the next two Aisle Bound stories?
Christi: Of course! Book 2, A Fine Romance, follows a chocolatier (yes, it will make your mouth water) pursue a woman who hates chocolate. Book 3, Friends to Lovers, a florist struggles with revealing her longtime lust for a hotel manager lothario who's about to be shipped back to England. I'm writing book 3 right now, and just finished describing an aphrodisiac dinner that—well, let's just say that it worked very, very well.
Stella: Aisle Bound is planned to be a trilogy, can you tell us who will be the protagonists of the next two books, have we had the chance to meet them in Planning for Love?
Christi: Book 2, A Fine Romance is the story of Sam the baker/chocolatier and Mira, the manager of Ivy's new romance store. Book 3, Friends to Lovers is the story of Daphne the florist and Gib the hotel manager. Plus plenty of page-time revisiting Ivy & Ben with a premiere party when Planning for Love starts to air!
Stella: Yummy! 😉 And now to end this delightful interview, Christi can you tell us what is your favourite wedding movie?
Christi: I have 2 favorite wedding movies: The Phildelphia Story and Wedding Crashers.
Find out more about Christi and her books at her website and her blog. You can also find her on Twitter and Goodreads.
Planning For Love by Christi Barth

Book # 1 in the Aisle Bound trilogy

~ Hopeless romantic Ivy Rhodes and anti-Cupid Bennett Westcott
request the pleasure of your company for their disaster of a courtship ~

Wedding planner Ivy Rhodes is the best in the business, and she's not about to let a personal problem stop her from getting ahead. So when she's asked to star in the reality TV show Planning for Love, it doesn't matter that the show's videographer happens to be a recent—and heartbreaking—one-night stand.

Bennett Westcott admits he didn't handle his encounter with Ivy very well. But looking at her beautiful smile—and great body—through a camera lens every day? He can't be faulted for suggesting they have some no-strings fun.

The more time they spend together, the more Ben realizes Ivy isn't the wedding-crazed bridezilla he'd imagined. But if he doesn't trust himself to make a relationship last, how can he convince Ivy to give him another chance?

Buy at Amazon – Carina Press
~~~~~~~~~~~~~~~~~~~~~~~~~~~~~~~~~~~~~~~~
~*~*Giveaway*~*~
Christi Barth has generously offered an ebook copy of Planning for Love to one lucky commenter!
All you have to do is answer her question:
What went hopelessly, and hysterically, wrong at a wedding you attended?
(You can read our full giveaway policy here)
Please be sure to include a valid email address in the comment form (need not be in the actual body of the comment).
This giveaway is open worldwide!
Giveaway ends on 18 August 2012  and we will announce the winner on Sunday.
Good Luck!