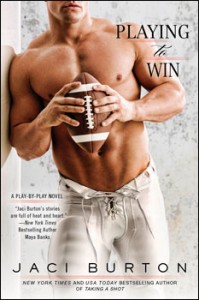 Format Read: e-ARC provided courtesy of author for Review
Length: 320 Pages
Genre: Erotic Romance
Series: Play-by-Play Book 4
Release Date: September 4, 2012
Publisher: Berkley Heat
Formats Available: eBook, Kindle, Nook
Purchasing Info: Publisher, Author's Website, Amazon, Books-A-Milliion, Powell's, Barnes & Noble, Goodreads, Book Depository, IndieBound, iBookstore, Kindle, Nook
Book Blurb:
Someone's going to have to let down their guard…

Football star Cole Riley is notorious for doing as he pleases—on the field and off. He parties hard and fights harder, but if he doesn't clean up his act, his career is over—so Cole reluctantly agrees to work with image makeover consultant Savannah Brooks. He's not used to being told what to do, especially by some (admittedly hot) southern belle. As for Savannah, she's not convinced she can transform this cocky (and aggressively sexy) force of nature. But she's determined to give it her best shot.

When the sparks start to fly, Savannah lays down the ground rules: no personal complications. If she can turn off the tingle she feels every time Cole gives her a hot stare with his gorgeous baby blues, he can turn off his desire as well. But for two people determined to have it all, a hands-off policy can only last so long before one of them yields.
My Thoughts:
Talented NFL wide receiver Cole Riley's career is in trouble. He's been traded or axed from the previous three teams he played for and is considered a public relations hot potato due to temperamental angry outbursts resulting in alienation of his team members and management. The media loves to bait him and exploit his shortcomings. Thanks to some arm twisting by his sports star cousins Mick and Gavin, Cole is signed by dynamo sports agent Liz Darnell who manages to negotiate Cole a contract with the St. Louis Traders. Liz brings in professional image consultant Savannah Brooks and in Liz' take no prisoners style issues an ultimatum to the beleaguered football player: Accept Savannah's involvement and advice and shape-up or suffer the consequences. Liz's reputation and Cole's career is on the line so he reluctantly agrees to accept an image makeover compliments of the beautiful Southern belle.
It's evident from Cole's cocky attitude that he doesn't see what the problem is. It's everyone else that is at fault, not him. The teams should be recognizing his ability to play the game and allow him to do it. What does image matter? In fact, he sees every comment or suggestion Savannah makes as a personal insult that he tries to turn into an argument. Savannah, is smart and savvy with a wealth of experience, she does her homework and sees Cole's shortcomings quickly and clearly. She is having none of his nonsense and I loved watching her skillfully negotiate with him enabling him to see how his confrontational attitude and temper were having a negative impact on his life.
I have to admit, I wasn't too sure that I was going to like this hero in the beginning, I found him far too arrogant and narcissistic. However, as the plot progressed and Cole begins to implement the changes Savannah suggests and sees the positive effect this has on his life and career I changed my opinion of him. Further, Jaci Burton shows Cole to be a man of substance, yes he is a confident professional sports player but his vulnerabilities, devotion to his family and ability to show compassion are evident. Essentially the author proves Cole to be a stoic guy who, with the right guidance and support, was able to change and become a valued member of his team.
Savannah can't help but be drawn to Cole's innate charisma and aggressive sexuality. She draws a line, no personal relationship with the sexy football player, but her moratorium doesn't last and an initial one night of passion progresses into an intense affair. Savannah has her own skeletons rattling in the closet and there is a particularly emotional scene where they come tumbling out shattering the protective wall she has built around herself. This is a Burton erotic romance and she delivers the sensual erotic love scenes fans have come to expect.
We also get to see more of the Riley women and how the relationships forged during the progression of the series are faring. I really enjoy the subplot involving the tight knit Riley clan and how they support and guide each other. Liz holds a significant secondary role in Playing to Win, as Savannah's good friend she provides significant support and more than a few laughs. As well, there is wonderful humor as Burton's signature sarcastic wit permeates the dialogue and introspection.
She'd worn her hair up in some kind of twisty thing, had put diamond studs in her ears, and wore no other jewelry. And she had on sexy silver-and- crystal shoes that made her legs look a mile long. He wanted to be alone with her, have her wear those shoes and nothing else.

He wondered what she wore under the dress. Maybe she could wear the shoes and her underwear.

Yeah, and maybe he needed to get his fantasies under control before his dick got hard.

She threaded her arm through his and pulled him aside, straightening his tie. "Okay, let's go through this."

"I got it. Play nice. Don't insult anyone. Don't hit anyone. Don't cuss. I pretty much have the basic manners thing down. You don't have to worry about me."

She cocked a pretty blonde brow at him. "It's my job to worry. Your image is at stake and this is a very high-profile event. In case you haven't noticed, several sports figures will be at this event tonight, along with the media."

"I already told you I'd be on my best behavior."

"Don't engage the media. If you're asked a question, be benign." Now it was his turn to raise a brow.

"How, exactly, does someone act benign?"

"You can answer football questions, or questions related to being with the Traders this season. Behavioral questions you need to avoid."

"Avoid . . . how?"

"For example—Cole, do you think the reason Green Bay dumped you is because of your behavior?—how are you going to answer that?"

He scratched the side of his nose. "I don't suppose you'd let me tell them to fuck off?"

She looked horrified. "Definitely not.

Playing to Win © Jaci Burton
I've long been a fan of Jaci Burton's romances and have loved her Play-by-Play series. In Playing to Win, she offers readers humor, heat and heart that makes for a compulsively readable sexy story. As a bonus there is a teaser from Thrown by a Curve, Play-by-Play book 5 due out in March 2013. This one is Cole's sports therapist sister Alicia Riley and St. Louis Rivers star pitcher Garrett Scott's story and and check out Jaci Burton's website to see the awesome cover for Thrown by a Curve. Yum

I give Playing to Win 4 1/2 Stars
***FTC Disclaimer: Most books reviewed on this site have been provided free of charge by the publisher, author or publicist. Some books we have purchased with our own money and will be noted as such. Any links to places to purchase books are provided as a convenience, and do not serve as an endorsement by this blog. All reviews are the true and honest opinion of the blogger reviewing the book. The method of acquiring the book does not have a bearing on the content of the review.