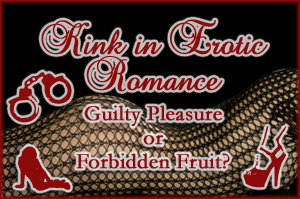 Welcome to Part II of BLI's Kink in Erotic Romance: Guilty Pleasure or Forbidden Fruit?
This week I'm going to be rambling um chatting about:
Voyeurism, Exhibitionism & Orgies…
Oh My!
To try and increase my knowledge before tackling this post I did some reading about voyeurism and exhibitionism from a clinical perspective and was surprised to discover that these fetishes fall under the psychiatric realm of paraphilias which are recurrent, intense, sexually-arousing fantasies, urges or behaviors generally involving nonhuman objects, the suffering or humiliation of oneself or one's partner, or children or other non-consenting persons. Yikes! Hopefully in the hands of a good storyteller, we don't find the suffering or humiliation of one's partner or especially children in erotic romantic fiction. But the key word here is consensual.
In erotic romance, authors are at liberty to experiment and incorporate any number of kinky fetishes into the sexual relationship they develop for a novel's primary characters. I've read varying degrees of voyeurism and exhibitionism in many of the erotic romances I've enjoyed over the years. As Mary mentioned a couple of weeks ago when we were chatting about ménage relationships one of the partners will often enjoy and become aroused watching the other partners performing intimate acts. And the partners doing the performing like being watched. I mean, lets face it, if the story involves more then two people having sex then it's safe to say these folks likely have voyeuristic tendencies because everyone is going to be watching everyone else. lol
One of my favorite erotic romance anthologies is Jaci Burton's, single author Wild, Wicked and Wanton, which is the story of three close friends and then men in their lives. The heroine of the third novella in the anthology, Wanton, is Callie Jameson, a young widow who has secret fantasies involving exhibitionism. She becomes involved with Jack Fellows, who helps Callie get past her inhibitions and realize these fantasies. Jack is extremely seductive and these two enjoy sexual experiences in places and circumstances where there is a possibility of being seen by others. They were doing something considered to be taboo, they could get caught….
In another of Jaci's books, Riding Temptation, the second novel of her Wild Riders Series, special ops bikers Diaz Delgado and Jessie Matthews work undercover and infiltrate a biker gang. One of the scenes in the book involves an orgy, Diaz protects Jessie to a certain degree in that he helps her to overcome any lingering inhibitions during the experience but she discovers she is aroused by the spectacle of a large number of bikers having outdoor consensual sex. I have to say, I didn't find the scene offensive at all, in fact Jaci penned it in such a way that it was totally hot.
I can count the number of erotic romances I've read that involve orgies on one hand but to my mind those scenes are all about voyeurism and exhibitionism. It's hedonistic and wild, involving people who are completely uninhibited. One of the stories I read had a scene where ancient vampires who engaged in an epic orgy that was the equivalent of sexual gluttony. However, these guys recharged their batteries not just by taking blood but also through sexual energy. In other words, the activity was like a biological imperative. When reading about centuries old beings in an erotic paranormal romance I've always felt that a little (or a lot) of sexual kink seems almost natural. I mean, after all, hundreds of years of vanilla sex would get kind of boring. Wouldn't it? lol
IMHO kink, be it voyeurism, exhibitionism or whatever, adds variety and spice to the love scenes incorporated into erotic stories. However, it has to be written in a way that engages the reader, we want to read about a special relationship which involves sensual love scenes, not just kinky sex. Bottom line? Its how the story is told. When kink, no matter what the behavior fits in in a good story then it will work for a discerning reader.
Thoughts? Opinions? Any erotic romances where the characters enjoyed voyeurism &/or exhibitionism? How about orgies? lol
In two weeks I'll be publishing the next post in BLI's Kink in Erotic Romance series. It will be the first of a two part conversation with author Eden Bradley about BDSM, the lifestyle and that theme in erotic romance.
~~~~~~~~~~~~~~~~~~~~~~~~~~~~~~~~~~~~~~~~
~*~*Giveaway*~*~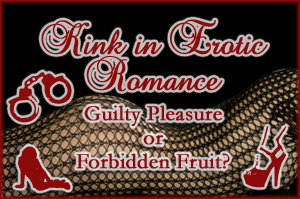 BLI is offering a $25.00 USD value Gift Card to the online Bookstore of the Winner's choice to one lucky commenter! (**The Online Bookstore must have GC's available to order to customers who live outside of the USA!) 🙂
*Please Note: You can enter this contest at each of the four posts for the duration of the series. Therefore you will have up to FOUR chances to win if you comment on each post!!
If you missed Part I of the series, you can read the post and enter by clicking HERE.
All you have to do is answer the question noted above or leave a meaningful comment regarding your thoughts about the post!
(You can read our full giveaway policy here)
Please leave us a way to contact you.
(Email in blogger profile or twitter name – no way to contact you – no entry).
This Giveaway is open Internationally!
Giveaway ends on Saturday, March 24, 2012; and we will announce the winner on Sunday.
Good luck!