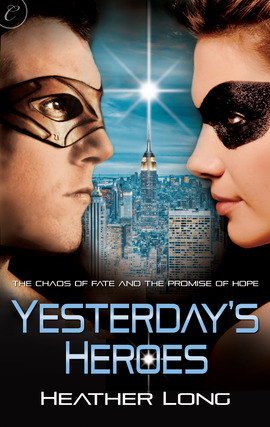 by Heather Long
Genre: urban fantasy romance
Release date: September 18, 2012 by Carina Press
.
Aurora "Rory" Graystone
Codename: Halo
Abilities: superior reflexes, I.Q. and aptitude for calculating probabilities
Mission: find missing teammates
Rory knows she's being watched, and she's not about to let the hunter catch her in his trap. She'll confront her stalker, a man she suspects is involved in the disappearances of other superheroes–if she can ignore the sensual heat that fills her every time he's near…
Michael Hunter
Codename: Hard Target
Abilities: expert tracker and sniper
Mission: kill Rory Graystone
One of five desperate men sent back in time to save the future, Michael believes eliminating Rory is the key to his mission. But even as he takes aim, a split second of doubt causes him to miss his shot.
Drawn together by passion, and on a collision course with fate, can Rory and Michael work together to change the future? Or have they set in motion the horrific history the time travelers are trying to prevent?
. . .
Adaptation (Adaptation, #1) by Malinda Lo (YA)
Because I Am Yours (Because You Are Mine, #8) by Beth Kery
Burn for Burn by Jenny Han, Siobhan Vivian (YA)
Butter by Erin Jade Lange (YA)
Cursed by Jennifer L. Armentrout (YA)
Flanked by Cat Johnson
Glass Heart (Cold Kiss, #2) by Amy Garvey (YA)
How to Capture a Countess (The Duchess Diaries, #1) by Karen Hawkins
Hunter's Season (Elder Races #4.7) by Thea Harrison
Incarnation by Emma Cornwall
Jane by Robin Maxwell
Low Pressure by Sandra Brown
Mark of the Witch (The Portal, #1) by Maggie Shayne
Resurrection Express by Stephen Romano
Safekeeping by Karen Hesse (YA)
Shadow of the Wolf (Heart's Desire, #1) by Dana Marie Bell
Stray Souls (Magicals Anonymous, #1) by Kate Griffin
Ten by Gretchen McNeil (YA)
The Crown of Embers (Fire and Thorns, #2) by Rae Carson (YA)
The Curse (Belador, #3) by Sherrilyn Kenyon & Dianna Love
The Diviners (The Diviners, #1) by Libba Bray
The Raven Boys (Raven Cycle, #1) by Maggie Stiefvater (YA)
What's Left of Me (The Hybrid Chronicles, #1) by Kat Zhang (YA)
Winter of the World (The Century Trilogy #2) by Ken Follett
. . .
Oh, the humanity. The days are finally getting shorter, the temperature colder. (Unless you're in the southern hemisphere…in which case I envy you!) Your mind may be turning to much darker, cerebral things…or, at least, to less sunny and frivolous things. So too do the book selections of this week seem to be more intense–starting with Ten, a YA horror that puts one in mind of the Lord of the Flies.
Of the handful of this week's series titles, a good chunk of them are of new series, with themes of loss, conspiracy (Adaptation), primal possession (Shadow of the Wolf), magic (Mark of the Witch), transformation (How to Capture a Countess), and more.
Of note is that this week sees the closing installment of Beth Kery's Because You Are Mine series (perfect for a rainy, late night read, trust me!). And if you're looking for something completely out of your usual sphere of comfort, take a peek at Butter, a story about an unpopular high school boy who decides to *eat* himself to death…and becomes popular in the process of carrying out his morbid goal. If you're more in the mood for something you didn't think was in your usual circle of books, but you'd likely end up enjoying, try Jane by Robin Maxwell. It's a retelling of the Tarzan story, from Jane's perspective. (Yes, you read that right. Tarzan! You'll note that it's *about* a romance, but it's not a Romance…it's historical fiction.)
Perhaps as the weather cools down, the key is to find books that heat something, anything, up…be it jungle settings or fiery passions.
. . .
Have a hankering for anything new and unexpected? Have you ever read, or are you a fan of, story retellings?