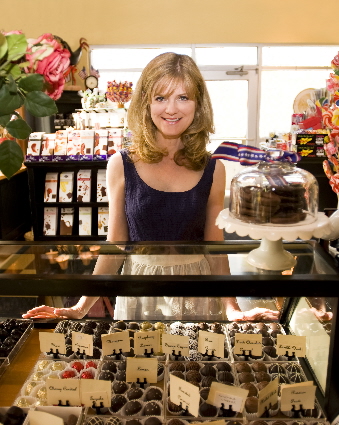 Today we are very excited to welcome Suzanne Selfors to Book Lovers Inc! Of course we're excited, we're all hyped up on lots of yummy chocolate after reading her delightfully delicious chocolate-covered fairy tale, The Sweetest Spell (review later today). But before the review, Suzanne is here to share with us how her desperate search for a midnight chocolate fix (can't we all relate?) led to this scrumptious story.
And if you're craving a little chocolate fairy tale of your own, just answer Suzanne's question for a chance at to win your very own copy of The Sweetest Spell!
Love + Chocolate = The Sweetest Spell
By Suzanne Selfors
How to take the fairy-tale formula of peasant girl meets prince and make it even more romantic? In my opinion, you add chocolate.
There are few things in life that stir such passion as a square of dark chocolate. I crave it. I LOVE it.
I'd been wanting to write a fairytale for many years, and was playing with the idea of retelling the King Midas story. That's the one where the guy can magically make gold and thus becomes rich and famous. But the gold theme wasn't working for me. It didn't feel interesting.
One night, my daughter and I were searching the house for chocolate. We are late night snackers and I usually keep stashes of my favorite candy bars in various drawers. But we couldn't find a single piece, not even a chocolate chip, not even an old piece of Halloween candy. We went nuts. We needed, we wanted, we desired. And that's when I realized I had my story. A girl who can magically make chocolate—I want to write about that.
So here you have it. The Sweetest Spell is the story of Emmeline Thistle, an unwanted peasant girl who discovers her magical ability to make chocolate in a kingdom where the sweet stuff is only a legend. And as her talent becomes known, she must weave her way between the various men who want her, for all the right and wrong reasons.
I hope you enjoy her journey.
You can find Suzanne at www.suzanneselfors.com or on Facebook or email her at mail@suzanneselfors.com
The Sweetest Spell by Suzanne Selfors

Emmeline Thistle, a dirt-scratcher's daughter, has escaped death twice-first, on the night she was born, and second, on the day her entire village was swept away by flood. Left with nothing and no one, Emmeline discovers her rare and mysterious ability-she can churn milk into chocolate, a delicacy more precious than gold.

Suddenly, the most unwanted girl in Anglund finds herself desired by all. But Emmeline only wants one-Owen Oak, a dairyman's son, whose slow smiles and lingering glances once tempted her to believe she might someday be loved for herself. But others will stop at nothing to use her gift for their own gains-no matter what the cost to Emmeline.

Magic and romance entwine in this fantastical world where true love and chocolate conquer all.
~~~~~~~~~~~~~~~~~~~~~~~~~~~~~~~~~~~~~~~~
~*~*Giveaway*~*~
Suzanne has generously offered a print copy of her book The Sweetest Spell to one lucky commenter!
All you have to do is answer her question:
What's your favorite chocolate indulgence?
(You can read our full giveaway policy here)
Please leave us a way to contact you.
(Email or twitter name – no way to contact you – no entry).
This giveaway is open worldwide!
Giveaway ends on Saturday, September 29, 2012 and we will announce the winner on Sunday.
Good Luck