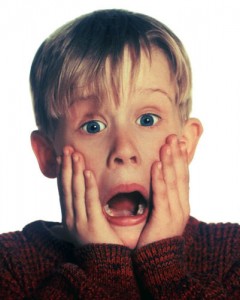 It's probably safe to assume that many, if not all, of our viewers are book lovers, just like us. As a book lover, I think we all approach our 'collections' in different manners. I spoke once with someone that worked in publishing who told me she rarely kept her review books as they just tended to clutter her shelves. I was shocked! How could anyone give away such a precious commodity, right?!
But here's the thing now: I'm moving. I'm not moving far. In fact, I'm literally moving around the corner from my current place. Regardless of distance, I have to move ALL of my books. At last (estimated) count, there are somewhere between 800 and 1000 books in my small two bedroom apartment (are you all getting claustrophobic right about now?). I will have lots of room once I move but there's that intermediate point where all of these tomes must be packed, stacked, and brought down two flights of stairs before making it out to the moving truck. And if I can get, say twenty books in each box (most are hardcovers, did I mention that?), and going with the minimum count, that's 40 boxes of books! I think that might be even more than everything else I have combined, including my daughter's Barbie collection!
What I need now are suggestions. Should I pack them all and just stop worrying about the numbers involved? Or should I try to get rid of some of the lesser loved titles? I will admit, there are many books on my shelves that I'll probably never read, but giving away books is (almost) like giving away a child! What if someday I do have time to read that Barbara Taylor Bradford book I got free with a book order fifteen years ago?!
Okay, even I recognize the foolishness in keeping unnecessary stuff, but still I am a BOOK LOVER and as such, must be surrounded by them, right? No? So, what are my options now? Do I keep them all and continue to hope that one day, I own a castle in the Scottish Highlands and can fill many rooms with them? Or do I thin out the collection to a much more manageable amount?
How do YOU, dear reader, determine shelf worthiness of your books? Do you keep them all and, if not, how do you pass them on? At this point, all advice is welcome 🙂