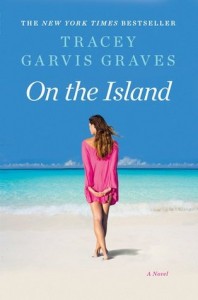 Format read: Paperback
Genre: Contemporary romance
Release Date:July 17, 2012 (first published on September 3, 2011)
Number of pages: 319 pages
Publisher: Plume (Penguin)
Formats available: ebook, paperback
Purchasing Info: Amazon | B&N | Kobo | Book Depository US | Book Depository (UK)
Book Blurb:
Two people stranded on an island struggle to survive—and slowly fall in love—in the runaway New York Times bestseller, now available with a reading group guide and a letter from the author

Anna Emerson is a thirty-year-old English teacher desperately in need of adventure. Worn down by the cold Chicago winters and a relationship that's going nowhere, she jumps at the chance to spend the summer on a tropical island tutoring sixteen-year-old T.J.

T.J. Callahan has no desire to go anywhere. His cancer is in remission and he wants to get back to his normal life. But his parents are insisting he spend the summer in the Maldives catching up on all the school he missed last year.

Anna and T.J. board a private plane headed to the Callahan's summer home, and as they fly over the Maldives' twelve hundred islands, the unthinkable happens. Their plane crashes in shark-infested waters. They make it to shore, but soon discover that they're stranded on an uninhabited island.

At first, their only thought is survival. But as the days turn to weeks, and then months, the castaways encounter plenty of other obstacles, including violent tropical storms, the many dangers lurking in the sea, and the possibility that T.J.'s cancer could return. As T.J. celebrates yet another birthday on the island, Anna begins to wonder if the biggest challenge of all might be living with a boy who is gradually becoming a man.
My Thoughts:
On the Island crossed my path around the same time as that indie book that has dominated ebook sales and media hot topic conversations (you know which one I mean, right?) and it too came from an indie background. There were a lot of good things being said about this title though, so I kept an open mind and dove in. And let me tell you, it was so worth it! It's one of those books that you devour in one go. Sadly, I had to put it aside for a few hours while real life took over but I couldn't sleep until it was done. The thing is, I'm still trying to put my finger on why I liked it so much. Here's what I've come up with:
First, the characters were just so likable. Despite their age difference, they had a great rapport which I enjoyed reading about. This was partly explainable, I think, because of T.J.'s mature for his years attitude because of the cancer. He still just wanted to be a teenage boy when this all started, but the seeds were in place for him to be less frivolous than other guys his age at the time. T.J.'s behavior was nicely contrasted, as well, in Anna's boyfriend, John, who apparently never really got the part where life changes as you get older; he seemed fine with status quo. T.J. referred to himself as adaptable and proved to be just that all through the book.
As much as Anna was older than T.J., she really relied on him for many parts of their survival. But, it wasn't all one sided in that respect. They complimented each other with what they could accomplish, like one starting fires while the other knew how to skin and scale fish. It was the equality of their roles that made the transition in their relationship so palatable. Their chemistry played no small part in the whole relationship angle, keeping me engaged, even when some passages contained the mundane daily tasks. You knew something good was going to happen again soon 🙂
Without giving away too much, you know that the age difference will come into play at some point, meaning a return to civilization. What kept running through my mind here was that the age difference between these two characters wasn't anywhere near as bad as Madonna with some of her boyfriends, so why would anyone else think it was wrong? But the implications of it all were well addressed, though I didn't necessarily agree with the media spinning things for the sensationalism (I never agree with the media on that score!)
I really enjoyed On the Island and have already recommended it to a few friends. And even though I know the way things turn out, it's a book I would read again for the love of the characters, the heartbreaks and joys they share, and the HEA.
I give  ***On the Island*** 4.5 stars!

***FTC Disclaimer: Most books reviewed on this site have been provided free of charge by the publisher, author or publicist. Some books we have purchased with our own money and will be noted as such. Any links to places to purchase books are provided as a convenience, and do not serve as an endorsement by this blog. All reviews are the true and honest opinion of the blogger reviewing the book. The method of acquiring the book does not have a bearing on the content of the review.