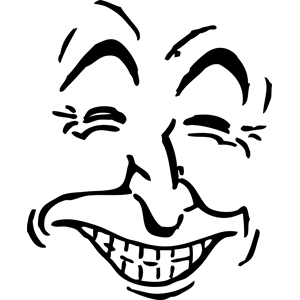 Laughter is awesome, cathartic. To me, it's not exactly the same thing as happiness, though the two do intersect to a great degree (the former can be a manifestation of the latter). You can be sad, afraid, angry, solemn, and still laugh. Nervous laughter, frustrated laughter, hysterical laughter, subtle laughter, amused laughter. Since laughter can incite a measure of happiness, even if momentary, I love to find it in the stories I read. Sometimes a good, dark and broody story is perfect for curling up on a rainy day…but not today. Having things to laugh about feel like a great propect right about now. Goodness knows that these days, we can all stand to have moments of laughter. Below are just a few books, in nonfiction and fiction, that I wish to read as soon as possible–either once I get the time, or once the book is released. It's time for hilarity to ensue.
…
America Again: Re-becoming the Greatness We Never Weren't
by Stephen Colbert
genre: humorous nonfiction

Book store nation, in the history of mankind there has never been a greater country than America. You could say we're the #1 nation at being the best at greatness. But as perfect as America is in every single way, America is broken! And we can't exchange it because we're 236 years past the 30-day return window. Look around–we don't make anything anymore, we've mortgaged our future to China, and the Apologist-in-Chief goes on world tours just to bow before foreign leaders. Worse, the L.A. Four Seasons Hotel doesn't even have a dedicated phone button for the Spa. You have to dial an extension! Where did we lose our way?! It's high time we restored America to the greatness it never lost!

Luckily, AMERICA AGAIN will singlebookedly pull this country back from the brink. It features everything from chapters, to page numbers, to fonts. Covering subject's ranging from healthcare ("I shudder to think where we'd be without the wide variety of prescription drugs to treat our maladies, such as think-shuddering") to the economy ("Life is giving us lemons, and we're shipping them to the Chinese to make our lemon-flavored leadonade") to food ("Feel free to deep fry this book-it's a rich source of fiber"), Stephen gives America the dose of truth it needs to get back on track.
You may remember his wildly popular book, I Am America (And So Can You!), which, as Colbert noted, would make you 25% more patriotic just by opening the front cover. Perhaps this new book will add another patriotism percentage point or two in my passport by buying and reading it; perhaps not. But all I know is that Stephen Colbert is one loopy, whip-smart, hilarious guy. I can't wait to see how he approaches otherwise heavy topics like the world economy, the U.S. obeisity problem, and healthcare.
Is Everyone Hanging Out Without Me? (And Other Concerns)
by Mindy Kaling
genre: humorous nonfiction

Mindy Kaling has lived many lives: the obedient child of immigrant professionals, a timid chubster afraid of her own bike, a Ben Affleck–impersonating Off-Broadway performer and playwright, and, finally, a comedy writer and actress prone to starting fights with her friends and coworkers with the sentence "Can I just say one last thing about this, and then I swear I'll shut up about it?"

Perhaps you want to know what Mindy thinks makes a great best friend (someone who will fill your prescription in the middle of the night), or what makes a great guy (one who is aware of all elderly people in any room at any time and acts accordingly), or what is the perfect amount of fame (so famous you can never get convicted of murder in a court of law), or how to maintain a trim figure (you will not find that information in these pages). If so, you've come to the right book, mostly!
This book is currently only in hardback, so I'm rather loathe to buy a physical copy of it at this time–I'm a paperback girl (when I'm not an ebook girl, that is). Thus,  I can't wait to check this out at the library when the monumentally long wait list dwindles down. Mindy Kaling is just so talented, so wickedly funny. To know that she was responsible for many of the most memorable moments of The Office (U.S. version) tells me this book will be full of just as much observant humor and irreverence as is seen on that brilliant television show.
Accidentally Dead, Again
by Dakota Cassidy
genre: urban fantasy

He was just looking for a night of fun. After a wild work-sponsored Halloween party, entomologist Sam McLean wakes up with a spotty memory—and a pointy set of fangs. Sam's one-night stand wasn't just dressed as a vampire; she had the bite to match. Somehow, Sam's unconscious body ends up at the OOPS office, where paranormal crisis counselors Nina, Marty and Wanda give him the down-low on accidentally becoming a creature of the night.

What he got was an eternity of trouble. Dealing with a newbie like Sam is no easy task, but things get even more crazy when Phoebe Reynolds—a woman who claims to be Nina's sister—storms into the office and causes a catfight that ends when Phoebe is accidently bitten by Sam's recently formed fangs. Now, the OOPS girls have two fledgling vamps on their hands, and their powers—and the attraction building between them—are unlike anything they've seen before…
I was fortunate enough to have gone to the Authors After Dark 2012 Summer Camp in New Orleans, and Dakota Cassidy was in attendance. Can I just say that I officially have a girl crush on her now? She's so effing sharp, observant, witty, and unforgettable. Never mind she already exudes this sense of effortless glamour and effervescence. The woman is off the charts hilarious, and her books reflect that. In fact, she has noted that she writes like she thinks and speaks. So, hilarity–or snark, at the very least–will often ensue when Ms. Cassidy is in the building. This book will certainly be a good for many laughs; but I'm hoping the romance is just as intriguing. The next book in the Accidental Friends series, The Accidental Genie, is going to be released on December 4, 2012. Woop!
Busted in Bollywood
by Nicola Marsh
genre: contemporary romance

Shari Jones needs to get a life. Preferably someone else's.Single, homeless and jobless, Indo-American Shari agrees to her best friend's whacky scheme: travel to Mumbai, pose as Amrita, and ditch the fianc her traditional Indian parents have chosen. Simple. Until she's mistaken for a famous Bollywood actress, stalked by a Lone Ranger wannabe, courted by an English lord, and busted by the blackmailing fianc .Life is less complicated in New York.Or so she thinks, until the entourage of crazies follows her to the Big Apple and that's when the fun really begins. Shari deals with a blossoming romance, an addiction to Indian food and her first movie role, while secretly craving another trip to the mystical land responsible for sparking her new lease on life. Returning to her Indian birthplace, she has an epiphany. Maybe the happily-ever-after of her dreams isn't so far away?
Everything about this story–which came out in late 2011–sounds interesting, from the Bollywood backdrop to the fish-out-of water scenario, to the theme of traditions and breaking away from them. Nicola Marsh has such a fun, bouyant voice that I forsee many hilariously awkward situations and laugh-out-loud moments.
…
How about you? Have you been craving any of the funny in your book choices? If so, what? Do you ever laugh out loud while reading a book?