Viewing Category » My Wishlist
Hey Everyone!
It's Stella the Christmas Lover (oh yeah, anyone who knows me would agree I should have definitely gone with that name ;-))! So here I am with still more holiday read recommendations (that you could read for the BLI Holiday Reading Challenge *hint hint*) , something for everyone (and don't worry there are so many terrific holiday releases that I'll be back soon with more holiday wishlist items 😉 lol):
For the steamy lover:
Merry Sexy Christmas by Beverly Jenkins, Kayla Perrin, Maureen Smith

Have yourself a sexy little holiday

…Overtime Love by Beverly Jenkins

Drew Davis's goal is to buy the semipro football team where he is general manager. But the owner's grandaughter, Tasha Bloom, unexpectedly inherits it first. Still, Drew's not brokenhearted, since their mutual passion for football runs second only to their attraction to each other. But can the team and their budding romance make it to the New …

featured,My Wishlist,The Latin Lover

15 Nov 2012

7 comments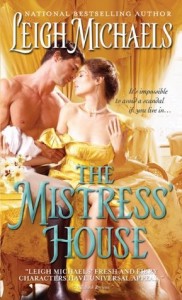 I'm sure this is nothing new, but I am seriously behind on my reading…seriously. And in this state (add in the necessary "perpetual" there), there are books that I've had for a while that are just taking up room on my shelves, waiting for the time when I can give them my undivided attention. (Don't tell the books, but it's not anywhere in the foreseeable future 🙁 )
Add to this dilemma, that winter is traditionally romanticized by the ability to "curl up with a good book",  especially a romance novel,  said books must be feeling even sadder. With Valentine's Day not too far around the corner, I thought I would share the romance books that are quietly demanding to be read. I may have to break down and read at least one of these during the month of February…
The Mistress' House by Leigh Michaels

First in a smart, sexy, …

My Wishlist,The Quirky Lover

19 Jan 2012

5 comments
Well, since this is a part two of my previous week's wishlist post, you do well to imagine that just one post couldn't possibly include every title I'm drooling over this year… And how could I ever include in just one post all the amazing books I can't wait to read this year. And since it's only January this means that I still haven't been informed of all – scratch that – most of the upcoming releases of this year… But I'll try to refrain myself and just let you know some more about a few other books that I just die to read!
Pure by Jennifer L. Armentrout
There is need. And then there is Fate…
Being destined to become some kind of supernatural electrical outlet isn't exactly awesome–especially when Alexandria's "other half" is everywhere she goes. Seth's in her training room, outside her classes, and keeps showing up …

My Wishlist,The Coffee Lover

12 Jan 2012

7 comments
Hello everyone and Happy New Year from my officially first post of the year!
This is my first ever Wishlist post and the first Wishlist of 2012! And for that post I couldn't think of anything else but to present you with some of my most awaited book releases of 2012.The publication date of some of the books I've been drooling for months is coming closer, while others seem yet too far away, but you know how time is…, it flies away without you even noticing it! So, without further delay, here are some of the books I simply can't wait to read in 2012!
Grave Mercy by R. L. LaFevers
Why be the sheep, when you can be the wolf?

Seventeen-year-old Ismae escapes from the brutality of an arranged marriage into the sanctuary of the convent of St. Mortain, where the sisters still serve the gods of old. Here she …

My Wishlist,The Coffee Lover

5 Jan 2012

10 comments