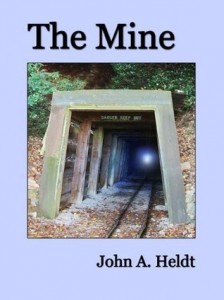 Format Read: ebook provided by the author
Number of Pages: 290 pages
Release Date: February 12, 2012
Genre: Time-travel romance
Formats Available: ebook
Purchasing Info:Amazon | B&N | Kobo | Book Depository US | Book Depository (UK) | Author's Website | Goodreads
Book Blurb:
In 2000, Joel Smith is a cocky, adventurous young man who sees the world as his playground. But when the college senior, days from graduation, enters an abandoned Montana mine, he discovers the price of reckless curiosity. He emerges in May 1941 with a cell phone he can't use, money he can't spend, and little but his wits to guide his way. Stuck in the age of Whirlaway, swing dancing, and a peacetime draft, Joel begins a new life as the nation drifts toward war. With the help of his 21-year-old trailblazing grandmother and her friends, he finds his place in a world he knew only from movies and books. But when an opportunity comes to return to the present, Joel must decide whether to leave his new love in the past or choose a course that will alter their lives forever. THE MINE follows a humbled man through a critical time in history as he adjusts to new surroundings and wrestles with the knowledge of things to come
My Thoughts:
The description does not do this one justice. When I finished (at 2 in the morning!) I lay there and stared at the ceiling for a long, long time. The Mine is one of those stories that will stick with you. It was just about perfect.
Time travel stories are supposed to be messy, as a recent column by Charlie Jane Anders in io9 put it, and the messiness of the time-travel is the crux of the dilemma for Joel Stein. Not the mechanism, that's as improbable as time-travel usually is (a six planet alignment and a cave in an abandoned mine–think of the Stargate SG-1 episode "1969″ for a not-dissimilar concept). The way the time-travel occurs is not the point. It's what time-traveler Joel Stein does afterwards that lodges deep in the reader's heart.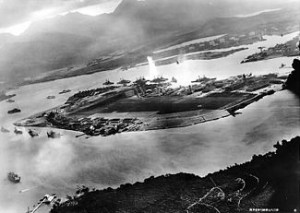 Because he doesn't go back that far. From Memorial Day in the year 2000, Joel goes back a mere 59 years. But those years are crucial. He arrives at the beginning of the United States' last summer of innocence, The summer before December 7, 1941, before Pearl Harbor. And he is the only one who knows the future.
One last golden summer before the war that is already raging in Europe and Asia engulfs the U.S.
There are no cell phones, no credit cards, no computers. Joel is broke. He has skills, but no identification. The Great Depression has not lost its hold on the country. He has no home, no job, no friends.
His family is in Seattle. The grandmother that he remembers is a young woman in 1941. Seattle is still home. He does what other down on their luck young men did during the Depression. He hopped a freight train from that abandoned mine in Montana to the west coast.
Trying to get a night's sleep on a bench outside a bar in Seattle, dead tired, looking and feeling like a bum, he saves a guy from getting beaten up over a gambling debt. That guy turns out to be his grandmother's first fiance–the one that Joel knows, absolutely knows, will be killed in the war that is to come.
But Tom Carter doesn't know a thing. All he knows is that this down on his luck guy rescued him from three bruisers. He takes Joel home with him, gives him a place to stay. His dad gives him a job. Joel makes a life. Becomes part of Tom's circle of friends. Lives life to the fullest in that last golden summer.
And falls irrevocably, irretrievably in love with a woman, even though she's engaged to someone else. Even though he can't tell her the truth about himself. And manages to win her heart.
The summer turns to Fall. October turns to November. Just before Thanksgiving, He worries about what he's going to do on December 8th. Every able-bodied man is going to volunteer for the Armed Services, and he's not registered for the draft. What if he takes a bullet meant for someone else? What if he saves someone who shouldn't be saved? How much of the future has he already changed?
Then he sees an article in the paper that the same alignment of planets that brought him to the past is going to happen again. On December 8, 1941. He has to try to go back. He's afraid he'll change too much if he marches off to war.
But he's leaving his heart behind.
Verdict: This is beautiful, simply beautiful. The story is absolutely heartbreaking in Joel's immersion into life in 1941, because he (and the reader) know how fragile it all is, and how soon everything is going to go smash. He feels the poignancy of it and conveys it so well. He's happy and is aware of how precious and fleeting it is. At the same time he's selfish enough to pursue Grace Vandenburg just because he wants her, and not thinking about the consequences (he is only 22 after all!).
When Joel comes back, he has changed, and the world hasn't, and he feels something a lot like survivor's guilt. Was it real or did he dream it? His loss and his loneliness, his need for validation were so well-done, I wanted to cry.  And the ending, well, that was just the one I hoped for.

I gladly give The Mine 5 brightly shining stars properly aligned for time-travel.
***FTC Disclaimer: Most books reviewed on this site have been provided free of charge by the publisher, author or publicist. Some books we have purchased with our own money and will be noted as such. Any links to places to purchase books are provided as a convenience, and do not serve as an endorsement by this blog. All reviews are the true and honest opinion of the blogger reviewing the book. The method of acquiring the book does not have a bearing on the content of the review.