About the book:
Paperback, 432 pages
Expected publication: December 4th 2012 by DAW
Jeff and Kitty Katt-Martini and the rest of the American Centaurion Diplomatic Corps are still recovering from their introduction to Washington D.C. politics, parties, and conspiracies. So when compromising pictures arrive, no one's too surprised. They're also the least of anyone's worries.

Evil androids running amok, birds of all kinds and from all places creating havoc, a Senator trapped in an ever-tightening web of intrigue, and escalating international tensions all seem tough but manageable. But the disappearance of Jeff Martini and Charles Reynolds during the International One World Festival signals more than the usual nastiness — and it looks like even ACE can't help them.

Then new trouble arrives in old packages and even with the best hackers in the world, beings from near and far, the full might of Earth's military, and the Wonder Twins on their side, Centaurion Division's outmanned and outgunned.

Now Kitty's racing against the clock to find not only Jeff and Chuckie, but to keep the peace between Middle Eastern countries, all while searching for the bases of super-soldier operations — to stop them or die trying.
Preorder the book: Amazon | B&N | Book Depository US | Book Depository (UK)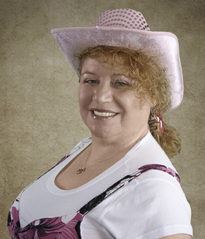 About the author:
Gini Koch lives in Hell's Orientation Area (aka Phoenix, AZ), works her butt off (sadly, not literally) by day, and writes by night with the rest of the beautiful people. She writes the fast, fresh and funny Alien/Katherine "Kitty" Katt series for DAW Books, listens to rock music 24/7 (particularly, but not limited to, Aerosmith), and is a proud comics geek-girl willing to discuss at any time why Wolverine is the best superhero ever (even if Deadpool does get all the best lines). She also speaks frequently on what it takes to become a successful author and other aspects of writing and the publishing business.

Her interests include seeing how often she can ask, "So, have I told you about this plot twist yet?" of her husband before he goes insane, going to rock concerts with her daughter, and training her pets to 'bring it'. Gini started writing to have an excuse to stay up late playing on the computer while listening to music and mooning over pictures of Steven Tyler and Joe Perry.

Now she's expanded her thinking — she moons over a wide variety of hunks in order to keep the visual creative juices flowing. So to speak.
Places to find Gini:
twitter | facebook | website | blog | Alien Collective HQ
~~~~~~~~~~~~~~~~~~~~~~~~~~~~~~~~~~~~~~~~
~*~*Giveaway*~*~
I have a wonderful shiny ARC of Alien vs. Alien + a little swag pack for one lucky commenter.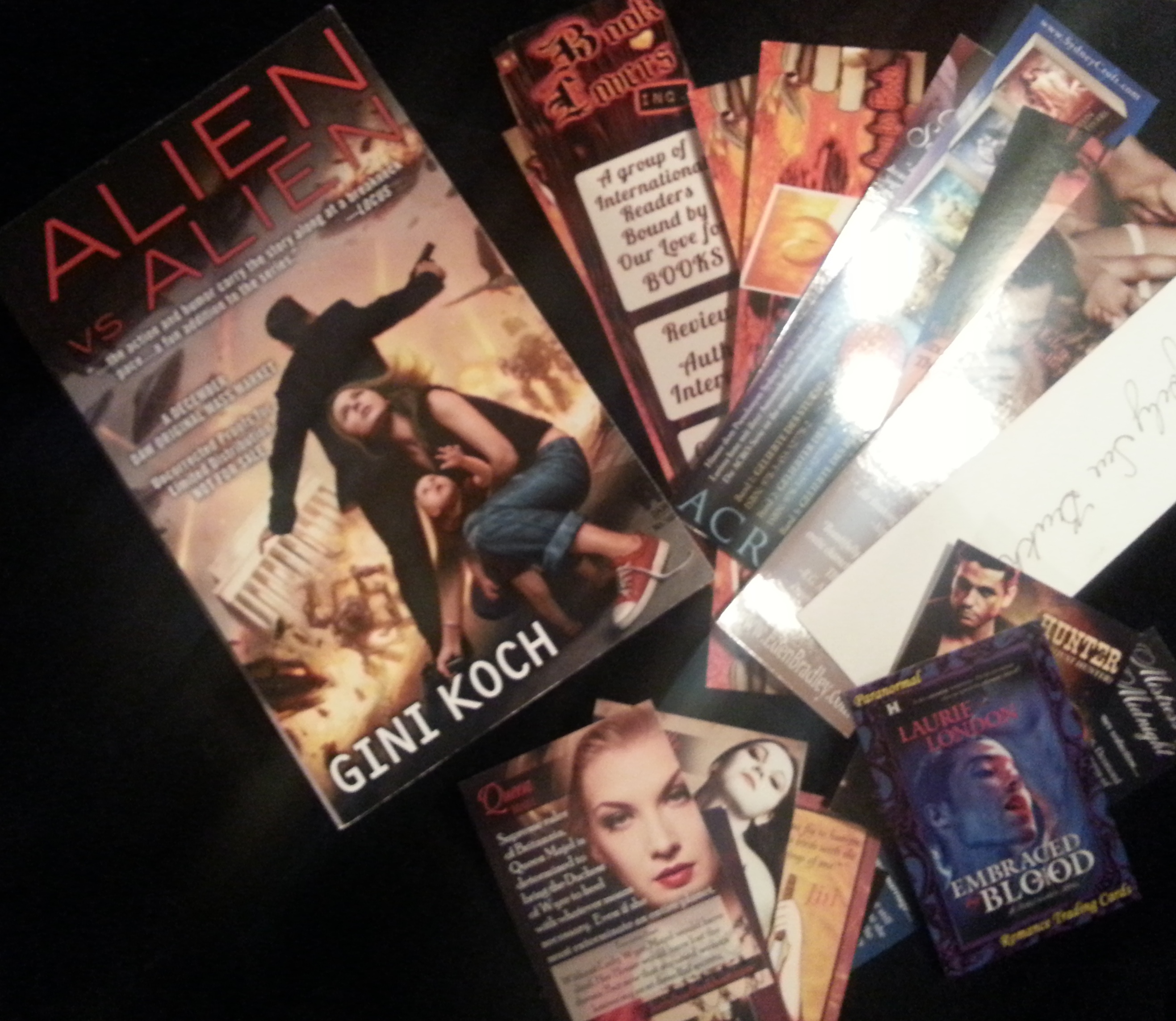 All you have to do is:
Leave a comment with a funny book title à la "Alien vs. ____" and tell us what the fun of that would be.
 Here my example: Alien vs. Mr. Random – the stylish way to increase your chances.
(You can read our full giveaway policy here)
Please be sure to include a valid email address in the comment form (need not be in the actual body of the comment)
This giveaway is open to everyone!
Giveaway ends on Saturday, October 20, 2012 and we will announce the winner on Sunday.
Good Luck!