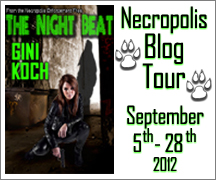 Are you ready for some action? Here is your chance to jump on  The Night Beat  Blog Tour bandwagon  and read a exclusive excerpt of Gini Koch's new book! You can also win a copy of the Night Beat! Check it out! 
Thanks for stopping by on the Necropolis Enforcement Blog Tour of 2012! If you haven't read the first chapter of The Night Beat, hit Deathless Prose over at my website  and check it out. Then, hit each stop along the way to get more of the story. Missed a stop? Check the website for the Tour Page and get caught up.
And don't forget to get entered to win a copy of The Night Beat at EVERY blog tour stop along the way! Plus, follow the Tour 'til the end and get entered for a mega-prize! So, grab your badge — it's time to join Necropolis Enforcement!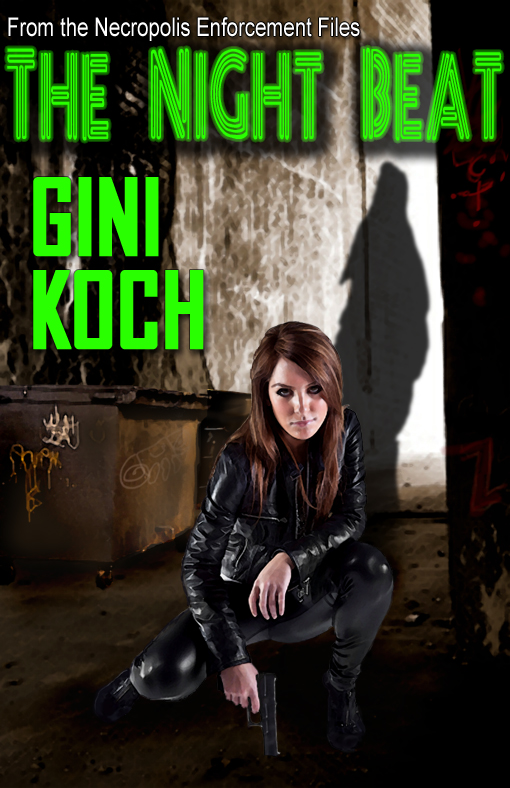 Blurb:
The majority of Prosaic City's residents don't know that their town exists on top of another place — Necropolis, City of the Undead. For the most part, the two planes of existence manage to remain separate. And when they don't, Necropolis Enforcement has beings in place to ensure the general human population remains blithely clueless.

Victoria Wolfe is more than just a policewoman. She's an undercover werewolf assigned by Necropolis Enforcement to work Prosaic City Police's Night Beat. Victoria's comfortable working the shift where all the weird comes out to play, especially since her partner is also her perfect man. Or would be, if Victoria could ever work up the nerve to tell him she isn't like other girls.

It's hard enough being a werewolf in disguise, but when a creature from the Depths of Hell shows up in an alley preferred by junkies, bums, and hookers, it's going to take more than just Victoria's special gun and werewolf skills to subdue the ancient Sumerian demon. Especially when the demon is merely the start of what appears to be a major takeover attempt by the Prince of Darkness.

Soon all of Necropolis Enforcement's Undead Brigade is involved in the fight to stop the Prince's Major Minions from taking over Prosaic City and the rest of the human plane. But it's Victoria who has to face the Adversary and figure out what intricate plan Lucifer has up his wings before everyone she cares about is destroyed.

In other words, it's just another day on the Night Beat.
Buy the book at:
Amazon, Amazon Paperback, Smashwords, Barnes and Nobles
Excerpt:
Jack looked around. "You know, supposedly, all of you are evil." He didn?t sound accusatory or even fazed.
"Those are stories," the Count explained. "Started by the Prince."
"But you're undeads."
"Yes? What's your point?" The Count sounded polite and mildly offended.
I decided to rejoin the conversation. After all, Jack was my partner. "We have souls. Unless we give our souls to the Prince, we're like humans, and we have free will. And, yes, we're undead. But we're also alive — we call it being unalive. What we don't want to become is dusted. Dusted means unlikely to come back." We didn?t want to become turned, either, to come back as a minion, but some things I didn't like to talk about, ever.
"But I thought you lost your soul when you became a vampire or a werewolf."
"No. You lose your soul when you give it to the Prince. Otherwise, it's yours. Well, yours and your god's."
"Which god is yours?"
"I'm a Yahweh girl, but there are plenty of other gods out there just as worthy."
"So, like, Zeus is still around?"
"Around and kicking. And still on the side of good, so to speak. The Greek and Roman gods were all about partying like it was the end of the universe. One of the reasons Yahweh could get stronger — it's hard to keep your faith in a god who?s more interested in screwing your wife, sister and daughter, all at the same time. Especially when you had a god right nearby who was doing his best to kick evil in the butt on a daily basis."
I felt a little better and went to werewolf form and onto my hind legs. Jack didn?t even blink, but he did catch me when I started to topple over. "You're not doing too great. I think we should put you into one of the ambulances."
Maurice snorted. "That would be a fun trip to vivisection hell. No, we'll take Vicki back to Headquarters. We have full medical there. Our kind of medical."
"I'm going with you," Jack said calmly.
I was going to protest but Ken said, "Okay."
"What?" Ken normally wasn?t big on bringing humans over without major security clearances. "He's a human."
Ken shot me a look that said I was acting like an idiot. "He's a human partnered with a werewolf. He's a human who took in three vampires, a werewolf, a lich, a white worm, and a variety of Dirt Corps undeads fighting with an ancient Sumerian demon. And instead of running, wetting himself, or screaming like a little girl, he pulled out a gun and started shooting at the true enemy in front of him. I think he's passed the tests, Vic."
"But?but?." I couldn't bring myself to say what my real objection was. That the human guy I was sort of in love with was going to not only know I was a werewolf, but see all the undead side of me. I wasn't ashamed. I was afraid. Not afraid he?d try to kill me, but that he wouldn?t like me any more, not even as a friend.
Readers Question: If you could be any type of undead, what would it be and why?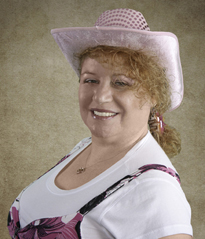 Author Bio:
Gini Koch lives in Hell?s Orientation Area (aka Phoenix, AZ), works her butt off (sadly, not literally) by day, and writes by night with the rest of the beautiful people. She writes the fast, fresh and funny Alien/Katherine ?Kitty? Katt series for DAW Books, the Necropolis Enforcement Files series, and the Martian Alliance Chronicles series for Musa Publishing. As G.J. Koch she writes the Alexander Outland series for Night Shade Books. She also writes under a variety of other pen names (including Anita Ensal, Jemma Chase, A.E. Stanton, and J.C. Koch), listens to rock music 24/7, and is a proud comics geek-girl willing to discuss at any time why Wolverine is the best superhero ever (even if Deadpool does get all the best lines). She speaks frequently on what it takes to become a successful author and other aspects of writing and the publishing business. She can be reached through her website at www.ginikoch.com
~~~~~~~~~~~~~~~~~~~~~~~~~~~~~~~~~~~~~~~~
~*~*Giveaway*~*~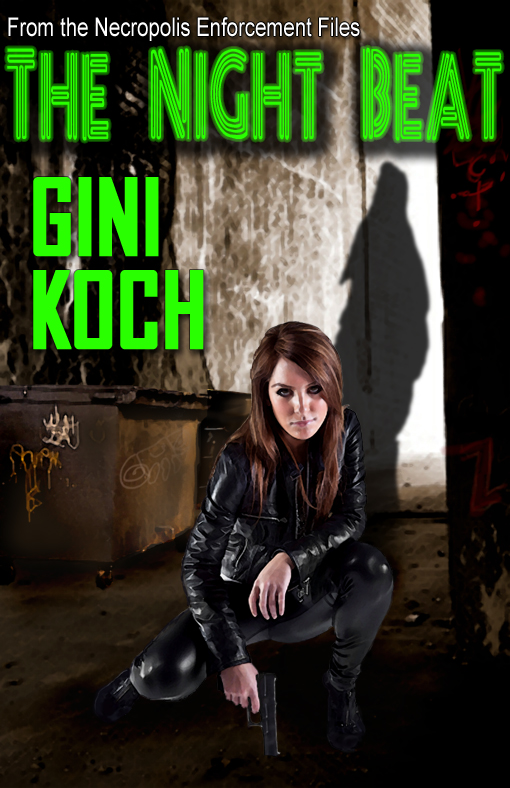 Gini has generously offered an ebook copy of The Night Beat to a lucky commenter!
All you have to do is answer Gini's question: If you could be any type of undead, what would it be and why?
(You can read our full giveaway policy here)
Please be sure to include a valid email address in the comment form (need not be in the actual body of the comment).
This giveaway is open to all!
Giveaway ends on Saturday, 6th October 2012; we will announce the winner on Sunday.
Good luck!