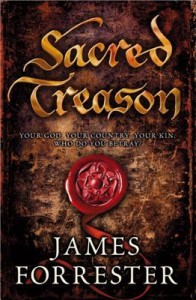 Format Read:ebook provided by NetGalley
Number of Pages: 480 pages
Release Date: October 1, 2012
Publisher: Sourcebooks Landmark
Genre: Historical Fiction
Formats Available: Trade Paperback, ebook
Purchasing Info: Amazon | B&N | Kobo | Book Depository US | Book Depository (UK) | Author's Website | Publisher's Website | Goodreads
Book Blurb:
London, December 1563. England is a troubled nation. Catholic plots against the young Queen Elizabeth spring up all over the country. At his house in the parish of St Bride, the herald William Harvey – known to everyone as Clarenceux – receives a book from his friend and fellow Catholic, Henry Machyn. But Machyn is in fear of his life, claiming that the book is deadly… What secret can it hold? And then Clarenceux is visited by the State in the form of Francis Walsingham and his ruthless enforcers, who will stop at nothing to gain possession of it. If Clarenceux and his family are to survive the terror of Walsingham, and to plead with the queen's Secretary of State Sir William Cecil for their lives, Clarenceux must solve the clues contained in the book to unlock its dangerous secrets before it's too late. And when he does, he realises that it's not only his life and the lives of those most dear to him that are at stake…
My Thoughts:
Reading Sacred Treason was like being completely immersed in the world of 16th Century England (without the smells). It was bracing and marvelous and compelling from beginning to end.
It wasn't so much the characters that drew me in as it was the evocation of the time and place. Clarenceaux finds himself in the grip of events, and for most of the book, the events he thinks he's being gripped by aren't the ones that are actually happening.
That's because no one has a handle on the conspiracy that he is supposed to be ringleading. And Clarenceaux isn't the ringleader of a conspiracy. But just as it is difficult, if not impossible, to prove a negative, it nearly proves impossible to prove that he isn't. Especially as he begins to act guilty. Because he IS being hounded by the law.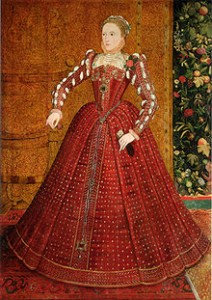 And he is guilty of something. He is a Catholic at a time when that was, if not illegal again, certainly on its way to becoming so. The deadliness of the religious persecutions of the Elizabethan Era are not what we remember best about the same period that also gave rise to Shakespeare's plays, but they are part of that same time and place.
Believers on both sides were burned at the stake for their faith, and which side was the wrong side had changed all too frequently in Clarenceaux's lifetime.
Elizabeth was not yet secure on her throne in 1563, when Sacred Treason begins. Her ministers feared threats to her reign from every quarter, and with good reason. Her nearest heir was the Catholic Mary Queen of Scots, and a rising in Mary's favor was not impossible.
It's this backdrop, and more, that leads to the fear and plotting behind Sacred Treason.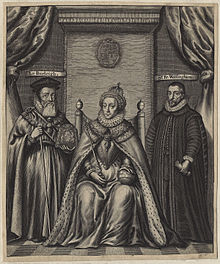 The story of Sacred Treason is tied up in the history of the era. And the politics. And the plotting. And the ministers of government, particularly Wiliam Cecil and Francis Walsingham, making sure that Elizabeth stayed on the throne, because the thought of anything else was unthinkable.
Could they have been this paranoid? Why not? Politicians are now. Why not then?
Verdict:
I was riveted, to the point of staying up half the night to finish (this is almost a 500 page book!) The key difference between Sacred Treason and Before Versailles (reviewed here), a different but equally complex historical fiction epic that revolves around political plotting, is that Sacred Treason made sure to explain who the historic figures were and why they, and their actions, mattered to the non-aficionado reader.  Although the plot is key, because Clarenceaux doesn't know what the supposed conspiracy is, everything gets explained to the reader as he figures out what is going on.
The author's profession as a historian shows in his ability to make the era live again. The amount of detail, builds up a totally immersive experience. Clarenceaux's world came to life as I read.
However, Clarenceaux himself sometimes didn't. His relationships, particularly the relationship he almost has with the widow Rebecca Machyn, seemed somewhat forced. Clarenceaux is a more realistic character when he shows us what he sees and does than when the author tries to tell us what he feels.
The conspiracy and the plotting carry this story along fabulously. I give Sacred Treason four rather bloody stars. (When you read the book, you'll understand)

***FTC Disclaimer: Most books reviewed on this site have been provided free of charge by the publisher, author or publicist. Some books we have purchased with our own money and will be noted as such. Any links to places to purchase books are provided as a convenience, and do not serve as an endorsement by this blog. All reviews are the true and honest opinion of the blogger reviewing the book. The method of acquiring the book does not have a bearing on the content of the review.