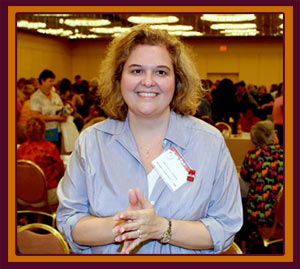 We are thrilled to welcome HelenKay Diamon to BLI today! HelenKay is celebrating the release of her latest story LEAN ON ME, which is available from Carina Press today. I read and enjoyed LEAN ON ME and will be posting my review later today.
About HelenKay:
HelenKay Dimon is an award-winning author of more than a dozen novels and novellas. Her first single title, Your Mouth Drives Me Crazy, was excerpted in Cosmopolitan magazine in August '07 and spotlighted at E! Online. She made Cosmopolitan a second time in December 2009 with her novella "It's Hotter At Christmas" from the Kissing Santa Claus anthology. Her books also have been published by Doubleday Book Club and Rhapsody Book Club and translated into several languages.
After twelve years as a divorce lawyer specializing in unhappy endings, HelenKay now writes romance for a living. The sudden career change resulted from her husband getting one of those "can't turn it down" job offers. With only a few months' notice, his work took the family from Maryland to their current home in California. So, instead of days filled with court, clients and a great deal of whining and complaining, HelenKay now writes for a living. She thinks of herself as a "recovering lawyer" and is grateful every day for the ability to write full time.
HelenKay is sharing some insight into an element of LEAN ON ME that provides a large serving of conflict for the story's protagonists: it's small town parochial setting.
Take it away HelenKay!
Thank you for having me here today. It is the official release day for LEAN ON ME, the second book in my Holloway series for Carina Press, so I am thrilled to be out and talking about it.
Holloway is the name of the town where the books take place/majority of the characters are from. It's a tree-lined small town set in the beautiful rolling hills of West Virginia. This isn't one of those perfect small towns you see in car commercials. Don't you love those? My husband grew up in Hawaii. One of the first times he went to visit my oldest brother's house in a small coal mining town in Pennsylvania the hubby looked at me all confused and said, "This isn't what small towns look like on television." Yeah, no kidding.
Genre:
Contemporary Romance
Series:
Holloway Book II
Release Date:
October 22, 2012
Publisher:
Carina Press Publishing
Formats Available:
eBook, Kindle, Nook
Purchasing Info:
Publisher, Author's Website, Goodreads, Kindle, Nook
Book Blurb:
Cassidy Clarke once climbed the world's highest mountains, but after an unexpected illness ends her career she's back in her hometown, broke and hoping for a little luck. But the townsfolk aren't exactly putting out a welcome mat for the woman who once snubbed them in the media, despite her apologies now.

Mitch Anders knows someone has set up camp on the grounds of his plant nursery, and he's surprised to find his sexy high school crush ducking questions about where she's staying. Though he's sworn to stop cleaning up other people's messes, Mitch offers Cassidy a job and a place to stay–his place. Bed-sharing optional, but definitely welcome.

Out of options and too attracted to Mitch to keep things platonic, Cassidy says yes to his offer. She wants to get back on her feet financially and start a new career. She never expects to suffer a different kind of fall, one that has her believing Mitch just might bring her something bigger and better than luck.

Small towns are great for a sense of community and closeness, and mine was a good place to grow up, but they have all the usual town problems – drug issues, bullying, secrets, etc. While I don't deal with all of those realities in LEAN ON ME, I did try to give the small-town feeling where everyone seems to know everyone else's business. My favorite personal example of this came years ago. And I apologize in advance to my mother who will read this and cringe, but it makes me laugh. My wake-up call happened in my early teens. All of a sudden there were rumors about this family in town. Specifically, about the parents. Seemed the local rumor was (and it was true) they were swingers. They had two kids, one kid was just a little younger than me, and the parents were swingers.
Now, in a small conservative town in Pennsylvania this was BIG news. Of course, being a tad sheltered, I barely knew what being a swinger was. Naturally, I asked my more worldly friend and she filled me in. I couldn't look at this other kid's swinging parents again because at thirteen or so the idea of parents as swingers was horrifying. The memory of this – of the whispering, of how all the parents in town were talking about it and so were the kids, though we had no idea what we were really talking about – came rushing back when I started writing LEAN ON ME. I skipped the topic of swinging but the whispering is there in the book. Maybe I can work the swinging stuff in for the next book.
Excerpt from LEAN ON ME per Carina Press Website:

The steady buzz of conversation and bustle of people walking up and down the wide aisles of Thomas Nurseries ceased when Cassidy Clarke walked through the door.

She stopped after a few steps, waiting for her hair to frizz to ten times its normal size thanks to the shift from the dry, cool October air outside to the humid air inside the greenhouse. To keep from running her hands through it a thousand or so times, she slipped in front of the display of heirloom roses and pretended she couldn't feel the strands swelling fill a helmet.

She also did the I-can't-see-you-or-hear-you thing with the crowd. The same coping mechanism she'd perfected over the last year. She assumed that's what the folks from her hometown wanted since half the customers spoke in pseudowhispers that sounded more like yelling as they talked about her. The other half openly stared. She'd heard people mumble her name with the phrase The Fall right after about ten times now. She could only guess that referred to the end of her career…though it also applied to the complete implosion of her self-esteem.

Ah, it's good to be back.

She didn't really blame them. It was her fault. Well, partly the reporter's fault, but mostly hers. It had been almost three years since the stupid article came out, since she offended every single one of the 941 residents of Holloway, West Virginia. That would teach her to give an interview from Base Camp at Mount Everest. She'd been sitting there, half delirious from exhaustion and still partially frozen from the punishing descent, when she got on the satellite phone and made the not-so-flattering comments about growing up in Holloway. After all this time she still got scolding e-mails from people who'd known her when she was a "nice girl" which she'd been informed, sometimes in very descriptive language, she no longer was.

She drummed her fingers against the wooden table and wondered for the hundredth time why she thought returning home was such a great idea. True, she didn't have a place to stay or money or a climbing career anymore. If she gave herself a second, she could probably work up a pretty good pity party, maybe even crawl under the table and hide. That would give the residents the kind of show they craved. But the whole how-dare-she-show-her-face thing was going to wear thin fast.

"Cassidy?"

She turned, ready to bat away any flying tomatoes that might come flying her way, and stared into a dark gray T-shirt straining against a firm, broad chest. Her gaze wandered up and over an open plaid shirt and a set of impressive shoulders underneath. Then she got to the face and the smile with the sexy cheek dimple.

Sweet Lord.

This guy could throw anything at her and she'd be fine so long as she got to stare at him for a few more seconds. Maybe run her fingers over the dark stubble on his chin and cheeks. He had a five-o'clock shadow at two in the afternoon, and, boy, wasn't that the sexiest thing ever.

Nice to know her girl parts still worked fine even on an unwanted limited-calorie diet. "Yes, may I help you with something?"

"When did you get back into town?"

Figured he'd have one of those deep, husky voices that vibrated right down to her…yeah, she wasn't letting her mind wander there. "Yesterday."

He put his hands on his lean hips. "Are you staying at the house?"

Something thunked in her brain.

His eyebrow lifted. "Cassidy?"

"I'm sorry." Boy, was she sorry. "But do we know each other?"

"We dated in high school."

This time her brain clicked off. When it flickered back to life an error message flashed. "What are you talking about?"
Where to find HelenKay:
Website | Twitter | Blog | Facebook
~~~~~~~~~~~~~~~~~~~~~~~~~~~~~~~~~~~~~~~~
~*~*Giveaway*~*~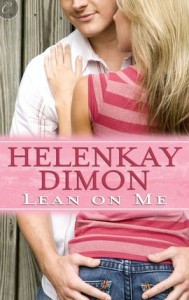 HelenKay has generously offered a digital copy of LEAN ON ME to one lucky commenter! Reader's choice of Format.
All you have to do leave a meaningful comment regarding HelenKay's post or a question for her!
(You can read our full giveaway policy here)
Please leave us a way to contact you.
(Email in blogger profile or twitter name – no way to contact you – no entry).
This giveaway is open to International entries!
Giveaway ends on Saturday, November 3, 2012; and we will announce the winner on Sunday.
Good luck!